Strictly Bluegrass
By Jean Metcalfe
Aw, what the heck? Let's go ahead and refer to it as the "first Annual Strictly Bluegrass Festival." Let's employ the "Whistle a Happy Tune" philosophy. There should be another festival next year and the next and ...
Many local music fans, and bluegrass fans in particular, have long decried the demise of the Kentucky Fried Chicken Bluegrass Festival that regularly drew throngs to Louisvill e's Belvedere several years ago. Then the music died. There are several popular opinions why that happened, but it's all water past The Fountain now.
Enter Gary Brewer, who obviously practices the motto of the Christopher Society: "It is better to light one candle than curse the darkness." He lit a good-sized candle and teamed up with the Mayor's office to stage the "Strictly Bluegrass Festival" in Central Park on September 11 and 12.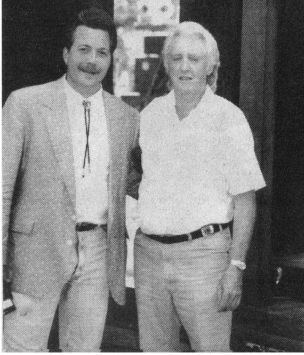 Gary Brewer, left, backstage with J. D. Crowe
The two-day event was blessed with beautiful weather and an excellent line-up of bluegrass talent. Besides Gary Brewer and the Kentucky Ramblers, performers included the Osborne Brothers, J.D. Crowe & the New South, Del McCoury Band, Larry Sparks and the Lonesome Ramblers, The Sullivan Family, Clyde & Marie Denny with Wade Hill & Co. and New Horizon.
And it was strictly bluegrass. . . well, mostly strictly bluegrass.
New Horizon's newest member, guitarist Mark Rosenthal, who is rapidly fitting into the bluegrass genre of music, did offer up two enjoyable Lyle Lovett numbers: "Pony On My Boat" and "She's No Lady, She's My Wife." And there was a wonderful bluegrass treatment of Fats Domino's "I'm Walkin'" by Crow & Co. S p But there was also "Orange Blossom Special" and "Daybreak in Dixie." And the Sullivans offered up some old-time gospel that included Reno & Smiley's "I'm Using My Bible for a Road Map.".
Brewer seemed pleased with the turnout on the Saturday afternoon of this writer's visit. A crowd estimator had figured the attendance on Friday to be between 6,000 and 7,000, but closer to the 7,000 mark. Saturday's figure
"Please enjoy yourself and we hope to see you next year," Gary Brewer said in his festival program welcome. With the success of the "first Annual Strictly Bluegrass Festival," his hope should be realized.