A Pretty Fair Evening
By Jean Metcalfe
To steal a quote from Tony the Tiger, the entertainment at this year's Kentucky State Fair was (and promises to continue to be) "Grrrrreat!" In addition to all the great local talent who entertained for free in the beer tents, in the stadium and in the arena at Kentucky's pride and joy, there was some pretty fair out-of-town entertainment, both for free and pay-per-view.
Our ever-lovin', music-lovin' reporters and photographers fanned out over the fairgrounds to catch as much of it as they could and indications are that they would award the entertainment a blue ribbon.
The unfortunate timing of the fair, which coincided with the busiest part of the LMN month ,allowed this writer one stolen evening there before going to press.
A lovely and fun visit backstage with Kix Brooks and Ronnie Dunn, the hot country duo of Brooks & Dunn, more than substituted for our ritual first stop at the fair for corn dogs and fresh lemonade.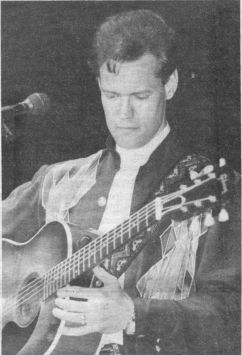 The costume was different in this State Fair '91 photo of Randy Travis, but his August 22 show at this year's fair was the same as the August 17 one last year — EXCELLENT. Photo By Letha Marshall

(Look for a more comprehensive article about B&D next month.) After some scared searching for the eagerly awaited corn dogs, l realized that the vendors of said treats were very scarce this year. (Confidential to KSF: Keep the corn dogs coming and don't even think of moving any closer to the dreaded food court concept.)

A whirlwind trip through various areas of the fair is, one day later, just a blur of miniature roses, fudge booths and encyclopedia salesmen. No time to have my handwriting analyzed . . . thank goodness.

I did take a few moments to drop by the booth of entrepreneurs Cam Flener, lead singer for the Velcro Pygmies and Bob Bahrr, a free-lance writer, who specializes in covering the Louisville music scene, who were debuting — very successfully — their Rough Diamond Network. Expect more from these lads as they continue to promote the recordings of unsigned musicians.

Since cameras weren't allowed in the concert area and with no place to check ours, we hiked to the parking lot to stash them in our car.

More than twenty minutes late, we took our seats in the darkened coliseum where Brooks & Dunn had already whipped the audience into a virtual frenzy with their honky-tonk hits.

Brooks much more than broke a sweat as he kept the stage alive with his zany antics, while Dunn moseyed around the stage belting out hit after hit. (Their debut album, Brand New Man, has already spawned four singles, all country chart-toppers.

The audience went from wildly enthusiastic to outta control when B&D kicked off "Boot Scoot Boogie." Brooks charged into the audience and selected a young blonde-haired woman to be his boogie partner. She returned to her seat, arms lifted skyward in the manner of someone who has just had a religious experience.

Seemingly before you could say "award-winning duo," the two country singer-songwriters were waving goodbye, making way for country superstar Randy Travis. B&D could have been the headliner; they proved it at a WAMZ free country concert in Louisville on May 17.

A nice backdrop and a well-dressed stage complemented Travis as he ran through an enviable string of hits, eliciting squeals and cheers from the faithful. A pause, a low note, a grin — all were greeted with high-decibel shrieks and screams. A nervous tic. . . .

I found myself wondering if stars of Travis' magnitude don't often shake their heads in amazement at their fans' reactions to every little thing they do.

Not much patter here, mostly expressions of appreciation, handshakes with the railbirds and there was a cute, squeakyclean joke.

Especially enjoyable was Travis' duet with an invisible George Jones. Using two vocal mikes, Travis handled both parts: "When I'm singing on this mike I'll be George," he said. Moving over, he added, "When I'm on this mike I'll be me."

He did a pretty fair imitation of The Possum on the Travis/Jones cut from his Heroes and Friends album, "A Few Ole Country Boys." For the duet portions he pulled the mikes together and sang into both.

Yes, for the Randy Travis fans in Freedom Hall on August 22, "he walked on water." I was amused and amazed . . . and entertained. I was also wishing I had joined the throngs who had disobeyed the no-cameras rule.

One post-concert corn dog later, l found myself experiencing "happy feet" as Sam Myers urged us to "Let the Good Times Roll." A zonked fan sat in from his seat in the audience— with Anson Funderburgh and the Rockets on air guitar.

The tractor-drawn sightseeing vehicles were fully loaded as they passed us by, so when Myers finished "Johnny B. Goode" we trudged to our distant parking spot.

Hurry up, August 30. It's my wedding anniversary and I've got a ticket to see Garth Brooks.

>