Denim & Lace Sews Up Country Contest
By Jean Metcalfe
. . . [A]nd the last shall be first."
That Biblical assurance was dramatically demonstrated at the Village Pub on August 18 as Denim & Lace closed out the Louisville area finals in The llth Annual True Value / GMC Truck Country Showdown, only to return to the stage a short while later to accept the first-place award. (Kinda doubt that going on last was the deciding factor, but, hey, it seemed like a clever way for a deadline-weary writer to begin the story.)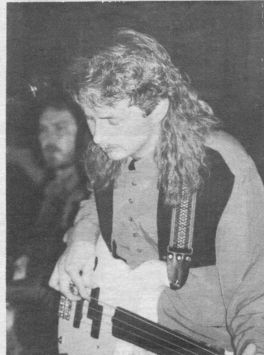 Eric Kerr, bassist and lead singer for Denim & Lace.Photo by Jean Metcalfe
Denim & Lace took home the $500 cash prize that was donated by Total Home Construction to help defray the cost of their trip to the state finals in Chattanooga, Tennessee. There they will vie for $1,000 cash and the right to compete at the regional level in the fall.
Winners of the six regional contests will travel all expenses paid to Nashville to compete on the stage of the Grand Ole Opry for the Grand Prize of $50,000, a Yukon from GMC Truck and a recording contract.
The wild guys of Wild Horses lassoed the first-runner-up spot and will be standing by should the winner be unable to fulfill its responsibilities at the state level. Sorta like the Miss America pageant.
Bruce Logan, Program Director for WZKS Hot Country 103.9, the host radio station for the Louisville area competition was very complimentary of the artists who performed in the local finals.
"There were 13 points difference between first and sixth places," he said.
The patrons who packed Jeffersonville's Village Pub (a sponsor of the event) enthusiastically cheered the contestants and kept the dance floor constantly filled. Whole lotta shakin' goin' on (as well as a whole lotta talent) at the Pub this evening.
In addition to Denim & Lace and Wild Horses, the other finalists were Karen Kraft, Robert Morris and the Lonely Roads Band, Ron Peake and Open Country and Debbie Shipley.
Participants in the early rounds included The Country Club, Rusty Nale and the Throbbin' Thrill Hammers, Ray Render and the Dixie Radio Stars, Linda Smith, Swing Street and Terry Tyler and Southern Winds.