Lend Me a Tenor
By Bill VanHook
"Lend Me a Tenor," billed as "the funniest show on Broadway in 1989," opened July 30 at Derby Dinner Playhouse in Clarksville, Indiana. I don't know about Broadway, but the Derby crowd was shaking with laughter.
Following a preview performance by The Barnstormers, a song-and-dance group made up mostly of waitresses and waiters, this comedy, directed by Dudley Saunders, opened with a bang and carried its laughter through the stellar performances of area favorites Lee Buckholz, Greylyn Gregory, Georgette Kleier, Mary Anne Rickert, J.R. Stuart, and, of course, Cary Wiger, our waiter, who performed admirably as the star-chasing, opera-singing bellhop. New to the Derby stage was Paul Kerr as Tito Merelli, an opera star who becomes the focus of mistaken identity. He has appeared as The Pirate King in the "Pirates of Penzance" and as Tevye in "Fiddler on the Roof." Also new to the Derby was Sandra Simpson as Tito's very jealous, very Italian wife Maria.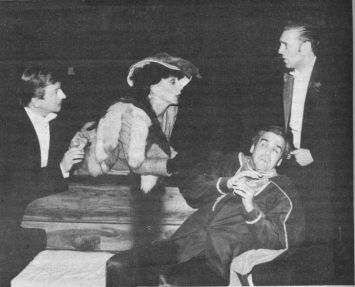 L to r, J. R. Stuart as Saunders, Sandra Simpson as Maria, Paul Karr as Tito Merelli and Lee Buckholz as Max
Although its name may suggest that "Lend Me a Tenor" is a musical comedy, the play only uses music as one of many running gags. There was a short Verdi duet between Buckholz and Kerr, and several short snippets of song. Comedy was, however, in full evidence. Although it was perhaps a bit bawdy for the many children seen in the audience, the adults enjoyed every minute. J.R. Stuart, as the self-important Saunders, especially seemed to deliver the extra punch needed to pull off this light comedy. When he appears in his opera attire, a tux with tails, it is easy to imagine him as Groucho Marx in "A Night at the Opera."
Although lasting only moments, the music, sung by Kerr and Buckholz, was spellbinding. One could easily imagine this to be a grand performance at a grand opera house.
A great deal of credit for the success of the play should be given to the lighting and sound staff, who created the changes of a day with subtlety and charm. The support staff, including the producer and costume designer, should be applauded for the excellent design and evidence of skill seen in the final production.
The plot, one seen many times before, seems never to run out of energy, proving there is still life left in the old "mistaken identity routine." And, if the plot did not falter, neither did the cast, who culminated a raucous evening of laughs with a run-around worthy of the serial comedies of the Thirties and Forties. One gets the feeling that one is watching the lives from the vantage point of friends, rather than as an audience of a play.
"Lend Me a Tenor," which runs through August 30, is a play definitely worth seeing, especially after a delicious meal with friends at Derby Dinner.
The burlesque musical "Sugar Babies" moves into Derby Dinner Playhouse on September 1 and continues through October 11. For reservations call (812) 288-8281.