Lyle Lovett Live
By Allen Howie
Trying to accurately describe Lyle Lovett's performance on August 12 at Whitney Hall is like trying to tell someone what kind of music Lovett plays. Over the course of four albums, the Texas native has carved out his own musical terrain, throwing in elements of country, jazz, pop, gospel and blues to create something uniquely . . . Lyle. With the help of his incomparable Large Band, he brought that unique perspective to Louisville, and left the audience exhilarated and asking for more.
The Large Band (two drummers/percussionists, cello, three horns, bass, lead guitar, piano and four back-up vocalists) provided a dazzling instrumental introduction, then Lovett stepped onstage and promptly launched into "Black and Blue." As with each song that followed, old fans greeted the opening notes with enthusiasm, while newcomers to Lovett's music fell quickly under his spell. The singer offered a bluesy "She's No Lady (She's My Wife)," then turned the proceedings into a Sunday meeting with the hilarious gospel of "Church" from his new album. Treats from the new record continued, as the snappy jazz of "She Makes Me Feel Good," with its masochistic take on romance, gave each vocalist a moment in the spotlight.
The band shifted gears for the country weeper, "She's Leaving Me Because She Really Wants To." One of the true delights of the evening came from hearing the giggles of those who were hearing these songs for the first time. Lovett's dialogue between songs was delivered with all the deadly precision of Bob Newhart at his wry best.
The hits kept coming, and the Large Band performed effortlessly and perfectly, executing each musical style as if they had invented it. Lovett served up the country romp "I've Been to Memphis," commenting on its unfortunate misinterpretation by large numbers of people, then swung hard into the predatory "You've Been So Good Until Now," made all the more potent by some stinging lead guitar.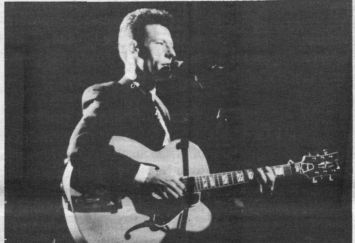 Lyle Lovett. Photo by Allen Howie
The pace slowed a bit for the mournful resignation of "All My Love is Gone," followed by an equally moody "She's Already Made Up Her Mind" and the bleak desolation of "North Dakota." The audience, which had been swaying and clapping during the uptempo numbers, sat transfixed at the hypnotic wistfulness woven by the singer and his band.
But Lovett has never been one to dwell on despair for very long, and jumped right into "If I Had a Boat," followed by the supple swing of "Good Intentions." Next came a rambling spoken introduction to "Flyswatter / Ice Water Blues" that left many in the audience gasping for breath. The song itself showcased one of Lovett's many virtues as a songwriter and singer: his ability to breathe a sense of nobility into the most ordinary of lives.
Lovett continued with the country strains of "Family Reserve," his salute to departed family and friends, and the wonderful "I Married Her (Just Because She Looks Like You)." Then came the rousing gospel of "Since the Last Time," a stroll through the singer's own funeral that picked up speed as it went, followed by a galloping "L.A. County," and the slow blues of "Cryin' Shame."
Next up was a scorching "M-O-N-E-Y" and the sassy strut of "What Do You Do." Then vocalist Francine Reed took the spotlight for a roof-raising "Wild Women Never Get the Blues." Lyle and company regrouped for a rocking "You Can't Resist It," and the frisky lechery of "She's Hot to Go," which gave each band member a chance to step forward with a solo. Again, enough praise cannot be heaped upon the meticulously attired Large Band, both for virtuosity and spirit.
Lovett was called back with standing ovations for two encores: "Here I Am," with its slow blues interspersed with the singer's spoken philosophical musings, and a truly stirring "Pass Me Not O Gentle Saviour" that was inspiring in every sense of the word.
Lovett's opening act was The Fairfield Four, a gospel group founded in 1921 that is now a quintet in spite of its name. For forty minutes, they demonstrated the sheer power of the human voice, harnessing their electric mixture of vocal precision and spontaneity to a number of hymns and spirituals that swept and soared from easy joy to thunderous rapture. Combined with Lovett's choice of a closing number, they helped to ensure that it would indeed be an uplifting evening for all.