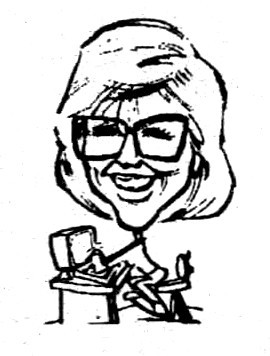 Newsical Notes
Just back from an engagement at Nashville's Bluebird Cate, Bill Ede seemed satisfied with his 45-minute set for the August 5 writer's night portion of the evening. On hand were several friends, including LASC member Karen Le Van. Tricia Walker, in a last-minute replacement, filled in for Beth Neilson Chapman later in the evening. Several LASCers had great things to say about Tricia's performance at The Rud a couple of months back. Wally Stewart had paved the way for her appearance and Larry Standiford ran sound. Bill Ede and Prez Paul Moffett were among the lucky few who were in attendance at the concert. All agreed that she is an excellent singer-songwriter and there is talk of inviting her back to our town sometime soon.
But Bill's big news is that, after who knows how many years, he met his hero, P. F. "Eve of Destruction" Sloan! Bill's friends will certainly realize the significance of this meeting. Not only did they do breakfast while Bill was in L.A., but Bill also was a guest in Sloan's home, before returning from his whirlwind Music City and West Coast visit. Whew!
Congratulations, Bill. We're really, truly happy that your dream has finally come true.
Word comes from member Connie Lindsey about the 1st Annual Western Kentucky "Songfest" to be held September 19 in Calhoun, Ky. at the McLean County High School Football field arena. The "Songfest" will showcase talent from the Western Kentucky area, including such talented performers as Alma Randolph, a gospel singer from Owensboro, Ky., who sang at the 1992 National Democratic Convention. In addition, during the breaks between performers, Connie said they will be playing songwriter demos for the record label folks they have invited up.
(Please send us your "NewsicaI Notes " so that we can let our readers know what you're up to. A brief note would be more effective than just telling us about it.)
Where's that picture of Bill Ede with Townes Van Zandt and Becky Bennett O'Toole with Townes and Gene Adams with Bill Monroe? They were just here last month. Or was it last year? Oh, well, when we find them, we'll try to run them again.