All-New, Hot, Kickin' Jamboree
Debuts at Renfro Valley
By Jean Metcalfe
"It's hot. It's kicking. And you can feel the energy and enthusiasm of the entertainers."
That's how Renfro Valley Entertainment Center's CEO Dean L. Henricksen describes the revamped, 90-minute Renfro Valley Jamboree that was unveiled on August 15 in the 1500-seat auditorium of The New Barn.?"Our new Jamboree show is one of the most exciting things I've been involved with in my 40 years with Renfro Valley," says Vice President of Entertainment Pete Stamper.
"We were not interested in change simply for the sake of change," Stamper said of the Jamboree's shift to a stronger contemporary format. "It had to be in keeping with the Renfro Valley philosophy."
A variety of young performers proved that there will be no shortage of talent to fill the shoes of cherised artists who've been around for a while.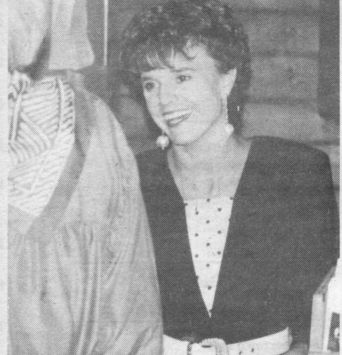 Renfro Valley Jamboree's Carrie Stone greets a fan after the show. Photo by Tom Metcalfe
Between carefully planned interruptions by venerable country humorist Bun Wilson, the young Jamboree stars shone brightly.
Debbie Shipley, a seasoned performer for her young years (she has appeared on the Grand Ole Opry), easily handled each of her selections this evening.
A special treat came when the Jamboree's youthful drummer, Scott Thompson, teamed up with Jennifer Wrinkle, a member of The New Coon Creek Girl, for a very lovely version of the Marie Osmond / Dan Seals hit "Meet Me In Montana."
The high point of the rejuvenated Jamboree was Carrie Stone's lovely version of "From a Distance." Although Nanci Griffith's recording was nice, and Bette Midler's version won a Grammy for writer Julie Gold, Carrie Stone measured up nicely.
Bun Wilson returned, clothes straightened and minus his kooky hat, to close the show with "I Will Abide With Thee." The audience was invited to join in and most accepted the invitation.
Any glitches in the premiere performance of the new Jamboree were minor this evening, and easily remedied.
With the Jamboree's revised format, Renfro Valley" offers audiences four completely different live shows to choose from.
In addition to the Jamboree, "Kentucky's Country Music Capital" offers the nationally popular Barn Dance, now in its 53rd season; the Sunday Morning Gatherin', the second oldest continuously aired radio program in America; and the Mountain Gospel Jubilee, a Saturday afternoon matinee showcasing southern gospel music.
On September 4, 5 and 6, bluegrass fans will have an opportunity to catch Alison Krauss, Jim & Jesse with Mike Stevens, The New Coon Creek Girls, Lost & Found, The Stevens Family, The Osborne Brothers, Seldom Scene, Old Joe Clark & Terry at "Bluegrass in Renfro Valley."
Renfro Valley is located near Mt. Vernon, Ky., on Highway 25, off Interstate 75, 15 minutes south of Berea, 45 minutes south of Lexington.
For ticket and reservation information for "Bluegrass in Renfro Valley" and other Renfro Valley events, call (606) 256-2664 or 1-800-765-7464.