Ringo and the Rock 'n' Roll Dream Team
By Paul Turner
"Ladies and gentlemen, step right up. See and hear the greatest rock 'n' roll show on Earth! Please welcome Ringo Starr and His All Starr Band to the Kentucky State Fair."
Ringo's familiar "All I Want to Do Is Boogaloo" started off the August 21 evening's festivities. Boogaloo isn't in the dictionary, but judging from what went on at the show it means "fun, energetic, very well-articulated music, with a very light-hearted demeanor that makes those listening want to stand on their heads with delight, but only when there's room enough."
The long row of mikes and monitors at stage front never held the performers back from getting closer to the audience. No doubt it will one day be illegal to line the stage with so much talent and success as this dream team of rock 'n' roll possesses, most being recognized on a first-name basis.
From left to right, Burton (Cummings), Todd (Rundgren), Nils (Lofgren), Ringo, Timothy (B. Schmit), Dave Edmunds, and Joe (Walsh). Also working mainly behind the line was Tim Cappello on sax and synthesizer and percussion, who did reach the spotlight on occasion, and Ringo's son Zak Starkey, who solidly carried the drum section for the evening.
Dressed for success in his bright red sport coat, Ringo, who acted as the circus ringmaster, continued with his "No No" song. As he chased Joe Walsh around the stage Todd was boogieing stage right, practically in the audience, as the three-ring-circus show continued.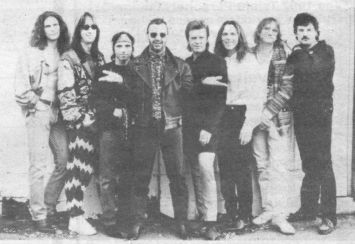 Ringo Starr and His AllStarr Band
Ringo then jumped back on his gold drum set to join Zak as Burton came to the forefront, giving us shades of The Guess Who with "No Time."
Dave Edmunds led off next and then into large applause when he handed the reins to Joe Walsh for a very recognizable two-chord change into "Rocky Mountain Way." Joe took the Sergeant Pepper award for most outrageous costume, but even the Indian headdress didn't hinder him from pulling out all the stops.
Former Eagle Timothy Schmit offered another performer chart-topper with "I Can't Tell You Why," then to a popular Nils tune for his admirers, then to Todd who assured us that we could get just as stupid as the rest of their audiences around the world, maybe even more so as he challenged us with "Bang the Drum All Day." Joe assisted us as he appropriately strapped on a white bass drum and paraded across the stage front.
Throughout the musical event, father and son gave us the best of both worlds on drums. Ringo with his cool, more subdued style, while Zak was really laying things down with energetic flair. Where did he learn to play like that anyway?
During the show Ringo sang a couple of selections from his new album Time Takes Time. Todd and Dave helped out with their dueling axes in his "Don't Go Where the Road Don't Go."
Considering we were in Freedom Hall, the sound was very good overall and, except for Dave's overbearing solos, everything was very well balanced audibly. We were then submerged with a blast from the past in "Yellow Submarine," which was an obvious crowd-pleaser. You'd think Ringo wouldn't forget the words to a standard like that, but the second verse got him. He was just having too much fun, as all the guys were.
Back to Burton and "She's Come Undone," with only Niles again with great precision on guitar and Tim on percussion while Cummings himself provided the flute for a momentary mellower mood. Dave Edmunds and his Telecaster soloed as he picked the hit "Lady Madonna" a la Chet Atkins, complete with counterpoint.
Next, we heard from Tim and Poco -- I mean the all-star guys and the once-popular "Keep On Trying" for some tight vocals -- at least not bad for world-class rock artists and producers.
With his sax in hand, Tim got Freedom Hall into first-rate bump and grind, first trading licks with Joe and then Zak alone helped him carry it out awhile, then back to Dave, then to Tim, and back to Nils. (Are we having fun yet?) Back to Tim.
Following the bump and grind was Utopia -- I mean, Todd and Company -- for some crunch rock 'n' roll with "Black Mariah," then to Joe for a more commercial crunch and his well-known "In the City." Back to Ringo, who had taken a bit of a break there, and left the red coat for a more comfortable vest. Before the band broke into "You're Sixteen," he individually introduced them again -- as if they needed it the first time. But it wasn't a night to argue with Ringo. During the swing of "You're Sixteen," Tim and Todd had too much fun putting on their own show during the sax break.
When the song concluded, Ringo asked the crowd, "What's my name?" Of course, the crowd responds "RINGO."
A song titled "Weight of the World," another from Ringo's newest release, created more flying guitar licks, first from Nils, then Joe, back to Nils, then to Dave, next to Todd, etc. . . . I was wondering if Louisville or any one stage could really afford this outrageous lineup, but as long as they're having fun in this setting, one almost forgets who was actually the headliner. Almost.
Lofgren's "Walkin' Man," a hard-hitting shuffle, was another of his that, even though it was less familiar, was no less well received. (I would encourage you to go out, buy his tape or CD, and hit the freeway at 90 mph to simulate the feel of the rush of the concert.)
Back to Dave E. for "I Hear You Knockin'." Meanwhile Todd is having two much fun again. Dave cuts his lead loose. Oops, there's Joe on slide. Back to Dave and to the biggest trash-can ending of the night. (Note: Trash-can is not necessarily a negative term, but just refers to a large rock 'n' roll crescendo.)
The crowd, recognizing "American Woman" responds favorably. Once again, these guys not only put on a great show, but they sound just like the record. Actually, they are better than the records which are by now a bit warped and scratched. There's definitely something here for every rock 'n' roller, and never a dull moment. During the Guess Who favorite, Nils picked out the lead, this time with his teeth. Now Joe is playing Dave's guitar, while it is strapped on Dave, of course. Then Tim chases Joe around the drum riser at a full run. Thanks to the technology of wireless guitars, all of this craziness is possible.
By the way, there had been a good light and visual screen show, but it probably didn't get much attention, considering all else.
From the drums, Ringo brings back The Beatles' song "Boys" into 1992 form while Todd and Tim play bumper cars with each other and miss coming in on the chorus. Where's Todd now? Oh, he's up rocking on the main speaker stage left, only to dash across stage front and up to the one on stage right to lie down and boogie. Is he having fun yet? Burton obviously thinks so and smiles approvingly. Song ends.
Rock 'n' roll screens are offered by each and every front-line member per Ringo, except by Burton, who claimed he had to save his voice. Ringo picks up again with his nostalgic "Photograph." Tim takes the sax break sitting down -- on the end of the stage, practically in the crowd's lap. Back to Ringo. How many concerts is this anyway?
Then as abruptly as it began, Ringo bids "Goodnight." That's the first time he was wrong all night. The crowd got their way. Back to Ringo. "What's my name?" he asked again as he reached the mike. The crowd gladly responds.
"Act Naturally" gets his dedication to the cowboys and cowgirls present. Todd continues to have two much fun. I'm glad he dressed comfortably. Now where are those guitar licks coming from this time? Just kidding, Dave.
Finally we are treated to "With a Little Help From My Friends." And how incredibly appropriate. (No, Joe, that's not quite what George did on the record.)
During the lyric "I can't tell you, but I know it's mine," Ringo bends down to borrow a hat from a fan and tries it on for a line or two.
What a setting for this song! As "a little help from my friends" keeps repeating, Ringo exits stage left and he's right -- with friends like that who needs the Bea....? No, I can't bring myself to say it. The front line all-stars make their last flamboyant exit while the synthesizer repeats.
As I understand it, there's going to be another concert this big in another ten or fifteen years.
Ringo was certainly right when he warned, "We're gonna have some fun tonight." Of course he was right. That's why he's the Starr.