Tori Amos
By Marlene Chaffin
A hushed silence fell over the Phoenix Hill Tavern Thursday night, August 6, as Tori Amos stepped onstage at the popular night spot.
Beginning with "Crucify," she cradled her piano bench and sang with a soulful fluttering voice that reminded us at times of Kate Bush, although there are no true comparisons to Amos's classic pop-art rock style.
Amos next sang "Little Earthquakes," which is reminiscent of Tori herself and the type of adrenalin she brings to us. "Silent All These Years" was poignantly sung: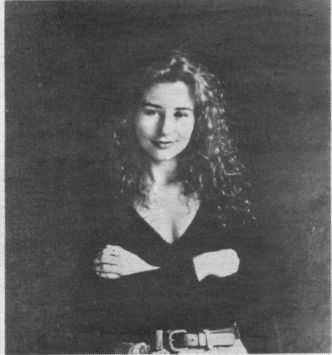 Tori Amos
"But what if I'm a mermaid in these jeans of his, with her name still on it. Hey, but I don't care, cause sometimes, I said sometimes, I hear my voice and it's been here, silent all these years."?"Happy Phantom" is probably the one lighthearted tune Amos played, helping to lift the heaviness of the rest of the set. "Precious Things" rocked a little harder. The crowd was then treated to a rendition of Led Zeppelin's "Whole Lotta Love," giving it a smoky, sultry new sound. She shared with the audience that Robert Plant was her first infatuation and the first band that awakened her sexuality. She followed with "Tear in Your Hand" and the haunting "Me and a Gun," depicting the story of rape. Amos fittingly sang the song with her voice naked, omitting the piano:
"Me and a gun and a man on my back, I haven't seen Barbados so I must get out of this."
This was, at times, hard to listen to. Amos's style, however, is that of emotional realities, making you feel pulled into her music and consoled by it.
Ending the set with Nirvana's "Smells Like Teen Spirit," she returned seconds later, pulling her fiery red hair back and kicking off her shoes. She settled again on the bench as she sang "Mother" and followed a second encore with "China."
This evening was definitely one I'm happy I didn't miss. Here we have the raw talent of a poet-songstress, using eloquent lyrics, explaining the riddles of life to us. Sprinkled throughout, like breadcrumbs helping us find our way back, there is a touch of fairy tale wonderment to each song that gives the words a familiar feeling. Her singer-songwriter style is as passionate and provocative as she is easy and comfortable.
I am certain we have heard just the beginning of Tori Amos. The only disappointing thing to be said about Tori is the fact that, regrettably, she has not received enough airplay in the Louisville area.
Listen up, Louisville stations. It is about time to play the music your city wants to hear, instead of the typically boring album-oriented rock format. After all, our city is known for supporting the arts. Let's get back to it and live up to our image.
A man called "E" played a set of tunes that were at times reminiscent of the retro sound of the Sixties. Combining that with a modern beat, this three-piece band made listening easy. Their vocal harmonies were pleasantly blended, reminding us of the Beach Boys style. A smooth sound that was well delivered.