Danke Schoen, Wayne
By Jean Metcalfe
We wuz robbed ... of an encore. But Wayne Newton probably wasn't the perpetrator. Actually, the jury is still out on the Case of No Encore and No "Danke Schoen." Where is Jessica Fletcher when you really need her?
In the premiere performance of its Garland of Stars presentations in Louisville Gardens' pleasant Cabaret Room on June 28, Newton shone brightly, living up to the very important placement he had been given.
Long known as the highest-drawing entertainer in Las Vegas, Newton proved to the Louisville audience of some 2,250 fans that he could successfully take it on the road.
He easily handled a heckler who interrupted his humorous patter early in the evening by yelling "sing a song": "What the he-- you think I've been doing up here?"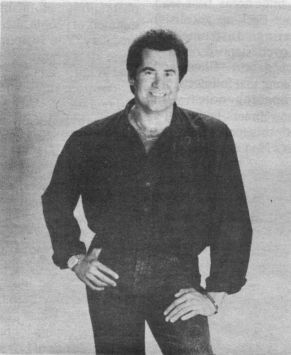 Wayne Newton
Don Vincent, who has been with Newton "going on 20 incredible years," and his band of some 15 gifted musicians and two equally gifted female backup singers, were allowed to showcase their individual talents as well as their cohesiveness.
Newton himself took a turn at an array of instruments, including piano, guitar, fiddle and banjo.
His schtick stuck it to such vulnerable celebrities as Jim and Tammy Faye Bakker, Pee-wee Herman, Mike Tyson, and "the Kennedy boy."
Sexily growling his way into "Bridge Over Troubled Water," Newton proceeded to play around with the lovely classic, including sneaking in alternate lyrics?"like a bridge over Barbara Walters"), plus a "danke schoen" or two. He teasingly accused the audience of not listening to the lyrics, suggesting that instead they were looking him over and saying, "What the he-- happened to that skinny old moustache?"
Acknowledging an early request shouted out by two or three young women for "Danke Schoen," Newton promised he would probably be doing it later (as an encore, no doubt).
Newton's show was dressed for success, with pelvic thrusts, jokes, and mildly bawdy dialogue. His selection of songs relied heavily on the nostalgic, represented by Jerry Lee Lewis's "Great Balls of Fire," Bobby Darin's "Mack the Knife" and "Splish Splash," Sam Cooke's "You Send Me," and several Elvis Presley hits.
The subject of marriage came in for its share of barbs:
"I don't make fun of marriage. There's no humor in it."
"I was married once. Now I lease."
The mostly more-than-thirtysomething audience was amused.
Especially poignant was Newton's recent No. 1 chart single (there's also a video) of a song inspired by a note Elvis Presley is said to have written in his hotel room while in Las Vegas for his final appearance in that city. After a moving introduction, Newton held the audience close to his bosom with "Help Me Lord," including a recitation of the contents of Presley's crumpled note, which had been retrieved from the hotel wastebasket and had found its way to Newton via Sotheby's.
Acknowledging an early request shouted out in unison by two or three young women for "Danke Schoen," Newton promised he might do it later (as an encore, no doubt).
Although this writer does not always wish for an encore, and generally feels that the frequency of standing ovations in these parts has considerably diminished their meaning, I was also hoping for a couple of bonus numbers from Newton.
Perhaps because more than a few members of the audience started making their way to the exits during what they supposed was the closing number, and even though the majority of the crowd wanted more, the house lights came on and it was all over. At that point the band members began to leave the stage.
"Disappointment," the young ladies shouted in a team effort when it was obvious Newton wouldn't be returning. They were still hoping for "Danke Schoen."
The show biz maxim, leave 'em wanting more, had prevailed this evening.
The staff at Louisville Gardens deserved a standing ovation this evening. From a warm greeting by the police officer on the sidewalk, through the end of the event, each one seemed to be genuinely interested in doing his/her part to ensure our enjoyment of the evening.
The sound, which is so critical to a performance, was excellent from my vantage point. And, as most concertgoers are aware, bad sound is one of the most common problems at concerts in any venue.