Bluegrass Beat
An inherent problem with doing a column of this nature is that too often some of the things we like to write or tell about have suffered a considerable passage of time. However, we can't let a little thing like that stop us, now can we? Case, or rather story, in point, July 21, 1992.
On that date I was blessed with the opportunity to see, hear and meet Emmylou Harris; a taping for the Lonesome Pine Special at Kentucky Center for the Arts. I won't go into too much detail as I know the "boss lady" has already done a good write-up on the show [August issue]. Perhaps, suffice it to say, as others have, it was a terrific show.
I had anticipated it being pretty much from her new album, At the Ryman, but this was not the case. Of course, there were several numbers from that release, but she was not one to forget or forgo many favorites from past releases. One of my favorites and apparently a favorite of the packed auditorium, was "Roses in the Snow." I, for one, think Emmylou should be admired for some decisions she has made in her recordings. She had wanted to record certain things, certain styles, etc. and she did. She has recorded some really good bluegrass numbers, for example. I'm not sure too many others would have done that. I think she did it because she liked it.
Why not? She did a "concept" album, The Ballad of Sally Rose, which I have heard that the so-called critics didn't think too much of. I think there is a lot of good stuff on that album. I think I understood her to mention that her gospel album, Angel Band, did not start out to be an album and was not too big. Again, seemed OK to me. I guess what I'm getting at is this: Emmylou has what it takes to go ahead and do or try the things with her music that she wants to do.
Hit or miss, Emmylou, continue to do it your way. I believe there will be more hits than misses and that Emmylou Harris will be loved by a multitude of fans for a loooong time to come.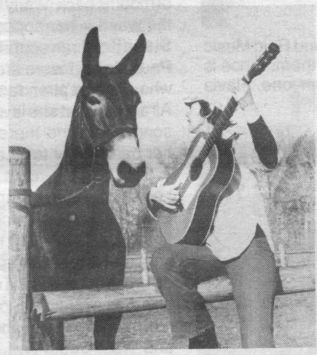 Marilynn Powell-Greene, aka the Tennessee Mule Balladier, will perform at the Museum of Appalachia's Tennessee Fall Homecoming.
A great performance was completed with two encores and standing ovations. The encores were NOT the obligatory kind— no, no but rather what I will describe as demanding, we-love-you-Emmylou encores. For the second and last, Emmylou took centerstage, alone with her guitar and did a beautiful job of "To Daddy." As they say, "Always leave 'em wanting more," and that she did. Perhaps some others we have seen could take a lesson from her on how to tape a show without a number of false starts and restarts.
Skipping on down to the end of that week, I was at the Horse Park in Lexington for the big Bicentennial Kentucky Reunion. They had a big auditorium-sized stage set up for such stars as Ricky Skaggs, Tom T. Hall, The Kentucky HeadHunters, etc. Then, there was this much, much smaller stage for the "token" bluegrass and bluegrass contest. Kentucky Blue played as a featured non-contestant band. There were live competing bands Saturday and four on Sunday.
In spite of the downpour on Sunday morning, an efficient sound crew quickly relocated under a gazebo beside the restaurant and the show went on. Triangle Talent of Louisville, represented by Bob Brickley, put together a good, well-run and efficient contest. Every effort was made to have impartial judges; criteria for performances and judging were spelled out weeks in advance.
The only disappointment in the contest was that more bands did not choose to participate. Prize money was more than sufficient to risk an afternoon for. I understand that Bill Monroe was the only top bluegrass name contacted to perform. If you think about it, it was a pretty good bet that he would be booked already during this peak festival season. Other names would probably have been booked also, but why weren't they contacted? The Osborne Bros., Jim & Jesse, Raymond McLain from Berea and there are several others. Again, it seems that Kentucky is turning its back on bluegrass music. In fact, I don't recall seeing or hearing but very little, if any, promotion about the bluegrass music they did, have including the contest.
Kentucky, whether you like itor not, you are equally, if not better, known around the world for BLUEGRASS MUSIC than for that two minutes the first weekend in May and equal to the bourbon bottled here. Bluegrass music and its association/ties/ roots in Kentucky will not go away no matter how much you try to ignore it and the sooner the tourism commission recognizes it, the bigger boost it will give to the state.
Besides the audience on hand, the winners of the contest were: third place, Scotti Sparks and Kentucky Bluegrass Boys; second place, New Horizon; with first place going to Strings Attached. Congratulations to the winners and all the contestants in what was a very, very close contest. If any of these groups would like to join us on our Sunday Bluegrass, contact me at the station, WFPL, (502) 561-8640. When I left, there were murmurings in the air about doing it again next year. If so, it is not too soon to start getting your act together now.
Looking ahead for this time takes us now to October. October means it is time for one of our most favorite events of the year. Those of you who may have followed us along in these columns for any time, will recognize this as a lead-in to the Fall Homecoming at The Museum of Appalachia, Norris, Tennessee.
To the ladies: If you like arts and crafts you will find an abundance of these of all types. Not only that, but crafts people who are willing to discuss and share with you what and how, they do. As this is a living museum, there are many displays and demonstrations of how things were done back in grandma's day.
Then there is the music. Music starts at about 9 a.m. and continues until dark or near dark with no breaks. True, there are many good but unknown groups and individuals who come from all over and out of the hills and mountains to perform. There are also some favorite "names" on hand.
Some of those include John Hartford, Grandpa Jones and Ramona, Brother Oswald and the Smokey Mountain Boys, Raymond Fairchild and I think Mac Wiseman will be back this year.
Food, yes food. Some great offerings right on the grounds. Some of the best country ham biscuits you will find anywhere, my wife's favorites, cornbread and beans and goodies like funnel cakes and more. There is something for all the family, including the little ones. This is a popular event attracting literally thousands. Yes, thousands. However and I emphasize, that it is NOT crowded.
How can this be, you ask? Easy. There is enough going on, there is enough space so that everyone is not crowded into the same area all the time. By the way, all of this good music and entertainment is going on on several stages at once. There is also lots of the bluegrass pickers' favorite pastime, "parking lot picking."
Folks, the Museum of Appalachia Fall Homecoming is more than a great way to spend a weekend; it is a learning experience for several of today's generations and a remembrance experience for others.
Chosen one of the 1992 Top 100 events in North America by the American Bus Association and voted one of the Top 20 October events in the southeast by the Southeast Tourism Society for the past six years, this great event takes place October 8-11, 1992, about 18 miles north of Knoxville, Tennessee, about one mile east of I-75.