Bands Rally Round 'Cowboy George'
By Jean Metcalfe
The ink had barely dried on the newspaper account of George Chappell's brush with death, when his fellow musicians began to put together a benefit for "one of ours."
Chappell, who for years fronted Cowboy George and His Beer Drinking Rodeo Band, was scheduled to leave the hospital after a week of recuperation from a bullet wound he suffered on August 19 when he interrupted a robbery in progress at his wife's place of employment. Chappell, who was taking lunch to his wife (she had been on the job for just one week), will continue his recuperation at home and will be unable to return to work for quite some time.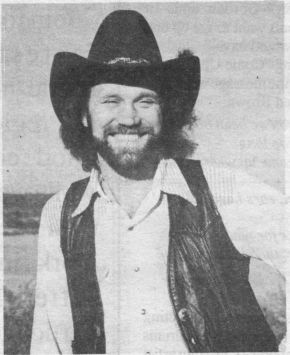 George Chappell, circa 1980
As we go to press on the 26th of August, the benefit for Chappell is scheduled for September 14 at the Sahara Club, with Mike Lunsford and Whiskey River Band kicking it off at 8:00 p. m.
Besides Lunsford's group, other bands tentatively scheduled to perform are the J.D. Black Band, Karen Kraft & Kicks, Ron Peake and Open Country, The Slick Band, Uncle Pecos and Wild Horses.
Tentative plans indicate a donation of $5 will be accepted at the door. A post office box is also being secured so that additional donations may be mailed.
Larry Colburn, a member of the Uncle Pecos band, said that Chappell has asked him to let everyone know that he appreciates their help.
Uncle Pecos drummer Kerry Culbreth perhaps summed it up best when he told me, "we take care of our own."
For additional information call Larry Colburn at (502) 966-3061.