Bluegrass Beat
A lot of good things are happening in bluegrass. A lot of good opportunities are coming up in the weeks ahead. Tell you about some that we hope will pique your interest and get you ready to participate.
April l8 brings us the WFPL fund drive for Sunday Bluegrass [WFPL 89.3 FM]. As of this writing, our show that night will be primarily live local groups participation. Our tentative schedule and let me emphasize tentative, as in subject to change, will be a group for each half-hour segment. Starting at 8:30 p.m., Kentucky Blue; at 9, The Schmitt Family Bluegrass Band; 9:30, Cyndi Ruff and ?; 10, Tommy Brown and County Line Grass; and – 10:30, The Riverboat Ramblers. All are popular local groups. Talk about live and local groups on radio.
This is just the beginning: April 23, a blowout at Shepherdsville Country Music Place. Ralph Stanley, Larry Sparks, Melvin Goins and The Timmy Cline Band will all be there. After the regular show, Ralph, Larry, Melvin and Curly Ray Cline will come back on to do an "oldtime show." You ought to be getting tickets for this one now.
I have been telling listeners to mark down May 30. Put the 29th down, too. There will be a big two-day event at Otter Creek Park. The 29th will be the Pizza Hut Showdown, a bluegrass talent contest — regional contest — limited to ten bands. The 30th will bring on the big show. Dry Branch fire Squad will start off at 11 a.m. with a gospel hour. This is a great group with an old-time Appalachian style and sound. The lineup for this first, of what is expected to be many good festivals, will be Ralph Stanley, Dry Branch fire Squad, The Lynn Morris Band, Josh Williams (a 12-year-old banjo whiz from Benton, Ky.), New Horizon and Kentucky Blue. All of this will be the best bargain in bluegrass at a modest price of $5 for Saturday, $8 for Sunday; a two-day ticket is $10 and two-day tickets for groups of 20 or more go for $8. Children under 12 get in free. FANTASTIC! For additional information, call Gary Loeser at Otter Creek Park, (502) 583-3577 (Louisville) or (502) 942-3641 Fort Knox/Radcliff area).
This should have any bluegrass fan worth his thumb pick all cocked and primed for the festival season sho' 'nuf. The Festival of The Bluegrass will be at the Horse Park in Lexington in early June. One of my very favorite festivals is the Charlotte, Mich., festival, June 24-27. Another great lineup for them this year includes Ralph Stanley, Bill Monroe, Jim & Jesse, Randall Hylton, Dry Branch fire Squad, Wade Mainer and others. WOW!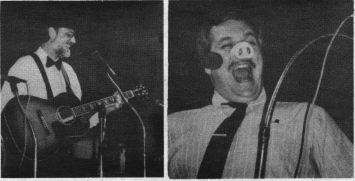 TREE-TOP TALL? HOG CALL? Left, Randall Hylton's trademark top hat blends into the rafters, while Kentucky Blue's Martin Harley, right, sings about Purnell's Old Folks sausage. At Shepherdsville Country Music Place on March 12. Photo by Jean Metcalfe
I have had confirmed what I consider some very exciting news — concerning one of the many popular local bands. Kentucky Blue, the group you hear behind the Old Folks Sausage commercial, the group that has been very faithful and supportive by performing live on the WFPL fund drives and who have made me a small part of their show on occasions, will be going to Japan. Right, JAPAN.
The Japan-American Society is sending them and Homer Ledford to Japan on July 27 and they will be returning on August 3. I can't speak for Homer, but I am sure this will be a once-in-a-lifetime experience for Kentucky Blue.
I don't have details of the itinerary now but loosely they have two 2 l/2 hour shows set, some travel time and other shorter shows to be arranged. "Some travel time" will include around the country on the famous Bullet Train. Bullet, as relating to cruising speeds around 175 mph. I know this is going to be a fantastic adventure for them. I hope they take lots of pictures and lots of notes and I know they will make more new friends than you can shake a chopstick at.
Speaking of chopsticks, Dave, I think you and the rest of the group should come around for a few pointers, that is unless you are already proficient in the manipulation of these fine eating utensils.
Bluegrass has a large following in Japan. I am confident that Kentucky Blue will also. I sincerely hope you will have a wonderful nip and will enjoy many new experiences. And remember, if you don't know what else to say, just say "arigoto." Hope I spelled that right.
(Close, but no cigar, Berk. You're welcome. And arigato to you and to the nice lady at the LFPL. — Ed.)
Comments such as "that was super," "I didn't know it was possible to get that much music out of one guitar," and "definitely an entertainer" are comments I heard on the night of March 12 and keep on hearing. By the way, Mr. Bluegrass Fan, where were you at 8 p.m. on the night of March 12?
Randall Hylton is definitely an entertainer, an acknowledged top songwriter and to me a good friend. Very personable, Randall really amazes those hearing him for the first time. He always leaves a show with new friends and admirers..
Shepherdsville was no exception. There was a much better crowd than average and that took some doing, considering weather, ball games, etc. Randall did a couple of numbers from a new tape he is working on; a tape that tells the story of Jesus. One of the numbers from it that left all of them talking was — I'm not sure if this is the exact title — "A flea Market in the Church." It was his effort to put the story of Jesus throwing the money changers out of the temple in a context that a child could relate to.
It's going to be a great album.
After the show many of us gathered for a biscuit at The Kitchen. Randall joined us and told about an experience that touched him as a result of one of the songs he wrote and recorded. He had prefaced the song, called "No Heroes Welcome," with a comment about how he thought the Vietnam vets had been left out.
At one of his performances a Vietnam vet came to Randall and thanked him for the song, calling him "the only one that had guts enough to do a song for them." Then he gave Randall his bronze star.
Also on the show that night was Kentucky Blue. This group always does a good show and are gaining new friends and fans on a regular basis. They always like to share the bill with Randall Hylton.
At this writing I can't say too much about the outcome of Carl Story's appearance at Shepherdsville, but judging from the interest expressed in his being there, I am confident it was another good night for bluegrass.
Coming to Shepherdsville in April, in addition to those noted above, are the Boys From Indiana (2nd); Doyle Lawson and Quicksilver (9th), Petticoat Junction and Charlie Whuttstein (30th).
Recording Reviews
Reviews have a way of getting behind you before you manage to get them done. Unfortunately some very deserving recordings do not get a just and due review. In order to prevent that situation one more time, herein are my thoughts on a couple of new releases from Pinecastle. Two new CDs to be exact.
Let's face it, reviews are nothing more than the likes/dislikes and opinions of one individual as a result of their particular mood at the time they are listening to a given recording. I don't listen or try to approach this with a great deal of "technical" production, but rather simply: How do I hear it as a bluegrass fan?
Doug Cloud and County Line is our first one. Perhaps over simply stated, good! Good for all who like traditional bluegrass. There are 15 cuts here and not one that I would not play on my Sunday Bluegrass show. Some of the songs are recognizable and some that you may not be able to pinpoint when or where you heard them, but they sound familiar. Then there are some I find are new to me but haven't lost a thing.
In fact, one of those will be the first one I will have aired. It is the kind of number you use for a good opener, a grabber to let listeners know a good bluegrass show is coming on.
That one is Katy Daly. Space won't give us luxury of naming all titles, but some samples are "Come Back Little Darling," "Plant Some flowers," "Traveling Down That Lonesome Road" and "Ye Old Spinning Wheel."
Now for just a hint of that technical stuff/ Something that I notice on recordings. This reminds me a lot of the ways things were done when a group like flatt & Scruggs would work ne mike on a stage and sound great. The singers were not competing with the instruments. All parts worked well together. Voice did not sound as though it was surrounded by instruments. Each in its own place and featured in turn with an easy and complementary level.
This is an overall good bluegrass album fa any traditional bluegrass fan. Listen to it on my show and make up your own mind.
Number two is also good. Good but different: Fred Travers, Time After Time. I don't know if this term has been used or not — I haven't seen or heard it — "softgrass." I doesn't mean that this isn't good, but if you are industrial strength hard-core, chances are you will not accept this one as readily. Again, you will be hearing cuts from it on my program
This also is a l5-cut disc. There is some good dobro and among others a top-notch banjo man, Ned Luberecki. Fred and Nd were both with Paul Adkins the last time we saw them. If this is a "stay together group," they will do well to exploit Ned's abilities. Here's an idea of the variety of the numbers found on this CD. "Loch Lomond," "Darli Ho1low," "Rebel's Last Request" (as Rebel soldier), "This Love's for You" and "Songbird." Some instrumentals and one particular one was selected as a tribute to Mike Auldridge, "Carolina Palms." This is okay as long as it is accepted for what it is and you do not expect "hardgrass."
We have a number of equally good Pinecastle releases, of which these are just two more. Available from Pinecastle Records, P.O. Bot 456, Orlando, fl 32802.