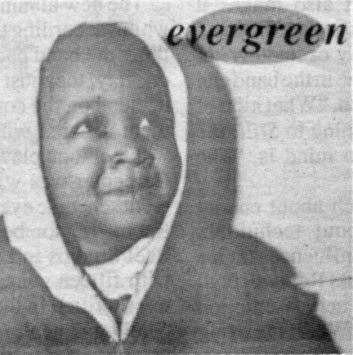 more than just a roar
Evergreen (Self Destruct)
Go Cart Ride (Self Destruct)
Evergreen
By Bob Bahr
Sinister never sounded so sweet. Some punk bands take their lyrics beyond the hackneyed maim-and-misery mindset, and some punk bands use dynamics to great effect. One Louisville punk band seems to be demonstrating all that and more.
Evergreen has a claim to true punkness, being abnormal in a genre based on abnormality – writing sincere love songs, boasting a tempo gearbox that has several gears rather than the traditional "fast" and "slow," and using fly girls and other theatrical devices during shows. This relatively new band is one of the biggest all-ages draws in town, and the recent double punch of a five-song, 7" self-titled record and a full-length cassette (Go Cart Ride) show them to be a band not only of raw energy, but humor, intelligence and musical talent.
Because of the style of music and the circles in which Evergreen is destined to frequent, the band will never achieve superstar status. Perhaps that is another reason why gems like "Precious," from the 7" Evergreen, are so delicious. The band, composed of vocalist Dave Pollard, guitarist Tim Ruth, bassist Troy Lee Cox and drummer Matt Tucker, have seemingly done all their homework in past years, and the songwriting and song-playing activity is therefore freed up for unrestrained immediacy. "Precious," for example, is no labored love song, but rather the thoughts that can run through the mind of a lovestruck hombre within the course of three seconds:
There she stands
She's staring at me
Wonder if I make her happy....
What to buy, I, I,
I can't decide, I,
I have to look good, to,
To my baby's eyes
Pretty, pretty, precious
Keep in mind that three seconds can mean two full measures of music for this band. The guitar is roaring and crunching at deafening levels, the bass is heaving mightily to support the heavy sound and still keep a pliant groove, the drums are tattooing an insistent, thundering beat, and Pollard is screaming and glowering with dread and pit-of-the-soul emotion.
Elsewhere on the 7" vinyl release are "Empty Sun," a scathing, clinical dis of a self-destructing acquaintance; the nearly poetic and clearly idealistic "1980;" a surprising narrative called "Wholeness of the Soul" which demonstrates nihilistic wisdom; and "Fall," a musically straightforward piece of metallic funk-rock about a heart-wrenching goodbye gel-capped by matter-of-fact realism.
While serving as an accurate representation of Evergreen and a helluva record, the vinyl 7" is just a teaser for Go Cart Ride, a fuller statement of the band's approach. Like Evergreen, Go Cart Ride benefits from the warm, live recording at MOM's Recording Studio.
As the cassette unwinds, the musicianship of Evergreen becomes apparent, in the tight, sudden stops, in the crisp flurries of notes, in the risks taken. Maddeningly, the vocals sometimes become buried; the contrast of careful, sometimes calm lyrical messages and Pollard's screaming would have more impact if we could understand what he's saying. The enclosed lyric sheet reveals more of the same, smart sentiments present on Evergreen, most winningly on the environmentally conscious "Blood," the countercultural "The Man That Crawls," and the odd ditty "Knowledge."
When listening to Go Cart Ride, the lyrics and their meaning are the farthest thing from your mind. This is primal yet polished punk, and the urge is to get up and mosh around. Go ahead. Do it. Evergreen will never disappoint you on that account.