Homefront's Ninth Anniversary Show
By Paul Moffett
Homefront Performances' Ninth Anniversary show at the Unitarian Church on March 13 was a mix of favorite players and new-to-the stage performers. The song selection leaned strongly to new material, at least as far as audience familiarity was concerned.
Except, of course, the a cappella version of the Rice Crispies theme.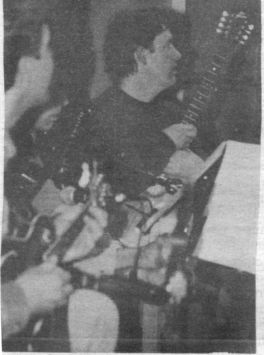 John Goodin, center, composer of tunes performed by the Mando Dharma Bums, watches for a cue from the Homefront staff. Photo by Paul Moffett
The audience, in attendance despite the bitter cold, was enthusiastic, and peppered with many old friends of the performers. A number had attended the first show way back then.
In most Homefront shows, the same set of performers are taped twice, in order to appear on two radio shows. This show was different, in that no act appeared twice.
The first radio program was essentially a singer/songwriter show and opened with the James Taylor-ish Ed Jackson, playing such well-crafted originals as "5:00 O'clock in the Morning," "I Got My Doubts," and "Close Your Eyes," not to be confused with "You Can Close Your Eyes," which he also did. Linda Cushing Gower, who has been appearing around town more frequently of late, finger-picked her way through self-penned tunes with titles such as "Ohio River," Earthquake Blue," and "That's What I'd."
Alan Rhody, who was one of the original founders of Homefront and appeared on the first Homefront show, closed out the radio segment with a set of mostly new tunes, including the country radio-ready "Ten Cent Lemonade," written with Tom Russell, and "Love Beat," written with Jimmy Grubbs. Rhody did cover his first big hit, "I'll Be True to You," which was taken to No. 1 by the Oak Ridge Boys. It was their first No. 1 hit. Rhody also wrote (or co-wrote) the first big hits for Lorrie Morgan ("Trainwreck of Emotion") and Ricky Van Shelton ("Wild-Eyed Dream")
The second radio show had a completely different flavor. Two ad hoc groups, Mando Dharma Bums and Zen Penguin, fired up on more original works.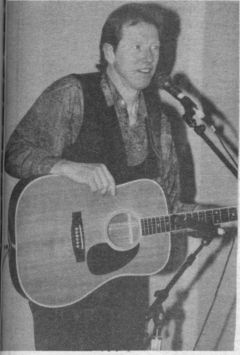 Alan Rhody at Homefront. Photo by Paul Moffett
Mando Dharma Bums, consisting of John Goodin, Patrick Fitzgerald, Mike Schroeder and Joe Burch, performed several of Goodin's compositions, chief among them being "Louisville Suite," a three-part piece, with each section bearing a Louisville name: "Up River Road," "Cave Hill," and the jaunty "Locust Grove." The Bums could well have been seen as a rump version of the Louisville Mandolin Orchestra, since all members play with the Orchestra.
Zen Penguin reunited former Middle Earth band members Ralph Thumas and Joe Ford and added a third in Dave Evans. The trio, being three males singing and playing guitars, could not entirely escape the memory of CSN&Y, but managed to be themselves nonetheless. They worked their way through tunes by each of them, including Joe Ford's "Two Shall Be As One," Dave Evans' "Hello, Family," and Thumas' "Deep Within Our Hearts," which appeared on an early WLRS album.
Zen Penguin closed the evening's entertainment with the aforementioned theme from Rice Crispies.