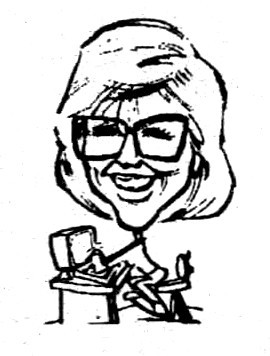 Newsical Notes
Lee Cable hasn't been around for a while because he's been busy earning a music certificate from IUS. When that happens next year, Lee will use his musical talents to teach others.
I have missed Lee and his appearances on our showcases and told him so when we talked on the phone recently. He said he would be interested in doing another showcase "anytime."
Although he hasn't written any songs for a while, Lee said that his "The Harlan County Blues" is being played on eight or nine stations in Harlan County.
"They're the most beautiful lyrics I've ever written," he said, then modestly added, "I don't know how I ever came up with it."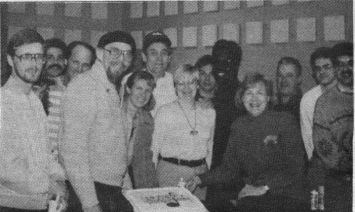 LASC members gathered around the cake to celebrate the Co-op's 7th birthday on March 15. Photo by Roz Reynolds
Dawn Haggard from Corydon, Ind., handles vocals on Lee's song.
We're still watching the mail for our copy of "The Harlan County Blues," Lee.
Thought our members might like to read this excerpt from the Spring 1992 issue of the Newsletter of Barq's Famous Olde Tyme Root Beer, under the headline "Barq's feels lucky":
SCOTTSBURG, IN -- Music lover and Barq's drinker Wally Stewart reports that on the season premier of the highly acclaimed television program Austin City Limits, Barq's was featured in the lyrics of a song by Mary Chapin Carpenter entitled "I Feel Lucky." "I bought a pack of Camels, a burrito and a Barq's," she sang. Look for the song on her upcoming album.
Wally submitted the info as a "Barq Bite" and for so doing he was awarded a designer ski jacket bearing the Barq's logo.
Let's lift a glass of Barq's to Wally.
Board Secretary Ray Yates' new Midi Project Room is up and running. He and partner Brian Curella have rented a spot at Gary Falk's recording studio in beautiful downtown Highview . On open house is planned for Media Music Productions in April. Ray gave the LASC prez and veep a sneak preview of the place and we were impressed!
I believe that makes three companies, at two locations, for Ray. He sure is one hard-working lad.
Good luck, Ray.
LASC singer-songwriter-musician Mike Tilford performed one of his originals, "When Love Falls Down," in a recent talent contest at UofL Hospital where he is employed. For his efforts he took home the top prize -- $125 cash. The contest was held at the conclusion of the hospital's Fund for the Arts drive. Mike had taken third place in last year's event.
Those of us who have heard Mike sing his originals at critique sessions shouldn't be surprised that he could do so well in competition.
Congratulations, Mike, we're proud of you.
Several LASC members attended the big NSAI Spring Symposium in Nashville and reports indicate a good time was had by all. Attending all or part of the weekend events were NSAI Louisville Workshop Coordinator Earl Meyers, Floridian Diana Black, Gardner Barger and Wally Stewart. During the weekend, several of the local members looked up former LASC members Karen Le Van, Sally Mudd and Bev Sumner, who now live in Music City.
Sorry I missed it this year; I understand it was a swell weekend.
It was good to see former LASC member Dave Evans at the Co-op's March 15 meeting. One of the four founders of the LASC, Dave stopped by for a while to help celebrate the 7th birthday of our organization.
Debi Knight, also a co-founder of the LASC, couldn't attend the birthday party but sent a letter of congratulations from her home in Irvington, Ky. She said she doesn't get a lot of news "down here in the sticks, and news from home is always enjoyed."
Debi wrote:
The big news down here is that the Knight family is opening the Irvington Pet Shop in early April. . . . Grand opening is expected to be either April 3rd or 10th . . . and we're located in beautiful downtown Irvington! I'll be the only singing pet shop proprietor in 30 miles of anywhere (at least!). . . .
I hope the sorta-party [that's how I had described it to her] was a success. I sincerely hope for at least another couple of centuries worth of anniversaries yet to come.
Thanks for those kind words, Debi. We missed seeing you and having you pose for the annual photograph. Maybe next year.