Songwriter of the Month By Mike Layman
Can an Ozark man and an L.A. woman meet, fall in love, marry, and form a dynamic songwriting team? Yes, and this month the spotlight's on Vincent and Rozlyn (Roz) Reynolds.
Raised in California, Roz moved to New York where she wrote songs and acted in a theater group; Vincent was born in Springfield, Mo. Vincent is the musician and Roz supplies the lyrics for the team.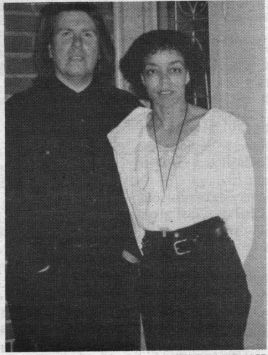 Vince and Rozlyn Reynolds. Photo by Jean Metcalfe
Vincent began playing the guitar when he was ten. By the time he was in college he had a group called the Snapshots. They toured the Midwest club route with a group called Kings X, currently a big hit in Europe. In 1985, with Vincent's brother Derek, the Snapshots were transformed into a new group, Man About Town. No Midwest bars for this group; they headed for the bright lights of L.A.
Meanwhile, Roz moved back to California. She read in the paper that Man About Town was auditioning back-up singers; she got the job. Vincent and Roz began their relationship at that time.
Because of the band's structure, the back-up singers didn't work out. Roz moved back to New York and she and Vincent continued a bi-coastal collaboration.
After six months or so Vincent visited Roz in New York and popped the question -- at the top of the World Trade Center (the same one that's in the news here lately). They moved back to L.A. and lived there nearly two years until a job opportunity moved them to Louisville.
They have been members of the LASC for only about six months and have already walked off as winners of our most recent song contest with their tune "In the Absence of Angels." There were nearly 600 entries in that contest. By the way, they donated their $1,000 grand prize to AIDS research. They are not only fine writers but great people too.
Vincent is one of our MIDI players and writes some great stuff. Roz calls their music "Dark"; Vincent calls it electronic rock. He is influenced by Thomas Dolby and Sting. Roz is influenced by Ann Rice and Vincent's brother Derek.
L.A. and New York's loss is truly our gain. The LASC appreciates the hard work Roz and Vincent have done since joining, and we are proud to have the Reynolds as members and hope they're with us for a long a time.