+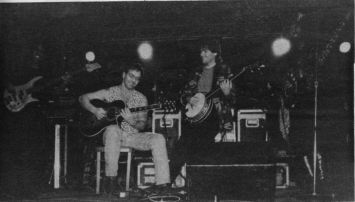 L to R, Victor Wooten, Al Di Meola, Bela Fleck and Roy 'Future Man' Wooten. Photo by Pete Strojny
To Boldly Play . . .
DiMeola & Fleck at Coyote's
By John Goodin
Left to right, you've got Victor Wooten playing two electric basses (one on a stand with a capo on the neck), Al Di Meola seated with an amplified acoustic guitar, Bela Fleck with an electric banjo and Roy "Future Man" Wooten with his Synth-axe/Drumitar resplendent in his pirate hat. These guys are tearing through Chick Corea's "Spain" with all their antennae out. It isn't hard to imagine that you're on the Promenade of station Deep Space Nine with Quark in the corner serving drinks.
This is the middle of the Flecktones' set and the arrival of Mr. Di Meola (wearing an incredibly hip/tacky leopard-skin vest) has taken an already burning band to another level. Bela and the Wootens clearly want to show Al that they can really play and Di Meola is gracious at first but digs deeper when he witnesses Victor attacking both basses at once.
The result is real jazz, each player inspiring the others to new heights and the musicians are as exhilarated as the cheering audience. Too soon the last unison passage of sixteenth notes is over and Di Meola retires for the night. It will be some time before Louisville witnesses ten minutes of music as intense as this.
Hats off to Coyote's for hosting the twin hill of Al Di Meola and Bela Fleck and the Flecktones on Sunday, February 28. The place was packed and, at $17 a head, I'm sure everybody made money. Local promoters take note: There is profit to be made from electric jazz in the Falls Cities. Especially nice was the 7:30 p.m. starting time which made attendance possible for many of us who had to work in the morning.
Al Di Meola opened the show fronting a classic fusion band; drums, bass percussion and keyboards. As expected, he came out blazing and gave his fans their money's worth. His set moved through several tunes from his recent recordings Kiss My Axe and World Sinfonia.
Di Meola used three different guitars; a Les Paul, a hollow-body electric and an amplified acoustic. The hollow-body was (I think) running through a synthesizer, allowing him several instrument sounds. The mid-tempo tunes sounded much like the Pat Mctheny Group with keyboardist Rachel Z. often playing more interesting solos than her employer but the faster pieces were pure Di Meola.
For me, the highlight came toward the end of the set with "Phantom," a piece written when Al played with Return To Forever but unrecorded by that band. On the whole the band's execution of Di Meola's complex tunes was impressive (both Al and Rachel Z. reading music at times from large music stands) but Dimeola's solos often seemed short on ideas and long on incredibly fast scalar passages. No one seemed disappointed by this and Di Meola's encore was well-deserved.
Bela Fleck and the Flecktones gave their first performance at a Lonesome Pine Special in Louisville and this show was one of several triumphant returns. It marked the first local appearance of the group without keyboardist and harmonica virtuoso Howard Levy who has retired from the band to spend more time with his family. The banjo power trio was both more ragged and more free in their new configuration.
Opening with (I think) "Hurricane Camille" from their first record, the two-hour set divided rather neatly into two parts. The first half covered slightly more familiar ground including Future Man's demonstration of his unique percussion instrument and a really fine peace and racial harmony rap tune from Victor Wooten. A wide-open treatment of "Royal Garden Blues" was especially fun. Di Meola's entrance for the burning version of "Spain" brought the crowd to its feet and logically ended the first half.
Bela Fleck wisely followed "Spain" with some introspective improvisation that led into "County Clare" from his New Grass Revival days. The rest of the evening was devoted to new tunes including "The Drift," "Vic's 9" and "At Last We Meet Again" (the latter two written by Victor Wooten) with a brief solo medley of traditional banjo tunes played straight Scruggs style. The finale was "Sinister Minister" given a new twist by Bela and Victor changing instruments; Bela playing the funky, popping bass line with authority and Victor contributing a fine bluesy banjo solo. The guys then switched back so Wooten could perform his tour de force, kitchen-sink bass solo that ends with his amazing instrument acrobatics.
Bela says that the Flecktones will begin recording as a trio in a few weeks. I suspect that both they and Al Dimeola sold a few records following this show. By sponsoring a well-run, crowd-pleasing show, the folks at Coyote's have a large group of post-bop jazz fans ready for their next offering.