Louisville Music High School Class of April, 1993
By Bob Bahr
Big Hat, a memorable band with a forgettable name, a mixed-gender quartet with a unique sound, a Chicago group gaining popularity in Lou. and Lex. with their danceable, different alternative sound. Appearing at Tewligans Tavern, April 9.
Big Wheel, Mammoth recording artists, underground rock darlings, proud parents of a critically acclaimed new album. Peter Searcy and Co. are appearing at several spots around town this month, like The Brewery, April 9; Tewligans, April 10; and Butchertown Pub, April 21.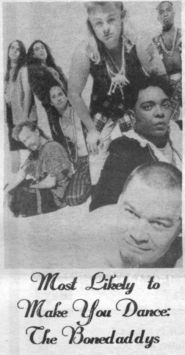 The Bonedaddys, quintessential fun dance band, masters of groove, percussion and Afro-Caribbean beats, an eclectic octet with the aptly named Worldbeatniks album under their belts. Appearing at Phoenix .Hill Tavern, April 25.
Brian Bower, well-known dulcimer player, Homefront performer with Tyrone Cotton this month. Appearing at the first Unitarian Church behind the main library, April 10.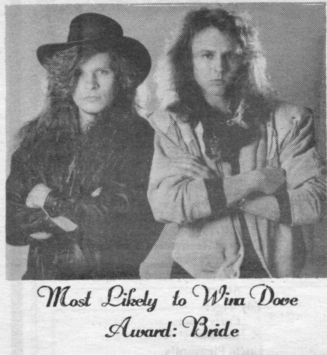 Bride, the biggest Christian hard rock band in the country, natives and residents of Louisville, winner of umpteen Dove awards, band built around brothers Troy and Dale Thompson. Making a rare Louisville appearance at Bethany Baptist Church, April 30.
Albert Collins, one of the most influential blues guitarists, Texas shuffle blues enthusiast, noted songwriter and instrumental writer. Appearing at Jim Porter's Good Time Emporium, April 20.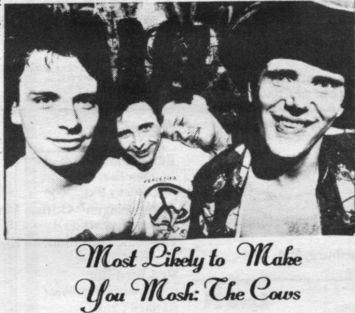 The Cows, a touch of grunge, a touch of theatrics, a touch of intellectualism, a standard rock group configuration, a night of fresh loudness, an opening act that is even louder (Janitor Joe). Appearing at Butchertown Pub, April 6.
Derby Rhythm and Blues Party, a first (and hopefully not last) annual concert at the Galt House East, a program stacked with Grammy-winning Betty Wright, Curtis Gaines, Curtis Wiggins and others, six hours of music for $38 (refreshments + buffet) or $25 (without buffet). Appearing at the Galt House East's Grand Ballroom, April 24.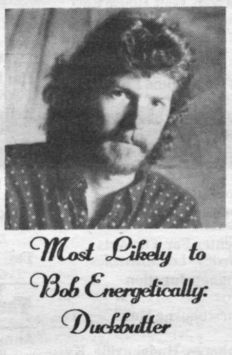 Duckbutter, a Bowling Green super-group featuring the estimable talents of mandolinist/fiddler/electric guitarist Sam Bush, vocalist bassist John Cowan and keyboardist Al Kooper, a band that rocks, rolls and strolls through blues, humor and musical heritage. Appearing at Jim Porter's, April 15.
Bob Dylan, masterful folk and rock songwriter, occasional singer, constant performer, hero to many, joke-butt to others, hopeless addiction for me. Appearing at the Kentucky Center for Art's Whitney Hall, April 12.
Steve Ferguson & the Midwest Creole Ensemble, most convincing case for an indigenous Louisville music form, a large group headed by a great, dirty, R&B-blessed guitarist (Ferguson), a musician being honored by St. Francis High School as a "Master Musician" at their annual Great Sounds concert, proud pappa of a great album Jack Salmon and Derby Sauce. Appearing (and being honored) at the Kentucky Center for the Arts, April 15.
Hal Galper Trio, a hot, bop-based band centered around immensely pleasing pianist Hal Galper, a fine show brought to you by the Louisville Jazz Society. Appearing at Luckett's Downstairs at Actor's Theater, April 5.
Godfrey Radford Music Awards, an annual batch of awards presented for the 7th straight year by the Louisville Association of Music Performers, a presentation/concert held to honor this year's winners, with Curtis Gaines, Gold Dee, Jerry Green, Black Harmony, Lady J., N2U, Samgha, William Simmons, Ron Lewis and Kaydo. It happens at Willie's 537 Lounge, April 18.
The Impressions, polished, elegant R&B vocal group, hit-makers responsible for "People Get Ready," "Amen," "Gypsy Woman," and "Finally Got Myself Together." Appearing at Churchill Downs, April 30.
Barbara Hendricks, possibly the finest soprano recitalist today, devotee of self-contained operatic selections, a pure singer who favors simple accompaniment. Appearing at the KCA's Whitney Hall, April 4.
Sammy Kershaw, co-headlining with Doug Stone, kicking off the Derby celebration with country music (surprise, surprise). Appearing at Louisville Gardens, April 18.
Lonnie Mack, blues guitarist that in some ways is the sum of many parts: psychedelia, rockabilly, gut-bucket, etc., a Cincy native with strong Louisville ties, an exciting showman that is an influence himself these days. Appearing at Jim Porter's, April 7.
Marshall Tucker Band, '70s Southem rock band with polish and a passel of hits, including "Can't You See" and "Heard It in a Love Song." Appearing at Coyote's, April 26.
Mitch Miller, the king of sing-along, the keeper of the friendly black beard, a follower of the bouncing ball. Appearing at the Kentucky Center for the Arts, April 18.
Lorrie Morgan, popular country vocalist, sharing a bill with Ricky Van Shelton, Morgan's got "Something in Red," Shelton's got "Wild Eyed Dream." Appearing at Freedom Hall, April 29.
Original Wednesday, a monthly showcase of local bands playing their own tunes at the biggest club in the city sponsored by the Rough Diamond Music Network, a quadruple bill featuring Godhead, Shattered Reality, Erchint and Human Remains. Appearing at Phoenix Hill Tavern, April 7.
Pantera, a Monster of Rock band, a loud band, a self-proclaimed "rad" band, a band that makes rowdy people rowdier, a guitar band, a loud band. Loud. Appearing at the Macauley Theatre, April 4.
Peter, Paul and Mary, Sixties acoustic folk group, performers of hits "Lemon Tree," "Leavin' on a Jet Plane," "If I Had a Hammer," responsible for introducing the world to Bob Dylan with their 1963 take on "Blowin' in the Wind," Mary Travers will be returning to her hometown for this show. Appearing at the Kentucky Center for the Arts, April l.
Phish, improvisational rock band, first gig was a hugely unsuccessful show at an ROTC dance, improvised solos sometimes take cues from color-coded beach balls in the audience, rabid, Dead-like fan support makes live shows a tough ticket to get. Appearing at the Macauley Theatre, April 16.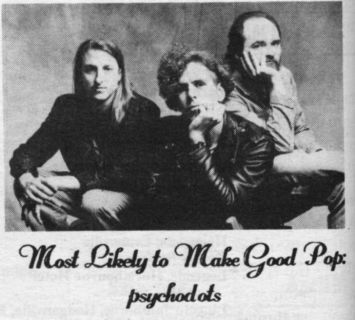 psychodots, smart, guitar-oriented pop band, former Bears, former Raisins, former Adrian Belew bandmates, current marvel of quality and perseverance. Appearing at Uncle Pleasant's, April 3.
Merl Saunders, keyboardist with a long resume and a wide range of musical interests. Appearing at Phoenix Hill, April 11.
The subdudes, Cajun rock plus more, vocally-driven group with an almost '50s feel about them. Appearing at Phoenix Hill Tavern, April 6.
David Todoran & the Eleventh Hour, a Ft. Wayne band that is slick, tight and happily reliant on Todoran's fine voice. The Muleskinners, featuring Michael Murphy, are also playing this particular weekend at Butchertown Pub, April 9 & 10.
Mel Torme, the velvet fog, the king of jazz scatting, the foil of George Shearing, an aging jazz vocalist who's still got it. Appearing at Louisville Gardens, April 24.
Pat Travers, rocker who achieved limited fame, part of a seemingly new show-booking approach by the guys at the Tiger. Appearing at the Toy Tiger, April 8.
A Walnut Street Revue, a show closing out the KCA's Midnite Ramble Series with jazzers Ramon Howard & Area Code 502, comedian Ray Belt, singer/actress Pearl Jones, nightclub singer Joyce Stewart, vocalist Michael Evans, vocalist Ted Howard Sr., soul group The Pearls and last but not least, Louisville's own The Moonglows ("Sincerely," "See Saw," "Ten Commandments of Love"). Appearing at the KCA's Bomhard Theater, April 24.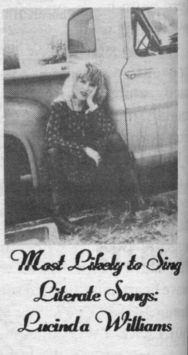 Lucinda Williams
Lucinda Williams, blender of Cajun, country, blues and R&B, noted songwriter who bares all (emotionally) in a plain-spoken, journalistic style. Appearing at Phoenix Hill Tavern, April 1.