WFPL and The Big Easy
By Paul Moffett
WFPL and Lynn's Paradise Cafe on Frankfort teamed on February 23 to throw a packed Mardi Gras party for the Friends of WFPL. The featured food was Cajun, the featured celebrity was Bob Edwards and the music was zydeco, courtesy of Lynn August and the Hot August Knights.
Lynn Winter served up her versions of standard Cajun cooking, including jambalaya, boiled crawfish, crawfish pie and filet gumbo. Lynn August served up standard zydeco fare. Lynn's food was perhaps more interesting than Lynn's music.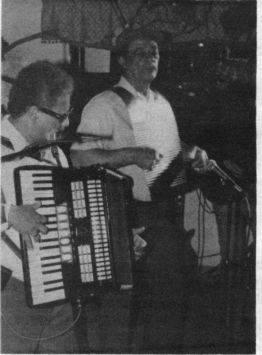 Lynn August and his scrubboard player heat up a cold February night. Photo by Paul Moffett
Regular patrons of the Paradise Cafe need no encouragement to try whatever she cooks, and those who love Cajun weren't disappointed, either. Fortunately for the Cajun fans, especially those who like crawfish, not everyone in attendance was either a regular patron or a Cajun fan, so there were plenty of "mud bugs" to go around.
NPR's Bob Edwards drew most of the attention from the partygoers, whenever they weren't busy schmoozing. Edwards had promised to sign every Tee-shirt sold that night and he scribbled late into the evening.
The Lynn August group played "du vrai zydeco" - the traditional zydeco form that is played in houses and small bars back in the Louisiana bayous. August, a blind accordion player, squeezed out a string of zydeco favorites, backed by his band. The crowd was encouraged to dance, and tables were removed to allow it, creating a mini-(very mini-) dance floor.
The event raised both moneys for WFPL and the spirits of the crowd on a cold February night.