a full plate of alligator blues
The Alligator Records 20th Anniversary Tour (Alligator)
Various artists
By Mike Campbell
One can approach this like a five-course dinner with the expectation that by the end, one will be sated. Happily, this ain't no Big Mac.
As the appetizer, Lil' Ed and the Blues Imperials whet the palate for more substance. His energy on slide guitar notwithstanding, the classic "Killing Floor" has had better treatment. To paraphrase Lloyd Bentsen, Lil' Ed is no Elmore James. "Pride and Joy" fare a bit better thanks to an exuberant band performance.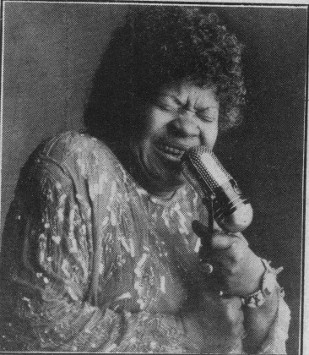 KoKo Taylor
Katie Webster, using only her voice and piano, comes close to stealing the whole show with her steamy interpretation of "Pussycat Moan," written by her. Her technique of dropping the names of blues legends (and rumors) boosts the fun quotient of "Lord I Wonder."
Speaking of fun, it was a blast to hear Elvin Bishop again. Elvin established his blues credentials back in the Sixties in the Paul Butterfield Blues Band, then took a commercial turn with the Capricorn label with his Top Ten hit "Fooled Around and Fell in Love." As fine as his technique is, Elvin seems to be having too much fun to qualify as blues. His set here is no exception, delivering a good time with an able guitar assist from Ronnie Baker Brooks, of the Lonnie Brooks Blues Band, especially on "El-Bo."
Veteran bluesman Lonnie Brooks again demonstrates an awareness of dynamics in his arrangements. His sense of when not to play is as important as the lyricism of his guitar; as a result, he gets the most out of a solid supporting cast. This shines through brilliantly on "Wife for Tonight," "I Want All My Money Back," and "Those Lonely, Lonely Nights" (a duet with Katie Webster).
The final set, led by Koko Taylor, finds the Queen of the Blues in energetic form. She effectively presides over the finale, "Sweet Home Chicago," featuring six (count 'em) guitarists. Instead of sounding like a train wreck, which many all-star finales manage to do, charisma triumphs over chaos. As a bonus, James Johnson of Koko Taylor's Blues Machine slices and dices his way to the fore via some sizzlin' pickin'.
While not in the intense, mystical league of Robert Johnson, Muddy, or Wolf, this is a fine par-tay recording. At the end of the evening, the announcer invites us to "thank Alligator Records for keeping the blues alive." You can debate the life-saving claim of that statement, but this 20th Anniversary performance certainly attests to the health of the blues. Finger-lickin' good.