Bluegrass Beat
There's a lot going on and a lot more coming up for this hot summer. Since the last bits of wisdom(?) I passed along I have been to one of my biggies for the summer: Charlotte, Michigan.
The Charlotte festival was ... uh, interesting, this time. [Berk did the emceeing for the festival. — Editor.] We had all nice warm, mild weather and more rain than I have encountered up there. This of course added to the interest.
Dry Branch Fire Squad got the show off to a great start on Thursday and then Friday came. Friday brought, among others, Bill Monroe and Ralph Stanley. Everything went well until mid-afternoon. Randall Hylton was also there Friday and added to the interest by arriving late. Vehicle troubles, one of those things with life on the road. Not to worry, a shower came along and caused a holdup in the proceedings. Worked out about right. After supper break, and, no, we did not have Super Break this year; that's for those of you who remember that story from last year. Randall had arrived and the show went on as planned, pretty much so anyhow. With a few more interruptions by rain, we still managed to get Bill on and off when he was supposed to be. They had to be in Summersville, W.V., the next afternoon and he really needed to get away on time. One slight hitch: as a result of the rain, the bus got stuck and it was after midnight before they got away. Another of those things with life on the road.
Saturday came off better. Well, up to a point. It looked like we were going to make it through the day. Bill Grant and Delia Bell were on, they were about through, and the next band hadn't arrived. And the next band hadn't arrived. Here I am two bands short and time to go on. Both groups, The Warrior River Boys and the Marksmen, were coming from Canton, Texas. Look that one up on your map. And while you're at it, just for good measure throw in a bunch of slow road construction around Indianapolis and Ft. Wayne with a road-blocking, long-delaying accident somewhere along the way. So you're excused, but what do I do now? Cool heads prevail and it's Randall Hylton to the rescue. Also makes up for being tardy Friday. Randall took up the slack and saved the day. But I'm still two bands short when he gets through, and, cool again, I move Jim & Jesse up on the schedule. When Randall is nearly finished I find the Warrior River Boys standing backstage waiting to go on. Rather than confuse things further, they took a little break and Jim & Jesse went on. The WRB asked if the Marksmen were there as the Marksmen had left Canton before them. The Marksmen did arrive but did not go on until after supper break. The head man for them kinda shook his head and said something to the effect, "I don't know how they flew. When we left Canton last night they were on stage and when we got here they were going on stage."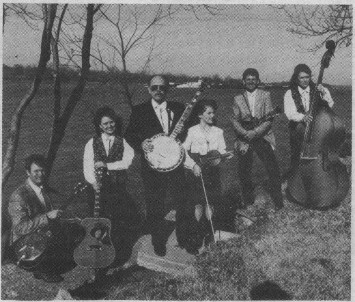 The Schmitt Family Bluegrass Band
After supper all but two bands played before the storm hit. Couldn't hold up on this one. The lightning flashed, the thunder rolled and the rain ... well, you know what it did. John Morris, the head honcho, muddled over whether to cancel or to go in the barn. With a lot of encouragement from folks in attendance, as well as the bands, the decision was made to move into the barn. Now folks, the barn is not conducive to shows, good sound or whatever. About 100 folks were in the barn, with Jim & Jesse first and then the Warrior River Boys. No P.A. This was something Jim & Jesse had done years ago in their career but it was a first for the Warrior River Boys. Believe it or not, everyone went away happy. The performers enjoyed, the crowd was quiet and attentive, and it came off good. A new experience for many. I think it was perhaps a feeling of intimacy, the closeness and togetherness, that helped. A rather personal touch. The performers didn't strain, yet everyone heard.
Sunday came off well with the Lewis Family there along with Wade and Julia Mainer and many more top groups throughout the weekend. Let me throw in a comment right here: It is truly something special, I think, the cooperation and the ready willingness of bluegrass bands to meet schedules as well as adjust schedules for the benefit of all concerned.
There are shows and festivals coming up in the days and weeks ahead such as the one at Seven Springs. As I am writing this I do not have the details with me, so just listen to WFPL each Sunday night, 8:30-11:00 p.m. and I will fill you in and up with details on the program [Sunday Bluegrass, of which Berk is the host. — Editor.]
Speaking of WFPL, we'll be doing an all-live show with five bluegrass bands on the 15th of August. This will be during our program, and across the street at the First Unitarian Church, corner of 4th and York. There is no charge and it will be open to anyone wishing to sit in; everyone is invited. They will have a box for Kentucky Harvest and if you should be so inclined to bring a can of food, great. Come on down and let's show them what bluegrass fans can do. Kentuckiana Grass, Gary Brewer, the Schmitt Family, and the Reynolds Family from Hodgenville will be there. I know that's only four; I ain't telling you who the other one is yet.
I want to get in a few words concerning TMA. TMA is the Traditional Music Association. Quickly and bottom-line, its purpose is to get traditional country music — country of the late '40s, '50s and '60s — back. Back on commercial radio, back on the record store shelves, and the artists back in the studios. The folks who built this country music, gave it life, established it, have been pushed out of the picture in favor of what is called country music now, and this was NOT DONE BY THE FANS of real country music. More about this later, but for now if you are interested in additional information and what your part can be in this restoration, write: Traditional Music Association, P.O. Box 800, 4110 Mammoth Cave Rd., Cave City, KY 42127, or call 502-773-3055.
Recording Review
Muddy Water
The Schmitt Family Bluegrass Band
This new cassette from a very popular local band is one we knew was coming and we have been looking forward to. I have listened to it several times and will be playing it on my show.
One of my first impressions is that all of the material selected for this tape is well suited to this group. The tape includes songs that have been around for awhile but not overworked nor overprogrammed. This makes some of them new to many who will hear them. Included on this tape is "Muddy Water," "Walk Softly," "Carrol County Blues," "Endless Sleep," "Call His Name," "Bile Dem Cabbage Down," for one side. Side two continues with "Waves of the Sea," "Long Black Veil," "Salt Creek," "Old Jim Comfort," "Baby's in Black" and "Old Joe Clark."
The two fiddle tunes at the ends of each side are by Rebekah Lynn Schmitt Goodman, all of nine years old, and soon to be a seasoned performer at ten. "Bek," as her mom, Connie, calls her, is the show stealer in the family. A good job, Bek. A good job on the whole tape.
I have liked Wendy Schmitt Baumann's singing on this tape as well as the last tape. Wendy comes through big time and really gets with it where it needs it. This is a family thing and that is clear.
A friend of mine, a picker from Virginia, was visiting us the day this tape came. We listened and he commented, "That's a good group, I like then." Me, too, and I think you will too. Come down and hear them live August 15 as mentioned above.