Marty tours the back roads
By Jean Metcalfe
"We had our hands full trying to top the first one," MCA artist Marty Brown admits when he talks about his second album, Wild Kentucky Skies.
Marty's intimate performances at 47 discount department stores in support of his debut album, High and Dry, had earned him the nickname "Wal-Mart Marty," and it seemed to suit him like his trademark weathered brown hat.
For his "Back Roads Tour '93" to promote his new album (see album review on page 10), Marty no longer travels in the red '69 Cadillac from his first tour — he gave it away in a promotional gimmick at the end of the tour — but he hasn't let success go to his head. The voice is still pure Hank Williams Sr. country, and the boots at the bottom of the lanky frame are planted firmly in the soil of Maceo, Ky., his hometown.
Recording sessions in a Nashville studio with top session players haven't changed the from-the-heart vocals that Marty sang on the demo tapes he made in his home studio. That studio was located in the family bathroom, the recorder was perched on the edge of the tub. and Marty was perched on the commode ("with the top down, of course," he said). His five siblings frequently groused about having to share the bathroom with an aspiring singer-songwriter.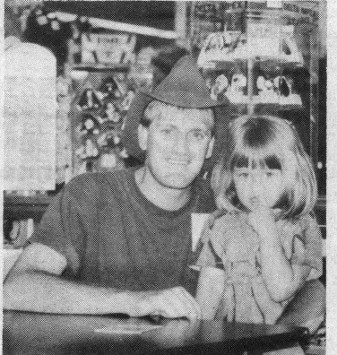 Mary Brown and Heather Young. Photo by Jean Metcalfe
Owensboro was the first stop on Marty's Backroads Tour in support of the new album; the second was at the Wal-Mart on Dixie Highway at high noon on June 5. We caught up with him there.
After kicking off his mini-concert with the woeful title cut from High and Dry, he said, "Let's sing something else; that's too depressing." With that, he fired up a clever number about a young couple courting in a porch swing; a real change of pace to be sure. Marty is quite a foot-stomper. Literally.
Business at the Wal-Mart jewelry counter came to a standstill as Marty poured out his heart on numbers from both albums and then some, closing with his grandmother's favorite, "You Are My Sunshine." Young and old alike, including one preschooler who wanted to marry Marty, and Marty's great-aunt Jennie, clapped, smiled, patted their feet, and sang along.
At the end of "It Must Be the Rain," Marty encouraged the audience to "call the radio stations on that'n and tell 'em to burn the needle to it."
Marty Brown should be getting airplay in Louisville. But he isn't. Is anyone listening?
Following an autograph and picture-posing session with a long line of fans, Marty took a few moments to answer several questions for this newspaper.
He said that his first tour was such a success they had decided to do it again.
"It's just amazing to me that I can just show up at a Wal-Mart [laughs] and there'll be people there. And they're the real people. And that's how come we chose Wal-Mart, and that's how come we chose certain towns, because the real people come to Wal-Mart, the people who really count. ... The people who shop at Wal-Mart can tell that I'm just bein' myself ... I ain't being nobody other than who I am.
"[W]hen I first got into country music I didn't understand that it was a business. I do now, but I'm gonna make sure that I don't fall prey to it."
He spoke of the way artists are made, acknowledging that someone with good looks and mediocre talent can make it on looks.
"But with me, I'm not that great lookin' of a guy. I'm not the worst, but I'm not the best. But I don't wanna sell my music on my looks. I want it to be because it's got something to say."
Next up on his schedule were appearances in Frankfort and Elizabethtown, then on to Fan Fair in Nashville. The tour would take him to about 47 different cities in about ten different states. And, responding to my inquiry, he said he will probably do the Everly Brothers Homecoming again this year (September 4).
I asked him about his songwriting, referring to the fact that he wrote most or all of his album songs.
"I have something to say. [Writing his own songs] let's me say what I want to say, and not what somebody else wanted to say. So I like to do that. I like to start something with a blank sheet of paper and just start out with nothin' and come up with somethin' that's gonna move somebody, and make 'em happy.
"I think that's the key to my whole success, is that my music makes people happy. It makes people remember, and it makes people forget sometimes, forget their troubles. It makes people remember the good times and forget their troubles, and it makes 'em happy. You put High and Dry in [the CD or cassette player] and there's all sorts of emotions, there's all kinds of feelings. And the same way with Wild Kentucky Skies.
"My daddy gave me some strong advice whenever I was first gettin' started out. He said 'Marty, if you ever go wrong, if you ever feel yourself wonderin', you don't know where you want to go, you don't know what to do, just reach down to your wrist and just put your finger right there (he indicated the inside of his wrist) and feel of that, and you'll hear that pulse, "thump, thump." You sing and you write to the beat of that and you won't go wrong, because the people out there listenin' has got one of them too.' And I listen to that."
He spoke of book sense and common sense, and allowed that both were good, and I got the distinct feeling that he felt he was blessed with common sense. Marty said he hadn't attended college (he wishes he had), but, "Fortunately, the Lord blessed me, and this happened to me ... I got to do this and everything. Course, good common horse sense is good, too. It's good to have," he laughed.
To our readers he said, "I'd like to thank 'em all for making me happy, you know, by believin' and listening to my music and makin' my dream come true. If I've made somebody happy along the way, then I've done my job. Because that's what I set out to do, was to show the world that, hey, you can just go out and just be yourself, just be plain Jane, and just tell it like it is and make it."