Country music this summer has been so solid. I have had a tough time keeping up. Between all the concerts, Fan Fair, and trying to catch a few rays out by the pool, I'm almost bonkers. It's time for a vacation already. There are just not enough hours in the day. Getting ready for the awesome lineup of acts for the State Fair has been a job, and I'm going to try to hit Branson and Florida before school starts and I have to go back to work.
For those who don't know yet, Reba and Brooks & Dunn's concert at the fair are SOLD OUT! But this does not surprise me. It will be one of the best concerts of the fair. [Since this writing, the George Strait concert has also been sold out. — Editor.]
Topping off all of this, CMA voting is going on. There is so much talent that has bloomed in '93 that it is very difficult to choose five acts for each category. But I think I can manage.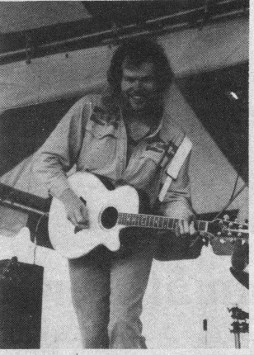 Toby Keith. Photo by Jan Winders
If you missed the WAMZ free concert at the Louisville Motor Speedway on July 11, shame on you! Tracy Lawrence and his band, Little Elvis, don't know how to quit. Tracy is known for his Texas good looks and sincere boyish grin. Not to mention being a favorite with the ladies.
It is easy to understand why the song "I Threw the Rest Away" on his million selling new album has been such a success so quickly. Seventeen days after its release, this 25-year-old baritone hunk went gold with the new LP release Alibis. With this gold album Tracy has fulfilled one of his dreams. He says, "The older I get, the more I start thinking of family and settling down, but no time soon." He's young and very wise.
Lawrence wants to get into the business side of country music and also do some producing. Tracy said he would play music whether he was making 50 cents a week or $50,000 a night. This ole boy just loves what he is doing, regardless.
Preceding Lawrence was a new Atlantic artist, Clay Walker. His original "What's It to You" is a solid piece that fits this young cowboy's style to a T. WAMZ didn't waste any time in starting to play his song. Color this cowboy with a ray of success.
While judging in the preliminaries of the Great Break Contest at Coyote's recently, I was fortunate to get to hear some of the best harmony I've heard around Louisville in a while. We are so lucky to have so many talented bands in our area.
The big finals will be held August 8 at Coyote's, and the first place winner will receive $1,000 in cash and a single demo recording from Music Man Records. Runner-up band will receive $500 in cash and a Fender Guitar valued at $500 from Mom's Music. Come on out and support these local bands.
I have mentioned before how close the line is drawn between car racing and country. These fans just lost a very dear friend in a helicopter crash. Davey Allison was on the NASCAR circuit as a top contender. He was a young pup to racing and to life. He gave a lot to his family and to his fans. He touched many lives in his short race here on Earth. Our prayers go out to his widow and his two very young children, and to his mom and dad who lost their youngest son in a racing accident last year.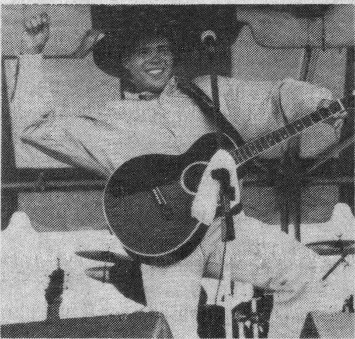 Clay Walker. Photo by Jan Winders
Joe Diffie was a good friend of Davey's. When he heard that the family was looking for sheet music to his favorite song, "Ships That Don't Come In," Diffie said he would do the honors.
Davey was said to be a chip off the old block, the clone of his dad, the great Bobby Allison. Bobby is a retired NASCAR driver who was in a near fatal racing crash that made his choice for him to retire. They have been through so much.
Robert Morris and the Lonely Roads Band hope to have a new LP released this fall. All the material will be original. Good luck, guys!
Garth is back!! He is sporting a new 45-foot family trailer for mom and little darlin' Taylor Mayne. His bus driver Gaylen Moore started the Prevost Company that makes the new, bigger buses. Garth, of course, was his first customer. Garth's band will still be on the bus with him.
"I don't believe in separating artists from the band. You know we're family and I think that's how it's got to be for us to continue to have success," Garth said.
Toby Keith was another crowd-pleaser at the June concert at Louisville Motor Speedway in June. His hit song "I Should Have Been a Cowboy" heated up the asphalt with foot-stompin' and toe-tappin' all over the place. Fans ranging in age from 5 to 65 were enjoying every minute of the show. This long, tall drink of water knows what he is doing on stage; we haven't heard the last of him.
Steve Decker of the Hard Livin Band recently underwent angioplasty. We wish him all the best. But he's already doing what he does best — playing music. Steve says he's stronger than ever. The band opened for Toby Keith when he performed at Louisville Motor Speedway. Hey, guys, keep up the good work. Reputation is everything!
Great news from Music City. The people in Nashville have finally woke up and started smelling the coffee. It took long enough, don't you think? Fans will now start coming to the artists. "Nashville On Stage" is now a reality. The fans and tourists have been wondering where all the country acts are when they come to visit Nashville. This goes for the people who live there, too. During the five months from May 6 through October 2, 600 acts will be performing. This adds up to three major acts a day. So far the sites selected are the Opryland Chevrolet Geo Theater, The Theater by the Lake, and the Acuff Theater. And you can buy tickets for just the show only.