Welcome to Lollapalooza '93
Photos and Review by Pete Strojny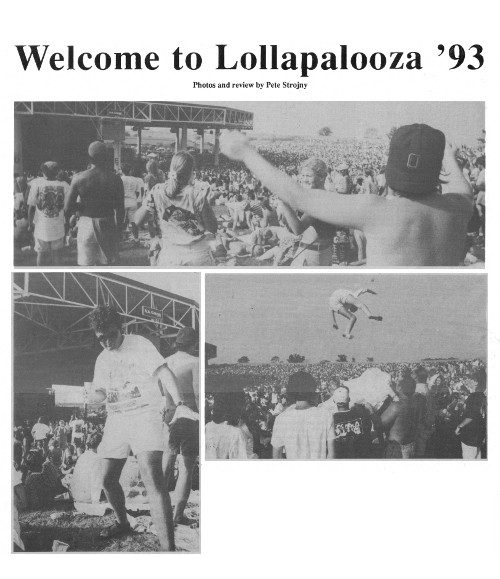 For a third year now, Lollapalooza has attracted thousands of eager fans by being billed as the "concert event of the summer." The 23-city traveling festival of music and entertainment lived up to its reputation, and anyone who experienced this phenomenal event would surely agree that it was a most exciting outing to participate in.
The show we attended was the one held at Deer Creek in Noblesville, Indiana, on July 5. The lineup featured, in order, Rage Against the Machine, who surprised most everyone with their fierce and inspiring set; Babes in Toyland; then a personal favorite, Front 242, with an intense and provocative electronic jungle of sounds that got things going in the fast lane; and Arrested Development, who set people to dancing and swaying to the music.
Fishbone and Dinosaur Jr. had things funked-up and crunching, respectively. Alice in Chains did their "Alice in Chains" performance — loud and precise — with the heavy following present; even the mellowheads were rocking frantically to Layne Staley's images on the large overhead monitors.
Primus closed out this music extravaganza with completely absorbing and mesmerizing theatrics, which included continuous projections on the huge screen behind the band. Some of their songs were from the new Pork Soda release. Les Claypool's unbelievably funky and exhausting bass lead and plenty of foot-stomping, energized the 20,000+ crowd into the now traditional "Primus sucks!" chanting.
The music was great, but there were other happenings going on as well. Between bands the folks had a chance to visit the Village, which featured something for everyone. There were the countless shops with everything from tie-dyed shirts to tattooing and piercing. And if you got hungry after all this, there were exotic foods and even a "smart bar" with their psychoactive concoctions.
The "Rhythm Beast" offered a chance to vent some energy on the various metal kettles and gongs, and many would-be drummers worked out feverishly on the large "drum kit."
For those who have never been to a Lollapalooza, go and experience it next year. I, for one, can't wait for Lollapalooza '94.