Manilow "Hits" Deer Creek
By Eric Metcalfe
with Michele Duffy
To be honest, I took a lot of flak from my friends when I told them I was going to see Barry Manilow in concert. I really couldn't blame them; I mean, Manilow is supposed to be only for the ladies, right? Wrong!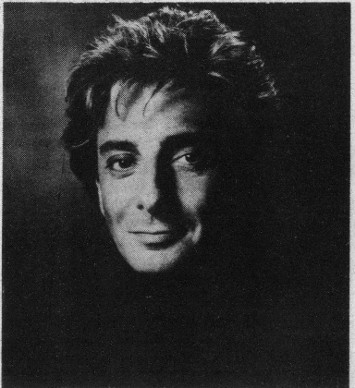 Barry Manilow
Barry Manilow's July 3 performance at Deer Creek (Noblesville, Ind.) completely altered my opinion of him. He is nothing short of a bona fide four-star entertainer. Manilow established an amazing rapport with the audience by making humorous quips between songs; he mentioned the Clintons, the recent Lyle Lovett/Julia Roberts wedding, and his appearance on "Murphy Brown." Barry had the audience roaring with laughter when, remarking about the many cornfields in the surrounding Indiana countryside, he stated, "The Jolly Green Giant must be having orgasms out here!"
And then there was the music! Manilow belted out well over twenty songs in the two-hour performance. His smooth voice had the audience singing along on just about every song. Many artists trudge through their older hits, but Barry filled every song with energy and emotion. His voice (and the music) was crisp throughout the show; Deer Creek seems to have solved the sound problems that plague most outdoor venues. Of course, Manilow did the crowd's favorites: "Mandy," "Can't Smile Without You," "I Write the Songs," and one of my forgotten favorites, "I Made It Thru the Rain." After performing "Weekend In New England," Barry remarked to the men in the audience, "If you can't get lucky with that one — give up!" Manilow even made fun of himself by showing some video clips of early performances of "Copacabana"; then he ridiculed the dated outfits he wore.
So don't wait for your girlfriend to drag you to the show; experience Barry Manilow in concert or on his newly released 70-song Hits boxed set.