Lollapalouvall '93
August starts off inna-BIG-way at Another Place Sandwich Shop (Frankfort Ave.) on Sunday the 1st. Eleven bands are booked for an indoor/outdoor festival which is to include ethnic and crafts booths, along with music. Scheduled to appear are: Hula Hoop, The Grifters, Evergreen, Drinking Woman, Dem Reggae Bon, Plunge, Oval, Purple Jesus, Blind Dive, 20/20, and The Barking Dawgs. Hula Hoop will have a new-to-Louisville cassette available at the show, a compilation of their recent European releases not yet distributed in the states. It's called "My Sweet Amputee" after the British release, but also includes their half of the German split-LP with Boy Racer, "A Turntable Friend." The Memphis-based Grifters (on Vertebrae Recs.) lean toward the Pavement/Sonic Youth side of things, but don't lose their balance and fall over like the many grunge-and-wear bands out there these days. Music begins at 1 p.m., cover is an unusual bargain at $5.
Walter Hyatt
While Walter Hyatt may not exactly fit the usual nature of this column, his upcoming show on Friday, August 6th at Uncle Pleasant's is sure to be too cool and too good to miss. Hyatt's music is difficult to classify; it falls somewhere along the pop to lounge-jazz continuum, but that continuum is freely intersected by quirky Southern blues and the roots of western swing. In 1990 he released King Tears on MCA, which was co-produced by longtime fan and friend Lyle Lovett. The two met while on tour in the early Eighties; Lovett's band was opening for Hyatt's. This year, Hyatt released a solo LP on Sugarhill Records out of Durham, NC. Though the release bears a rather ordinary title (Music Town), the songs are anything but.
Speaking of Uncle Pleasant's, the Psychodots celebrate their latest release, On the Grid there on Friday the 20th. Surely everyone out there knows that the Psychodots were the Bears w/ Adrian Belew in a former lifetime, and the Raisins before a bunch of hyper-capitalistic fruits from California threatened to sue over the rights to the name. One should also know that these men are among the finest musicians to grace our club scene, true masters of their instruments. The Dashboard Saviors from Athens, Georgia, perform on Friday the 27th. The Saturdays in August at Uncle P's cater to the deadhead scene. Potatoe Pharm appears on the 21st; the band derives their name from their three favorite things: vegetarianism, pharmaceuticals and making fun of Dan Quayle.
Laughing Hyenas
The 1990 release Life of Crime (Touch and Go) by the Laughing Hyenas ranks high on many people's lists of favorite albums to play when either extremely incensed or in need of waking up real fast. The Ann Arbor band formed in January of 1985 with guitarist Larissa Strickland, singer/howler John Brannon, and the rhythm section that now rears Mule (replaced by Ron Sakowski on bass and Todd Swalla [ex-Necros] on drums). On stage, they channel their early jazz and blues influences through number 10 amp settings and panther-like screams to flood the room with a purge of anger, frustration, love, hate, sin and redemption; often leaving a trail of blown microphones and limping mike stands in their wake. Now on tour, Laughing Hyenas will be at Tewligans on Sunday, August 8, for an afternoon all-ages show; Nitrous and Lather will open.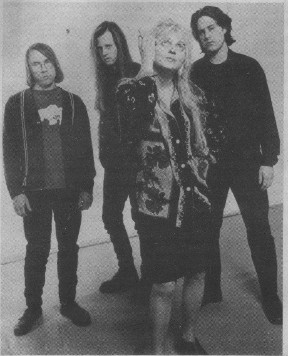 Laughing Hyenas
Unbelievably, the next day, Monday the 9th, Chicago's Smashing Pumplins will assume the same stage. The "cool as ice cream" quartet is on tour supporting their long-awaited new release, Siamese Dream. This show is presented by Cellar Door Productions, the promoters who brought us a song and a half by the Black Crowes several months back. Hopefully, this time their luck will run better. Tix are available through TicketMaster or if one wishes to avoid being reamed by the service charge, at the door the night of the show (presuming it's not sold out yet).
Tewligans is sponsoring a pair of farewell shows by local groups. The Uglies call it quits on Thursday, August 12. Erchint throws in the towel after an all-ages show with Integrity, Enkindle and Concrete on Sunday the 15th.
Don Caballero & Rodan
Touch and Go Records should open a branch office in Louisville, having so many of their bands on their roster either performing or residing here. On Tuesday, August 17, such a scenario occurs. Local sweethearts Rodan and Pittsburgh's Don Caballero share the stage for a free show at Butchertown Pub. Don Caballero released their first single for T&G (Our Caballero) in June, and their full-length album (For Respect), produced by Steve Albini, is due out in October. The Don (as they are affectionately known in some circles) distilles the subtlety of Slint, the groove mastery of Breadwinner, and the channelled aggression of October File-era Die Kreuzen into one explosive compound. Damon Che, drummer for the Don, offers us a closing proverb, "Roll like a trash can and dodge the pruning shears."
Other shows of interest at Butchertown Pub this month include a sneak appearnace by an East Cost group, the Vestrymen (Vertebrae Recs.) on the 3rd. Thye played at Tewligans once, about three years ago when they were a part of the cool but now defunct Rough Trade label. At that time, they brought us melodic though not too pretty songs in a spirit similar to Bob Mould/Husker Du. Strictly Wet makes the grueling drive all the way from Lexington to make sure we receive our recommended daily allowance of vitamins T (thump), B (beer) and D (the kind you don't get in milk).
In Loving Memory of Mia Zapata
Mia Zapata was born, raised and went to high school here in Louisville. Shw was found dead in an alley in Seattle, half-clad and strangled, very early in the morning on Wednesday, July 7. Mia had been with firneds and band mates the preceding night at the Comet (a bar in the Capitol Hill district) to commemorate the death of a friend of theirs, Stephanie Ann Sargent (who died one year earlier on that date). After leaving the Comet, Mia went over a friend's apartment to talk for a while. Deciding to go home, she told her friend that she was going across the street to a Texaco station to call a cab, stating "I'm not walking home" in that low, rather husky voice of heres that will never again be heard.
That was the last time anyone saw her alive. Her body was found an hour-and-a-half later in an alley near 25th and Washingont streets. Zapata knew that it was increasingly dangerous for a person to be out alone in the Hill area; there has been a wave of heinous violence against women there over the past few months. That's why Mia wanted to take a cab. She was being careful, and this still happened. Her badly scraped knuckles and the dirt under her fingernails indicate that she must have put up tremendous resistance. It still wasn't enough.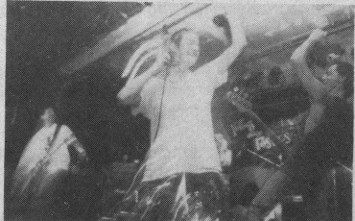 Mia Zapata
The violence is still going on. Not even two weeks after the murder of Mia Zapata, another woman was found. She has been next to impossible to identify because her head and arms were cut off. The Seattle police have yet to apprehend any suspects for either murder.
The Gits (Mia's band), C/Z Records (their label) and other friends of hers have established a trust fund to back a $1,00 reward for Crimestoppers and make donations to the Women's Action Committe in efforts to stop the sub-human scum that is doing this. Donations may be made to "Mia's Friends," c/o Washington Mutual Savings Bank, 301 Broadway East, P. O. Box 12036, Seatlle, WA 98102.
Mia was scheduled to be in the studio to record vocal tracks for the next Gits album during the middle part of July. Sjhe was the singer, frontperson and chief songwriter of the group. She was also a poet and a painter. The Gits were together for seven years, first forming in college at Antioch in Yellow Springs, Ohio, and later moving to Seattle about five years ago. They lived together in a certain rather decrepit, punk rock style dwelling called the "Rat House." With other musician-housemates they started a label, Rat House Records, and put out their own recordings. The Gits were later signed by C/Z Records and released Frenching the Bully in 1992. The band was confirmed to go on an European tour in the fall of this year.