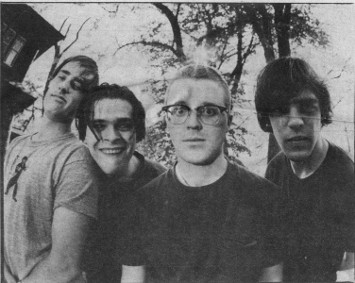 A group who . . . 'distills the subtlety of Slint, the groove mastery of Breadwinner, and the channeled aggression of October File-era of die kreuzen into one ezkplosive compound,' is appearing with local artists Rodan at Butchertown Pub on August 17.
Welcome to the revamped Upcoming page. In the future, we'll be bringing you exclusive interviews with the bands coming to town to play for you. You'll hear what their music is all about, straight from the horse's mouth. We'll also keep you informed on special musical events. Check our quick list for guaranteed good shows, "Pick of the Pickin's."
The Bisquits
Tommy Womack, guitarist for the rising band The Bisquits, called to talk about superstitions, Richard Thompson, and making it in the music business using reverse psychology. The Bisquits are appearing at Uncle Pleasant's on August 13 ($3??).
What you'll see at the Bisquits show
"It's very much a guitar band. Everybody plays guitar at some point."
What you won't see at the Bisquits show
"The only thing that is guaranteed on a given night is I don't play drums."
Where the Bisquits used to make their bread
"I'm from Government Cheese. That's what I did for seven years in my life. Right around the same time last year that the Cheese broke up, Will and the Bushmen broke up. Will [Kimbrough] sings lead, plays guitar lead and he's a manic frontman. Mike Grimes plays bass and some guitar. He's from Owensboro, KY but he lives in Nashville now. On drums is Tommy Meyer. He's from Boys with Toys and a couple other Midwest bands."
Major influences
"We've been described as a slam together of NRBQ and the Replacements . . . "
Minor influences
". . . plus a whole lot of other influences, like Richard Thompson, Chuck Berry, the Allman Brothers . . ."
On playing one of the world's most feared days
"Friday the 13th gigs generally go pretty well. And any gig on a full moon is generally either really good or really bad. For other Biscuits, Friday the 13th might suck, but it's usually pretty good for me. Now that I've said that, it'll probably be f---ed up."
From whence comes the name
"We quit the Bis and became the Bisquits."
Which means . . .
"We were all in a band where everybody was so serious. Even in Government Cheese, which was supposed to be silly, it got to be serious, got to be a job. We're trying to keep it just for fun. The irony is it's getting bigger. But it could stop tomorrow. No more of this serious rock n roll as business bulls---. If we're going to play, it's going to be for fun with a capital 'F.'"
Fair? More like great!
This year's Kentucky State Fair has a better musical offering than any Fair in recent memory. The offerings span the gamut from Kris Kross to Willie Nelson. Here's a rundown of the free concerts in Cardinal Stadium:
R&B husky voice Levert plays with 1 of the Girls on Friday, August 20 at 8 p.m. On Saturday, August 21, Foreigner plays, then the next night brings us the Oak Ridge Boys. Christian artists Bruce Carroll, First Call and Wayne Watson show up on Monday, August 23, then an oldies concert arrives on Tuesday with a very special guest. Alex Chilton, a pop genius, will play with his old band The Box Tops on August 24 at 8 p.m., joined by the Shirelles, Lou Christie, and Gary Puckett. Frankie Valli & the Four Seasons keep the oldies vibe happening on Thursday, August 26 at 8 p.m. But we forget Willie Nelson and Family, appearing Wednesday, August 25 at 8 p.m. The Fair closes with children's act Sharon, Lois & Bram, Sunday, August 29 at 5 p.m.
If you have some money in your pocket, you can see Michael Bolton on August 20 (Freedom Hall, $15). Vince Gill and Mary Chapin-Carpenter light up the stage with the best that country has to offer on August 27 (Cardinal Stadium, $13.50). Kids who like rap will dig Kris Kross with Supercat and X-Scape on August 28 (Cardinal Stadium, $12). The Fair ends their concert series with Clint Black and Wynonna, with special guest star Michael Johnson on August 29 (Freedom Hall, $13.50).
The Reba McEntire/Brooks & Dunn show and the George Strait/Tanya Tucker show have sold out. Sorry.