Stay Tuned:
Dr. Smith CD Release at The MeX
By Darrell Ray Elmore
Dr. Smith is alive and well, and living in Louisville. No, not THE Dr. Smith. Not Jonathon Harris, the man who played Zachary Smith in CBS' juvenile sci-fi show during the '60s. HE probably lives somewhere in Hollywood (although I hear he is dating some nice lady from Louisville). No, the Dr. Smith I'm referring to is Marvin Yates, Forest Ramsey, Stephen Ridge and Auric Steele, four young musicians out to set the local scene on its proverbial ear.
Recently, I attended their CD release party at the Kentucky Center for the Arts, and was both impressed and intrigued by the turnout on one of the rainiest, ugliest examples of our climate here in the Ohio Valley. The Boyd Martin Experimental Theater (The MeX, in common parlance) was almost filled to bursting despite the cruel weather, and the people who attended were obviously not there by happenstance. They were not simple walk-ins and curiosity seekers. No, these people were on hand for one thing and one thing only: to see these boys throw down some rock and roll music.
Dr. Smith's version of rock and roll is slick, slick, slick, clean, clean, clean. All four are very competent musicians, wielding their instruments in that tried-but-true-casual-I-got-a-groove-so-I'm-doing-it manner that has become standard fare ever since Keith Richards decided his guitar sounded better when he wore it slung way down by his crotch.
Marvin Yates and his "blues-based melodic guitar stylings," though mostly from the first position, are a solid base from which the rest of the guys build the visions and vistas that compel the listener to hear whatever the song is about. Ummm, yeah, and he plays guitar pretty good too. I got a chance to speak to him, and his wife Jennifer, and found them both quite charming. 'Course, we only exchanged a few pleasantries — the guy might eat babies for all I know.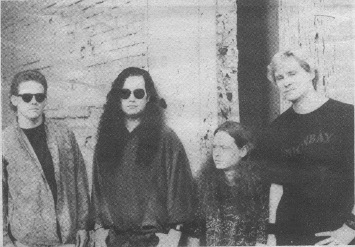 Left to right, Marvin Yates, Forest Ramsey, Stephen Ridge, Auric Steele
Lead vocalist Forest Ramsey sings and strums along on a big 'ol acoustic, looking just intense/sensitive enough to get him first prize in a "I just got in from Seattle" look-alike contest. He has been blessed with a strong voice, and one which happily mixes quite well with the music this band plays. His bio states that Ramsey is an "extremely prolific songwriter. He can write a song about anything, 'It need not come from personal experience'. . . his territory covers everything from Celtic ballads to hook-filled pop to hard-driving rock." Wow. All this and he's cute too. I just dunno about that "can write a song about anything" part. If so, then I'm waiting for Forest's take on the whole John and Lorena Bobbitt thing.
Seems the CD's title The Goings on Maxwell Street comes from a nightmare Mr. Ramsey once had. I don't know what this says about the CD itself, but I do know it was produced and recorded at Jeff Carpenter's Real to Reel studio, and was released on Carpenter's Hit-A-Note label. I'm sure it can be gotten at ear X-tacy or Better Days, or one of them there places.
Drummer Stephen Ridge played "hard to get" before committing to this band, and waited until he heard a demo before jumping in whole hog. He beats the skins like a veteran and evidently has some experience in the engineering side of music production as well as knowing how to hit things with sticks. It has been my experience that most drummers are crazy, but if this one has problems with his sanity, he hides it well. Ridge also handles the band's bookings. Okay, maybe he is crazy.
Auric Steele plays bass. Steele is a native of Toronto, Canada, who studied classical music for several years. His bio says "he purchased his electric bass to make sure the bass parts he was writing were practical. Soon he was pursuing the instrument seriously." I can believe that. I spoke with him on the phone and at the MeX, and kinda got the feeling he is the vocal majority for the band. He can lay down a line of BS, if you know what I mean. A minor talent, but one that can be invaluable in the hurly-burly world of rock and roll.
All the guys in this band are serious. Serious about their music, about their band, about the way they are presented, etc., etc. It is unusual for a local, original rock and roll act to book The MeX for their CD release, and though this borders on the pretentious, I don't think it was primarily an ego-driven decision on the band's part. Dr. Smith is obviously struggling to present their music to a wider audience than is accessible in most of the smoky/dank/dark/scary/tract-house rock and roll bars that dot the city. For this, I salute them. However, rock and roll stars they're not. They have tight control of their instruments, obviously know how to play, but there is nothing in their music that grabs hold, cuts through the noise. The sound they create together is more like the steady moan you hear from so many opening bands, comfortable, warm, but kinda bland. Given time, well, who knows. It's a long, hard slog up an increasingly mucky road . . . but maybe that is just what Dr. Smith needs. I don't think it would hurt them to get a little mucked-up. In fact, I think it would give them just the spice they need.