Some people say it's the end of an era, others feel like it is just another local band breaking up. Nevertheless, Louisville's Big Wheel breaking up is not a subject that can be easily overlooked. I love Big Wheel, and watching Glen Taylor and Peter Searcy play "Sleep" for the last time really choked me up. Peter walked off stage early, due to the tears that interrupted his singing. It is a shame to see such a good band break up. It was only fitting that they should play their last show before an all-age crowd; it seemed to me that the over-age crowds never gave them quite as much support as the all-age crowd did.
But I guess that for every death there will be more births. Some of the new bands are: Converge, a new power punk band; Synopsis, an Elizabethtown straight-edge band; and Diverge, which has just released a new demo.
Endpoint will be playing two shows this December. The shows will be on Dec. 3 and 4 at Tewligans. Endpoint will be playing with Enkindel (which is releasing a seven-inch sometime soon), 11-Eleven, Falling Forward, and one more band which is yet to be announced. Each show is expected to sell out, so be sure to get there early.
Endpoint will be releasing the first single from its upcoming record, Aftertaste, at these shows. The group will be playing once again in February with Avail. At this show both Avail and Endpoint will be releasing their new records. Bush League just recorded for its first L.P.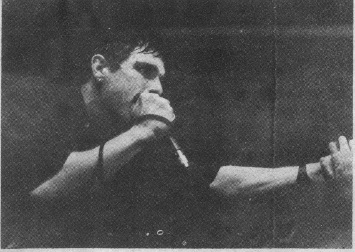 Mark Brickey. Photo by Jenefer Hobart
Erchint is auditioning new vocalists. I feel that Chad was a very capable vocalist, and don't believe that they should have dismissed him so quickly.
Lather broke up. Rodan is having a successful tour from what I hear. The Rodan album should be in the works very soon on Quarter Stick Records, a division of Touch and Go.
Crain released a new single, which seems to be selling quite well. They are signing to Restless, and I wish them the best of luck with that venture. Telephone Man just released a demo that was recorded at D.S.L.
Cherub Scourge is laying its power pop-punk music on the all-age scene these days. King Kong and Evergreen played a successful show on the 14th of November. Rant has been giving support to local bands by giving them shows to play. Plunge played at the last Rant benefit, and provided the crowd with a very good performance.
I listened to the local music hour on WQMF one Sunday night this month. I became outraged as the hour dragged by me. The Golden Nugget sponsored the show, and I found that most of the bands that were played in the hour were bands that frequented the establishment. It seemed like payola to me.
In fact, I called WQMF and The Fox and asked them to play some local bands. The person on the request line had not even heard of the local bands. If you think that the local channels are either uneducated on the local music scene, or you think that they do not play nearly enough local music, then this is my proposal to the reader: If you are unhappy with the programming of local radio stations, call or write in and say that you will boycott their channel. Tell them that they need to play more local music. Local bands deserve more than a late hour on Sunday night or on A.M. stations. Radio stations receive their money from advertising, and no one wants to advertise on a station that people don't listen to.