I've Got A Mind To Ramble
There aren't many musicians who can handle blues, jazz, country, zydeco, swing and even "Unchained Melody" all in one performance. Clarence "Gatemouth" Brown is a master of all idioms of American music. He brought his five-piece band, called Gate's Express, to Jim Porter's on Thursday, Nov. 18. The group included keyboards, drums, bass, second guitar and lap steel guitar. Gate is a multi-instrument musician who played a beautiful hollow-body sunburst Washburn guitar along with his ever-faithful viola.
The modest crowd was treated to two sets of one hour and twenty minutes each of some of the best guitar and fiddle work you will ever see and hear. For a 69-year-old performer who started playing extensively in the late 1940s with Jack McVea's Orchestra at the Bronze Peacock in Houston, Texas, he is still going strong. He got his nickname as a child because of his loud voice. Incidentally, he has a half-brother, who is also a singer, named "Widemouth" Brown.
"Gatemouth" got serious for a moment during the first set when he played one of his signature tunes, "The Drifter." He recently re-recorded this song on the album Strike a Deep Chord, which features several blues guitarists plus Dr. John and Odetta. Justice Records will donate 25% of the proceeds from the record sales to the National Coalition for the Homeless. Coincidentally, NCH had designated Nov. 18 as "Brother Can You Spare a Dime Day." Gatemouth succinctly stated that "all these people need are a job and a home."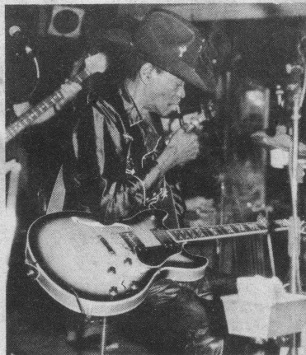 Clarence "Gatemouth" Brown takes a brief break from his guitar chores to relight his pipe. Photo by Eddie Davis
During most of the show Gate performed sitting on a stool and he would frequently light up his pipe for a few puffs between songs. At the table in the back there were CDs, cassettes, photos, posters, T-shirts, buttons and even his custom blend of tobacco for sale. Between sets he obliged his fans by autographing these souvenirs.
It is tough to describe his guitar style for he draws from so many influences, but there is always a lot of T-Bone Walker in his sound. With his fret board choked way down, his long, nimble fingers would change from picking to strumming the strings at lightning speeds. For all the guitar players in the house he performed "Pressure Cooker" and his classic "Okie Dokie Stomp." The band kept up with Gate's frantic pace, especially the keyboard player, who did some nice solos. Gate both bowed and plucked his amplified viola which worked well on the country and zydeco pieces like "Big Mamou." Gate's voice has that aged blend of a deep tone and smokey quality, and it came through strong on "Jelly Jelly."
It was 1:00 a.m. and Gate was wireless, walking around the dance floor in his razor-thin black leather pants, black shirt trimmed in white, and rhinestone and black Stetson deputy hat, serenading the few diehard fans who had to face the mule the next day.
l
What has happened to the new downtown blues clubs? The Cherokee Blues Club (II) at 928 E. Broadway was supposed to open Halloween night, but it is having problems with working out the terms of its lease. The blues club adjacent to O'Malley's Corner at 117 Liberty St. now has a name, Da Blues. Or is it The Blues Club? Everyone that I have talked to who submitted a suggestion for naming the new club had a much more imaginative name. Da Mudcats claim they had nothing to do with the selection. Will the winner please step forward? Da Blues was one of the venues for the MERF concerts on Nov. 21, the initial event for the club. Next door Coyote's featured Keri Leigh and her husband Mark Lyon making a return appearance for the MERF benefit, followed by Lonnie Mack. There were some tough decisions to make about where to go that evening because B.J. Knockers and the Bluebird Cafe also showcased the blues.