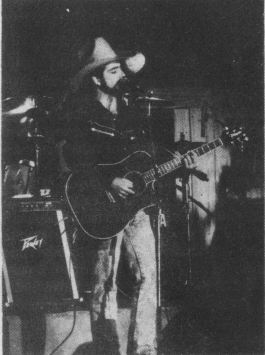 Ron Peake. Photo by Paul Moffett
documenting the local country scene
Coyote's Country (Music Man)
Various Artists
By Allen Howie
Coyote's Country is an effort to get the word out on our local talent, showcasing twelve area country bands. The result is a well-produced collection with a lot of good music and a couple of outstanding cuts that could compete head-on with anything coming out of Nashville.
Free Spirit kicks things off with "Right By Your Side," one of the strongest musical performances on the disc, with Robert Baker's keyboards and Billy Raikes' lead guitar leading the way.
J.D. Black cranks it up a notch with "Movin' to the Country," a song tailor-made to crowd the dance floor, then Karen Kraft brings it back down for a tender country waltz on "Same Old Song & Dance."
The Reed Brothers fire up a rockabilly "Runnin' from Love," complete with David Yates' Scotty Moore lead guitar, vintage do-wop backing vocals and Wes Hutchcraft's ticklish piano. "A New Number One" by John Allen has potential, and the band plays beautifully, but the tune suffers from an unfocused lead vocal that siphons off the melody.
The first real grabber on the record is "Play with the Baby's Momma," by Uncle Pecos, an ode to the pleasures of fidelity framed by a tough guitar/drums punch and a lean vocal. It's followed by "Believe in Yourself," a tune whose catchy chorus almost redeems some by-the-numbers lyrics.
Karen Kraft returns, this time with Kiks, her regular outfit, to tackle a toe-tapping "Walk on the Wild Side." Kraft's vocal is pure, unfiltered country, as is Ron Peake's on the tears-in-your-beer ballad "The Best That I Can Do," another of the collection's best offerings.
Wilder Days turns in a feisty "All or Nothing," with some perfect drumming by Les Howard and spicy lead vocals by Cheryl Lynn. But "I Can't Put Your Memory to Bed" finds Blackhawk struggling in vain to find a melody amid the blandness.
John Allen scores the second time around with a fiery performance on "Upright Lady," while Free Spirit shows a quieter side on "I Feel Love," with a lead vocal that recalls the Nitty Gritty Dirt Band.
But don't get too relaxed, or Hard Livin' will knock you out of the recliner with the galloping good-bye of "I'm Gone." J.D. Black takes a slow turn on the dance floor with "You Are My Love," while the Other Smothers Brothers serve up a high octane mix of pop and bluegrass on "Birddoggin'."
Wilder Days is back, this time with Kelly Amy providing a Rodney Crowell-ish lead vocal on the ballad "Holding on to What's Mine." Uncle Pecos brings things to a close with "Love the Hurt Away," a tune that would sound right at home on a Marshall Tucker album.
With eighteen songs and a dozen bands, Coyote's Country offers a tasty sample of some of the best homegrown music around.