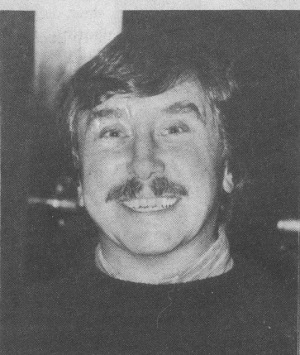 Greg Trafidlo was thrilled to win the $1,000 Grand Prize for his tune "Foxfire". Photo by Paul Moffett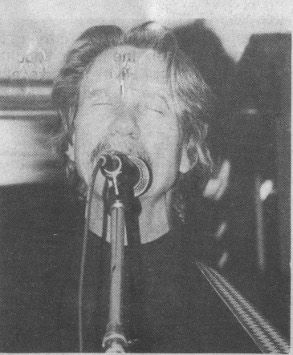 Ralph Murphy was calle dupon to entertain at the Awards Banquet. Photo by Paul Moffett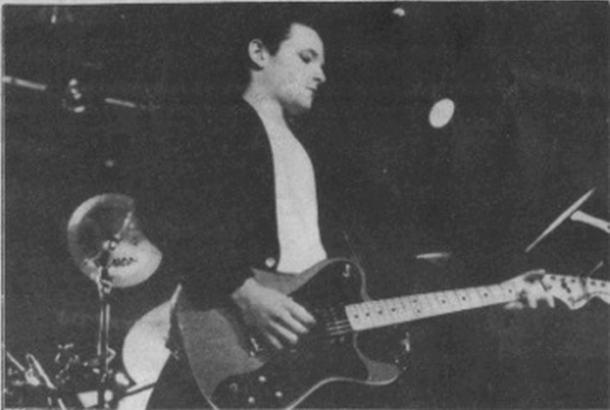 Bill Bartley of Poke-A-Dott impressed record label executives ta Phoenix Hill. Photo by Rob Gamage
Hit Makers '93
Phoenix Hill Tavern
By Cary Stemle
The first sign that something just a bit different was afoot was the Phoenix Hill parking lot, nearly full at 8:00 p.m.
I felt like breaking into the apostles' song from "Jesus Christ Superstar": "What's the buzz, tell me what's happening, what's the buzz... ."
The buzz was this: Several of the Louisville area's best musicians were on hand for the Louisville Area Songwriters' Cooperative Showcase. (A second LASC showcase was in progress at Jim Porter's Good Time Emporium.)
In town to check them out were a number of music industry folks. There were artists and repertoire (the vaunted A&R) people from major record labels, who decide just who gets a record deal and who doesn't. There were representatives from the performing rights organizations (you know, that set of initials you've always seen on the back of albums — ASCAP, BMI, SESAC), and music publishers. Music publishers don't necessarily care who records the material; they want to represent the songwriter.
There was definitely energy in the air.
Sixteen acts, ostensibly the best in the area, were invited by LASC to participate in the Phoenix Hill segment of the showcase. There were few stipulations, other than the act must be ready, willing and able to accept a record deal.
"We put the emphasis on label-ready," Jean Metcalfe, LASC vice president, said.
Things got rolling at 8:00 sharp with lovesauce & soulbones on the Roof Garden stage. Lovesauce is definitely a band on its way up (in industry parlance, they've got good "buzz") and, although there's no word yet of a signing, there were a lot of interested faces in the crowd.
Stranger Than Fiction, set for 8:00 p.m. in the Saloon, got a late start but finally got rolling about 8:30.
From then it was a frenzy of music on three stages. Each act had about 50 minutes to show its stuff — do or die. Some were obviously at the top of their form; others seemed a bit miscast.
One fellow, who mercifully shall remain nameless, saw me talking to a member of another band and thought I might be somebody important. When informed I was just from the fourth estate, he wanted to know just who was in the crowd.
"Were there any record label people watching us?" the inebriated lad demanded.
"I'm not sure."
"Well, if there weren't, I'm really *&%@ed off. We worked our butts off practicing for this thing."
Such is the pressure of the bigtime music biz.
The following day, LASC conducted a songwriting seminar, with some industry people on hand to offer insights and critiques. This was the second year for the music showcase, and the first time LASC had utilized two venues. (Last year the showcase was at Jim Porter's only.)
It's probably too early to say what, if any, deals may result from the showcases. But a reliable source says "much networking was done," and that one country band may be close to inking a deal. Stay tuned.
Metcalfe called the event an unqualified success.
"Definitely," she said. "We delivered what we promised. There were major labels here, and they were very complimentary. That's about all we can do. We give the musicians the opportunities. It's up to them to have the talent."
The event is a logistical bear, pulled off by a paltry few volunteers. Still, a weary Metcalfe said that showcase number three is likely in 1994.
"I suspect we'll do it next year," she said with a chuckle. "It's like asking a woman who's just had a baby if she's ready for another one. It's still a bit early to think about it right now.
"But we're very proud of the showcase."
Jim Porter's
By John J. Bochan
For the wall-to-wall crowds filling Jim Porter's Good Time Emporium Nov. 5, the showcase bands sponsored by the Louisville Area Songwriters' Cooperative provided a strong musical backdrop for a lively evening.
But for the local and nationally known music executives who attended, including Nashville producer Harold Shedd, senior vice president of Mercury Records, the night offered a great opportunity to see the best music talent the area had to offer.
"We were excited about the Jim Porter's gig," said Jeff T. Walls, a vocalist with BlackHawk, an Okolona-based country band that opened in Porter's Ballroom, one of three rooms in which groups were playing.
And what did Walls think about singing in front of big-time music moguls like Shedd? Walls, a 29 year-old Fern Creek High School graduate with a truck-driving day gig, was unfazed. "I just love to sing," he said.
"I would love to have a contract with somebody, to make it big," he said. "But with a wife and kids, it's hard to chase it too hard. I have a responsibility to them," he said.
Front vocalist and band founder Beverly Ballard agreed that a person has to love what they're doing to continue year after year. "There's always the hope that you're going to make it big," she said.
Ballard said he realized the long odds of ever making any real money at music. "When you get a good reaction from the crowd, that pretty much makes it all worth it," he said.
Jeff Walls agreed. "My wife comes with me (most of the time) and I make enough money to pay for a baby-sitter for my three kids," he said. "But I'm a realist. I know it's timing and luck and there are a lot of good players out there," he added.
"I've made a lot of friends with the people I've played with," he said, and that makes it worth it, too.
Following BlackHawk in the Ballroom was the Shufflin' Grand Dads, some of whose band members, rumor has it, were originally spotted stepping off the Mayflower onto Plymouth Rock some years back.
But contrary to any of the uninitiated's first impressions, once these senior rock-and-rollers shuffled to their spots on the stage, the band's combined 150+ years of playing experience shined like a torch in a dark tunnel.
A virtual youngster at 37 years old and yet a seasoned music veteran, vocalist Gary Meeks can trace his roots back to 1973 Monkey Meeks fame and can still can belt out rock and roll and rhythm and blues with the best.
Like hairy bookends on the stage, keyboard player Pete Peterson on one end and new band addition guitarist Michael Hoerni framed stellar bass guitarist Ron Payne, whose bass licks complemented guitar player Wayne Young. Mom's Musician's Marvin Maxwell's back-beat aptly anchored the drums, as always.
Vocalist Tom "Cosmo" Cosdon's stint at the mike cut like a knife through the crowd buzz. Cosmo never has been the kind of guy to easily surrender to a crowd's hormone /pheromone-driven alternate agenda, an agenda which often results in the music being ignored.
Whether or not any of the other 25+ groups who played at Porter's or at an adjacent showcase at Phoenix Hill Tavern will get that big break — i.e., a record deal — is still being decided on, said Paul Moffett, president of the LASC. "There has been considerably more industry buzz this year about the bands and the songs," he said.
"Music deals are often kept quiet because decisions often take quite a while and are made by committee," he said. "No doubt, there is a chance," he said.
This year marked the LASC's second year of sponsoring the band showcases and its sixth year for the associated seminars.