Happy MERFday '93!
By Mark Clark
When good bar-hoppers die, they must go someplace a lot like the Musician's Emergency Relief Fund's 12th Anniversary Benefit, held Nov. 21. Imagine: Nearly 80 bands on 14 stages in nine clubs. Not loser acts, either— top-drawer local and national artists. All for five bucks. For fans of local music, or just avid nightclubbers, it was almost heaven.
I reach this conclusion after spending the evening of Nov. 21 meandering up and down Bardstown Road, visiting a few of the clubs that participated in this year's event.
My night started with a spirited 45-minute performance from St. Matthews' own Dr. Smith in the Roof Garden at Phoenix Hill Tavern. Most of the material was from the band's new CD, The Goings on Maxwell Street, and most of the songs sounded exactly like they do on that disc. The band gave "Not the One" a harder, almost metallic edge. Guitarist Marvin Yates played like an emerging virtuoso. The band's early start (7 p.m.) kept the crowd to a small, dedicated knot of fans. But if Dr. Smith was preaching to the choir, at least it was a nice sermon.
Meanwhile, downstairs in the Tap Room, British vocalist Simon Tittley served up sixty minutes of massively overamplified blues-rock. I can't say I spent much time downstairs. Tittley's banal material bored me stiff.
Instead, I zipped up the street to check out Joe's Report at Tewligans. My only exposure to the band before had been through its new CD, Grow Loose. As I suspected when I listened to that album, this band is much more powerful live. Intricate compositions like "Sack of Corn" come across better— perhaps because the group is more relaxed. Joe's Report gets points for originality and degree of difficulty.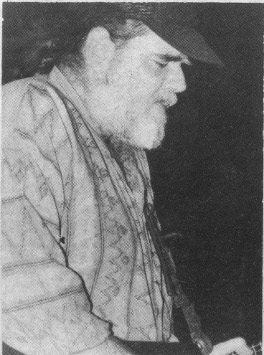 Lonnie Mack. Photo by John Bochan
Next, at the urging of a friend, I slid down to the Brewery's Thunderdome complex to check out local techno/rave band Big Head. Alas, the band never made it to the stage. The folks at Blunderdome didn't leave the group enough available electrical circuits to plug in its instruments. So, after a frustrating 40-minute wait, the band simply cancelled its performance. Thunderdome, by the way, is probably the worst live music venue in Louisville. There are few good sight lines. The stage features a ridiculous lighted runway that looks more suited for hosting beauty pageants than concerts. And a can (a can!) of Bud costs $2 ($2 a can!). The multi-purpose Thunderdome may be great for volleyball or other sports, but it stinks for concerts.
Stinging from that miserable experience, I trudged back to Phoenix Hill. Sixty minutes of fun from lovesauce & soulbones was more than enough to put me back in the pink.
This band has only improved since its debut six months ago. The hour-long show in the Tap Room featured the group in scintillating form. Singer Sam Anderson, feeling lucky to be alive after a frightening car crash the night before, wailed like a man possessed. In fact, the spirits seemed to move within all six members of the band that night, especially during ballads like "Meet the Saints" and "Love and Peace." Keyboardist Scott Thomas and bassist Dan Keily both checked in with brilliant solos. Anderson was unbelievable, closing the set by running out into the crowd and literally singing into the faces of members of the audience. If you haven't seen lovesauce & soulbones yet, you're missing something very special.
Still juiced from that performance, I decided to close out the evening with a little blues. Dropping by The Blue Bird, I discovered an impressive local trio named the Bar King Dogs. The chameleonic band proved equally adept at Stevie Ray Vaughan-type Texas shuffles and at Motown covers. The highlight was an appropriately soulful rendition of Marvin Gaye's "Let's Get It On." Bar King Dogs' vocalist, whose name I didn't catch, has a voice like a bell— clear and resonant.
The group's show proved a delightful way to ring out a nearly perfect evening.
By Cary Stemle
Anytime you talk about 80 bands playing in the span of five or six hours, well, let's just say it's the classic kid-in-a-candy-store conundrum: so much music, so little time.
On such occasions, choices must be made. So, lured by the renowned Tim Krekel, the delectable Keri Leigh, and the incomparable Lonnie Mack, I decide to set up camp at Coyote's and just be glad I'm there.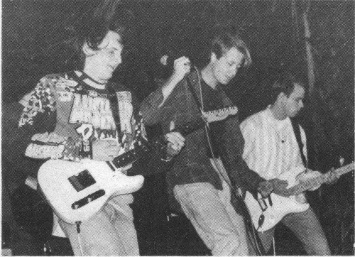 Stick People celebrates MERFday at the Phoenix Hill Tavern: Scott Sweeney, Jeff Sears and Bryan Smith (from left). Photo by Jean Metcalfe
The following report, then, is merely a smattering of the bigger picture. Call it a snapshot.
7:00 p.m. — Despite the early throes of what I mistakenly think is a cold (two days later, I find out it's the flu, which keeps me in bed for six days), I depart Lanesville, Ind., on a damp, dingy night.
7:25 p.m.— Arrive at my favorite parking lot at the corner of Second and Liberty. The lot is usually unmanned, but on this occasion two gents are working the booth.
"Are you going to church?" one of the guys asks me, referring to the church just up Second Street.
"No," I say, caught off-guard and not comfortable lying, especially concerning church.
"That'll be $2," he says.
"Maybe I should be going to church," I reply.
7:30— I hit the door at Coyote's and, accustomed to getting in free as a reviewer, begin to ask them if my name is on the list. Then I remember why we're here tonight, and I open my wallet to make my own donation.
7:35— The Shufflin' Grand Dads, a group of Louisville musicians who've been around since the beginning of rock 'n' roll, is on stage. It's my first time hearing them, and I'm immediately impressed by their professionalism. These guys know how to do it.
If you have a young 'un in your life who's making overtures about forming a band, take 'em to see the Grand Dads. They're a living textbook.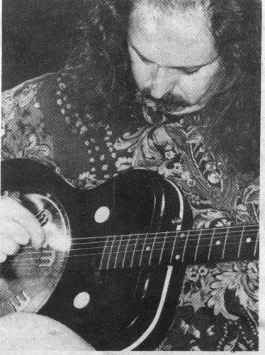 Mark Lyon, guitarist with Keri Leigh and the Blue Devils. Photo by Paul Moffett
As the singer says during one of the song breaks, "You're never too old!" Amen.
7:50— Exit Granddads.
7:58— Skynyrd's "Saturday Night Special" comes on the P.A., only to be preempted by Future Bob, late of WQMF and now with the FOX.
"You guys have heard of the FOX, haven't you?" Bob queries.
Either no one was paying him any mind, or people in Louisville are really slow to pick up on new radio stations, but no one responds.
8:05— The Future introduces Tim Krekel and his latest band, The Punishers.
Krekel is a proven talent, a good songwriter and a fine guitarist.
Although he had a brush with fame as Jimmy Buffett's guitarist, he's never made it on his own. Watching him, the only reason I can surmise is that he's not very flashy.
I sit alone and drink ice water. The waitress winces when I make my first order, but when I slip her some green, she keeps that water filled up faithfully.
I'm expecting at least one buddy to show up, and finally, about 8:30, he does. We sit for awhile at a table, then wander over into the Blues Club, a newly opened room at Coyote's that's making its debut tonight.
The owners have done a good job approximating a blues club. In fact, I wonder if they haven't installed smoke machines, 'cause everybody knows, IT AIN'T A BLUES JOINT IF IT AIN'T SMOKY!
Kelly Richey, formerly of Stealin' Horses, is on stage fronting a three-piece band. The Lexington lady is energetic and powerful, and plays a mean lead guitar.
As the Rev. Billy Rose joins her for a rousing version of "Red House," I saunter back into Coyote's and nearly trip over the two steps leading back to the club. A ramp might be in order.
8:48 — I take up residence at a table just behind the dance floor. Five minutes later a MERF rep alerts me that I'll have to move when they begin using the table to sell Keri Leigh merchandise - her two CDs and the recently released biography of blues great Stevie Ray Vaughan.
8:50 — I zone out thinking about this MERF thing. Despite the conundrum, it's a great concept, a true grassroots movement. If more people got together to solve problems this way, we could make a dent ... .
By now the crowd is getting pretty healthy, a good sign. I wonder how the other venues are faring. Someone says the Grand Theater in New Albany, which is featuring oldies, has a sparse crowd. That's a bummer. Maybe the Coyote's bill is tilted a bit.
The comment about the Grand, which is where I played my first Harvest Homecoming Band Battle in 1979, sets me to thinking about the musicians involved in this musical feast.
Some have probably played each of the previous 11 MERF shows and are likely there out of a sense of duty.
Others may be playing one of their first gigs. For them it's a chance to play in front of some warm bodies.
As far as the audience, some surely come out of respect, to make a donation and support local music. Others— the real barhopping diehards— probably see it as another excuse to go out on a Sunday night.
Regardless, it's a great thing, this MERF.
9:05 — Austin, Texas's Keri Leigh, joined by her significant other, Mark Lyon, hits the stage for a little unplugged blues.
Leigh came from Austin for expenses to show her respect for MERF. She's also donating 10% of book and CD sales to MERF. That's putting your money where your mouth is.
After a few softer numbers, Lyon plugs in so he can compete with the sounds wafting in from the Blues Club.
This man can play the guitar - slow, subtle, nuanced. And Leigh, well, I'm not the only one around thinking of Janis Joplin. What more can you say?
9:25 — da Mudcats come out to back Lyon and Leigh. The band stays tastefully in the background, daring not to upstage the stars. It's a classy gesture by one of this town's best working bands.
Leigh ends with a rousing version of Elmore James' "Talk to Me Baby." Boy howdy (that's Texas talk), it's getting hot in here. Is it the flu?
10:15 — A woman is on stage tossing out FOX huggies, and, boy, do they come running. Is it free, is it free!!!
Future Bob is back, which is getting on one of my friends' nerves.
"The Future's gotta go!" he intones. Hey, Bob, why not go home and party naked— by yourself. I wonder if Bob would know MERF from a Smurf.
Finally, the man who many came to see, the legendary master of the Flying V, comes on stage. It's Lonnie Mack.
The wizened vet takes a solemn minute to pay tribute to Marvin Maxwell, and the genesis of MERF a dozen years ago.
"Musicians don't have any insurance, no retirement plan, nothing," he says. "You play till you die. That's the way it is."
With that, he breaks into a wailing, "Yeah, yeah, yeah," the opening lines to "I Found a Love."
It's a Kodak moment.
People hit the dance floor, and you see, once again, that the best music just gets better with age.
10:50 — After 30 minutes of Lonnie, I realize I'm spent and head for the door.
When I first drew up my game plan, I intended to stay at Coyote's for the duration, then head to Phoenix Hill at 11:15 to hear Smokehouse. Ah, but the burgeoning illness changes that. The Benadryl and Tylenol are wearing off, and Lanesville is a good 25 minutes away.
I'm a little sad, because Smokehouse is a newer band with a good buzz. So good, in fact, that a friend of mine, after seeing them for the first time a month or so ago, was possessed to call me at 1:30 on a Thursday morning to tell me they were THE GREATEST BAND HE'D EVER SEEN.
I won't hold that against them, though.