The Romantics
By Kevin Gibson
The Romantics must like Louisville.
The Detroit, Mich., quartet made its fourth stop here in as many years on Oct. 23, taking the stage at Broadbent Arena following the Louisville IceHawks' home opener, and delivered its usual capable, energetic performance.
The acoustics inside the oval-shaped arena were surprisingly good, giving the group a much better sound than its 1992 show at Jim Porter's Good Time Emporium.
The black-clad band glided through a relatively brief set of originals, including selections from their recent European release, Made in Detroit.
The first half of the show featured much of the new material such as the seismic "She Knows How to Rock," and as the concert progressed the Romantics rewound to old favorites such as "Tomboy," "A Night Like This," and "She's Got Everything," a Ray Davies cover.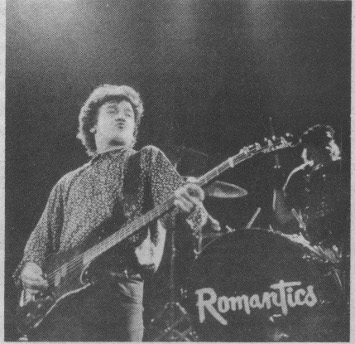 Romantics lead singer Wally Palmar. Photo by Kevin Gibson
The band threw in John Lee Hooker's "Boom Boom" for good measure and wrapped up with their college-rock cult classic, "What I Like About You" (a song they must be tired of playing after 14 years).
The best thing about the Romantics is their live energy. Over the past 15-plus years, their musical style has gradually evolved from British-style power pop into a heavily blues-influenced rock, and it translates beautifully onstage.
Perhaps the one drawback is that the lyrics haven't evolved as steadily. Still, the music is decidedly blues-oriented, and the band still has a knack for coming up with catchy hooks and unique guitar riffs.
It is just that combination upon which blues and rock and roll survive, so if these guys are going to get back on the charts, it will be that knack which gets them there.