Sound of Music By Jean-Marie Ebel
The Derby Dinner Playhouse in Clarksville opened the holiday season with the perennial favorite "The Sound of Music" to an almost packed house. The endearing score by Rodgers & Hammerstein has made the musical a classic that has captivated audiences for over 30 years.
"The Sound of Music" tells the true story of "The Trapp Family Singers." As a young novitiate who becomes a governess to a widowed naval officer's seven young children, Maria Augusta Trapp captures the children's hearts and teaches them the fun of childhood.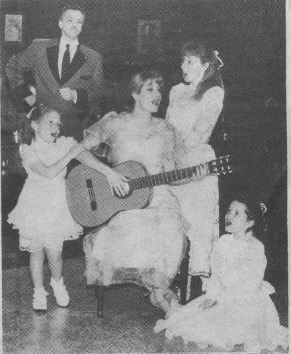 L to r, Claire Longest, Paul Kerr, Kristin Huffman, Conny Williamson and Chelsea Pattison
In her first performance at Derby Dinner Playhouse, Kristin Huffman gives a charming interpretation of Maria. Huffman's voice perfectly conveys the exuberance and emotion behind such tunes as "The Sound of Music" and "My Favorite Things."
Seen in several productions at the Playhouse, Paul Kerr as Captain von Trapp gives an equally strong performance. The local young actors who filled the role of the von Trapp children enchanted everyone with their delightful portrayals. As Mother Superior, Colleen Tueth displays an impressive range, especially in "Climb Every Mountain."
Under the capable direction of Jon Huffman, the fine cast turns in an outstanding performance that shows why "The Sound of Music" still remains a family favorite.
"The Sound of Music" plays through January 2. Reservations may be made by calling 812-288-8281.