A Conversation with Tracy Byrd
By Jan Winders
Tracy Byrd is another piece of Beaumont, Texas, pride. This smooth gentleman is on his own now and knows how to make all the right moves to get to the top and stay there.
I had an opportunity to speak with him recently about his background and career:
Where did you go to school?
Clay Walker and I went to the same high school together. Mark Chesnutt went to the high school down the road. We ended up playing Cutter's together. This is a big club Mark and I played in a lot in Beaumont.
What did you do before you started singing out on the road?
I was in college studying business. I was about a year and half away from graduating when I dropped out to pursue my music career and go after a record deal. I'm glad I did, too.
Do you think college has helped you in the business part of music?
I think the discipline of college has helped me during this being out on the road with the music business.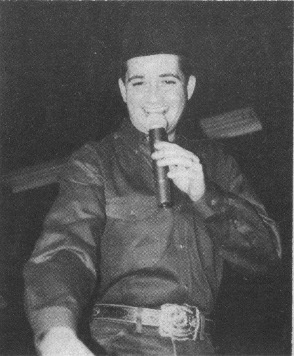 Tracy Byrd. Photo by Jan Winders
Are you having fun with yourcareer?
I'm having a great time. I am having the best time of my life! It is a lot of fun (laughing).
Are you setting goals for yourself?
Yeah, I want to keep working until I'm a platinum act, headline my own shows like Strait and Garth. I want to be like Strait or Garth. That's my ultimate goal.
(He has a duo on his self-titled album with Dawn Sears, a new MCA act. Tracy says she has a beautiful voice and did a great job on the song. A brilliant songwriter, he co-penned the title track of Ricky Van Shelton's A Bridge That Didn't Burn. He also writes with Dean Dillon and Frank Dycus.)
Do you think luck has anything to do with your career or is it all talent?
I would say fate more than luck. I think there's a plan for everyone. I really think you have to pursue it for it to come through. It had to be, because I didn't start singing until I was 20 years old. I think it was destined for me to do this. I'm awfully glad I worked hard at it, and got where I am at.
Did you do any singing as a kid?
I always sang when I was old enough to learn a song. I was singing, but not in front of anyone but my parents.
Were you shy?
Yeah, real shy about things like that, ya know. Luckily, I got out of it though.
Did your parents push or support you?
Not at first. Not after they had spent three years' worth of college tuition. I went off to school and came back home because of grades. No, they weren't crazy about me dropping out of school and pursuing my music career at first. Now they know I made the right decision. I would have thought they were crazy if they really would have thought it was a great decision! (Laughs) I knew they weren't going to like it when I thought about doing it.
Who do you attribute your success to so far?
Ah, well, to my managers Joe Carter and Ken Ritter. They found me many years ago when I was just a pup just startin' out. They helped guide me to where I am today. That, and it's just the good Lord for just having this plan for me. It's definitely God-given, because I never have to try to do it. I never have taken a vocal lesson or a guitar lesson. It just comes easy to me.
Did you grow up in church, singing?
Sure did! I didn't sing [perform] in church though. I never sang anywhere as a child.
What's your philosophy in life?
Being happy is the main thing. My philosophy in the position I'm in is to stay on the ground. To stay focused and humble. I'm blessed to have been given what I've got. The career I've got here. My dad went to a plant every morning for 35 years to a job he hated, and I get to wake up every morning and look forward to what I'm going to get to do today. Walk out on stage with a thousand people screaming for you, it's just great! I try to keep that in mind, because I've seen a lot of guys that get to thinking they're something special. You're not something special. You've been given something special. (Tracy said this with a lot of feeling straight from the heart.)
Does your wife like this?
She's working on her accounting degree right now. It's tough on a marriage. That's the drawback to the thing. Country is so big now. You have to travel a lot those first two years. But we make it work. I try to feel what she's feelin' and she tries to think what position I'm in. We've managed to stay together and still be happy.
Are you self-motivated?
I'm more motivated than a lot of people. I think I work real hard.
What a gentleman. A real smooth Texas cutie. Tracy Byrd's baritone voice will separate the men from the boys. You have not felt a ballad knock on your heart's door until you have gone BYRD WATCHING!!
Tracy's newest release, "Why Don't That Telephone Ring," is rated a No. 10 on one of those sad, crying-in-your-beer scales, and you will want to hear it again and again.