'Tis the season to hear live music, brothers and sisters, and Louisville is blessed with a cornucopia of musical acts in December. Many of Louisville's hottest hometown acts come back for the holidays, and a spattering of national acts visit as well. What better way to end a long day of Christmas shopping than with some blues? How else do you celebrate the arrival of Aunt Martha, but to attend a hardcore punk show? Pass the egg nog and hit the music scene — it does a soul good.
The Java Men
Todd Hildreth, the jazz keyboard extraordinaire behind the Java Men, took time out recently to talk about their gig at the Butchertown Pub on Dec. 16 (10 p.m.,$2 cover). Hildreth is joined by stellar guitarist Craig Wagner and celebrated drummer Ray Rizzo in the band, which plays invigorating jazz originals and select standards. The evening is also a chance to catch another hot local jazz band, Orbits. Incidentally, between those two bands you have a large portion of the musicians playing with King Kong and lovesauce & soulbones, plus a couple of members of the now-defunct The World.
The official unofficial beginning of the Java Men
We formed a year ago, and we didn't know we were a band at first. We played the opening of the Twice Told Coffeehouse and Harold [Maier, the owner] started booking us regularly. He said, "You guys need a name." And the Java Men popped into my head.
Based on an original idea by . . .
Originally, my concept was to play the keyboards, but right now I play a "fake" organ — until I figure out how to get a real Hammond in and out of [Twice Told.] In conceptualizing the group, I modeled it after Wes Montgomery-Jimmy Smith-Grady Tate Verve recording trio. For playing, one of my biggest influences is Larry Young. He took the Hammond and brought it into the modern age, took ideas that were hip at the time and applied them to the organ.
Jazz with an attitude
We're real high-energy jazz, somewhere between a really good jazz concert and a rock concert. Not really thrashing, but we're pretty loud for a jazz group.
. . . and not just a jazz cover band
The originals have a wide array of influences. They're designed to be fun rather than to blow you away with complexity, although we put some of that in them.
In addition to the originals, they play songs by Pat Metheny, Chick Corea and Charlie Parker. Which makes the musical stew . . .3>
Both bebop and fusion, but we don't really make a distinction between bebop and fusion. We just sort of see it as one stream that we draw from.
Will it fly in the Dance Hall?
I think it's a natural progression. It seems like Louisville is starting to open up to things like that, things like poetry readings. The same crowd that likes us likes poetry readings and Bodeco, things like that. I've always said that the audience was there. It just had to be done right. Bars would always want to try jazz on a Monday, Tuesday or Wednesday night, and when the people didn't come out, they'd say jazz doesn't work. I'm glad this is on a Thursday night. We'll just have to see how it works with alcohol instead of caffeine.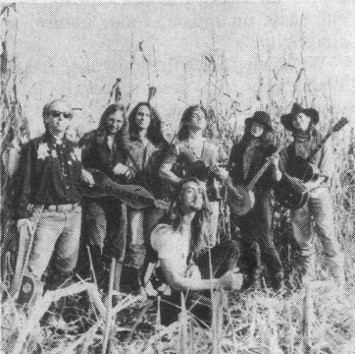 The Cactus Brothers definitely has some hard-driving rock in it, and the bluegrass-country elements are abvoius. But a dulcimimer? See how the Cactus Brothers make it all make sense on Dec. 10 at the Phoenix Hill Tavern.
The Mighty Water Kings Reunion
Jimmy Gardner, who serves as the lead singer for The Mighty Water Kings, said he can't remember just when the band started — or when it ended. "It was pretty much a blur because it was so much fun," he said during a recent phone interview.
As near as we can piece it together, The Mighty Water Kings formed in 1987, and broke up sometime in 1989. Rhino Ivory & the Monkey Paws emerged from the ashes, with drummer Jeff McAllister and guitarist Tony Bowles spending a lot of time on the road with Lonnie Mack. Gardner picked up the bass for his current stint with Blonde Johnson, and Mike Murphy kept up his group, Murphy's Law. Bowles is currently a part of Hank Williams Jr's live band, and McAllister plays with bluesman Duke Robillard. The holiday season brings McAllister and Bowles home to Louisville, allowing the MWK reunion show to come together. The reunited lineup, featuring Gardner, Murphy, Bowles and bassist Jay Comstock, performs on Dec. 23 at the Butchertown Pub.
What you'll see
Most of us wear suits; I might wear a sharkskin suit. Tony wears rocker-type clothes, black leather.
What you'll hear
We play rockin' rhythm & blues. We take covers by people like Slim Harpo, Albert Collins, ZZ Top, Lonnie Mack, Muddy Waters and Eddie Cleanhead Vinson and play 'em the way we play 'em, which is sort of a rock blues. I wouldn't suggest it for the purists, no. There aren't really any boundaries on what we are going to do.
And Gardner guarantees . . .
All the comedy and everything they ever bargained for. When we get together it's an energy explosion. I'm surprised we didn't get locked up when the band was together. And in addition to being great musicians, it's funny. Mike Murphy is the funniest person I know who doesn't get paid for being funny. We end up laughing all night.
More on Murphy
Just looking at Mike makes me laugh. He's the Al Capone of the saxophone. Il Dulce di Amore. I have to say something about him all the time. What a dancer he is! If it sounds like he's my role model, he is.
But when they put on their game
face . . .
The music is very serious. You won't find a group more meant to play than this one. We rehearse for a week before every one of these [reunions, of which this is the third]. The first rehearsal we all spend laughing, but we have premier players. Tony and Mike are premier players on their instruments.
The Mighty Water Kings official slogan:
"Let Me Be Your Guide to the Land of Rhythm and Pleasure." I copped that line from Barney Fife.
Coyote's is offering a primer on the Louisville country music scene on Dec. 1 with the album release party for Coyote's Country, a compilation of twelve bands and eighteen songs from Louisville artists and writers. All twelve bands are scheduled to perform, including Free Spirit, Uncle Pecos, Hard Livin', Karen Kraft & Kiks, John Allen and Robert Morris & the Lonely Roads. You can't go wrong with that varied a bill.