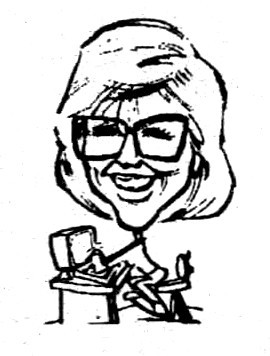 Newsical Notes
Joe Forgacs took a shot at trying to get his song about the recent flooding of the Mississippi River to radio and television stations in the affected areas and beyond. Joe knew the difficulties in trying to get such a time-sensitive original on the air, but he gave it a good try. Although his efforts didn't pay off (as far as he knows), he played the song for our Nov. 1 critique, and his melody received high marks. If Joe takes the suggestions offered that evening, he will write new lyrics to that melody. We look forward to hearing the new version.
Belated CONGRATULATIONS! to Gloria Colter, an out-of-town LASC member, and Sue Kinsey who won the King Eagle Award for Country Songwriter of the Year at Airplay International's Sept. 25-26 awards show in Nashville for "Back to Work." The song, as recorded by Craig Collins, rose to No. 23 and No. 7 on a couple of independent charts.
A resident of Gainesville, Ga., Gloria has had considerable success in songwriting contests, including LASC's own competition.
Earlier this year Gloria won the Musician of the Year award for her songwriting from the Atlanta Branch of the National League of American Pen Women. She is director of Northeast Georgia Songwriters Association, a division of Atlanta Songwriter's Association.
I like the statement that appears at the bottom of the letterhead for Gloria's company, Colter's Corral Music: "Trot on down and tell us what you want and we'll gallop out and find it."
This hasn't been a good year for Alan Morris. Add knee surgery to his already difficult year. Hang in there, Alan, 1994 is just around the corner. (Maybe something good will happen with a song of yours. Read on.)
Congrats! to Charlie Walls on his new 12-band, 18-song album, Coyote's Country, on Music Man Records, which is to be released at Coyote's nightspot on Dec. 1. Quite a few songwriters are represented on the album, including several past and present members of the LASC.
We missed seeing former LASC secretary/membership chair/et al., and friend Diana Black at the Nov. 5-6 Hit Makers '93 event. A very important part of several past Hit Makers weekends, Diana was unable to come to Louisville because of duties she had in connection with an NSAI seminar sponsored by her songwriting workshop in Florida. You know that any songwriting group lucky enough to have Diana join them is gonna snap her right up to help with any event they schedule.
But, luckily, she will be in Louisville for the aforementioned Dec. 1 album release party. Diana shares co-writing credits on two of the album cuts (one with Alan Morris and one with Charlie Walls).
Hit Makers '93 did see Karen LeVan coming up from Nashville to pitch a new song to the music industry folks. Good to see you, Karen, and thanks for helping out.
Wally Stewart stopped by the LMN/LASC office on the 29th, on his way to Music City. Besides visiting Karen and other friends while there, Wally also planned to drop in on a couple of people in the music biz to say hello. No doubt he will stopped by Sonlite (whose rep took two of his tunes on Nov. 6) to see what's new.
If I know Wally, he'll make the most of the four or five days he's there. Wouldn't be at all surprised if he takes a young woman or two — or more — to dinner while there. He's an old-fashioned fellow who believes in sending flowers and being a gentleman.
Wally has promised us a full report of his Week in Nashville. Hope he makes enough memories to carry him through the cold winter days he will spend working to improve road conditions for the State of Indiana Highway Dept. Now, Wally ... about that Thanksgiving Sunday bottleneck on I-65 near your Scottsburg home ... .
Doc Dockery returned from a very successful tour in England (where he cut an album that included a couple of songs written or co-written by local songwriters, including Papa Gene Adams) in time to attend the really big Nov. 5-6 Hitmakers weekend. And it's a good thing, indeed. Besides helping out with the staging at Jim Porter's on Friday night, Doc placed one of his originals, "I Want to Go Where the Angels Fly," with a gospel publishing company on Saturday.
Sonlite rep Sher Powers really liked the song, which was inspired by Doc's son, and which Doc decided to pitch to Sonlite because of that inspiration. Soon after, Doc received a follow-up call from "higher up," inquiring if he would be willing to share co-writing credit with an artist who would possibly cut the song. Doc said yes. Stay tuned for late-breaking news.
May 1994 bring you success with your album, Doc. And a cut by a major artist also.
Ditto on that last item for all the songwriters who had songs taken by publishers that weekend.
Thought our members would like to read the following item from a recent issue of Monday Memo, a publication of the Jefferson County Public Schools:
Waller School Chorus to premiere songs.
The Waller School Chorus, directed by Cheryl Lawrence, is premiering two songs in a holiday program at the Brown Hotel, second floor lobby, at 10:30 a.m. on Wed., Dec. 8. The songs, "Santa's Little Workshop" and "Snowflakes," were written by Earl Meyers, teacher at Churchill Park Rehabilitation School.
According to Ms. Lawrence, "Not many good secular seasonal songs are available nowadays that do not offend some groups." She also said she is excited about the songs and that the students especially like the whistling in "Santa's Little Workshop."
Looking into my crystal ball, I predict that something very exciting will happen to one or more local songwriters and/or artists in 1994. I know I've probably said that before, but chances for success seem to be getting better every year.