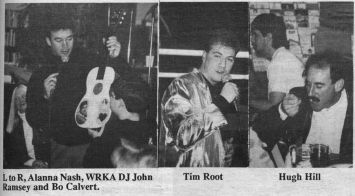 Are You Hungry Tonight?
By Jean Metcalfe
Elvis was a no-show, but that didn't stop his fans from celebrating the 58th anniversary of the King's birth at Hawley-Cooke Booksellers' Gardiner Lane store on January 8.
Singer Tim Root did show up, with three back-up singers — the Quarter Notes — to present nice a cappella versions of several of Presley's best-known hits. Author Alanna Nash read interesting passages from a book she had ghost-written about Elvis, "From Memphis to Hollywood," including one describing the awkward meeting of Elvis and Marlon Brando, each a fan of the other.
And Louisville Postmaster Harvey Slentz was on hand to present Elvis stamp plaques to several of the evening's participants and to the winner of the door prize. The new Elvis stamps had gone on sale for the first time earlier that same day.
Pat Patterson got to hear his favorite Elvis song, "Love Me Tender," this evening, attending the party because "it just sounded like a fun thing to do." His friend, Molly Jordan, came along "because [Patterson] invited me to come." Reason enough.
"This is the truth," Patterson promised, "In 1955, in Bowling Green, Kentucky, where I lived, I actually met Elvis and shook his hand. And I got his autograph on the back of an Oertel's 92 beer carton and gave the autograph to my sister and she's since lost it."
Suzette Henke, a new resident of Louisville who teaches at UofL, came for "just the fun of having an Elvis birthday party. I thought that was really a neat idea."
Seven-year-old Bo Calvert proudly displayed an "Official Elvis Presley Guitar" belonging to his father, Bruce Calvert. "He got this in 1957 for Christmas, I think," Bo said. WRKA deejay John Ramsey, the evening's emcee, asked Bo where he lived and where he kept the guitar, then teasingly suggested that he might come calling during the night.
Recipes for the birthday dinner were taken from the cookbooks Fit for a King: The Elvis Presley Cookbook and Are You Hungry Tonight?: Elvis' Favorite Recipes, and included pork barbecue, cole slaw, cornbread muffins and banana pudding. After dinner, local country singer-songwriter Hugh Hill described the meal:
"It was wonderful," he said, perhaps a bit tongue-in-check, "just wonderful." Then he hedged a bit: "The cole slaw had a little too much onion in it, the cornbread was a little dry, the atmosphere was wonderful, and the pudding was real good."
Probably just like Elvis would have liked it.
·
The two cookbooks containing recipes for Elvis Presley's favorite foods are available from Hawley-Cooke.
Nash is currently writing a book with three members of Elvis' "Memphis Mafia," chronicling their 20 years with Presley. It is due out in 1994 and will be titled Elvis and the Memphis Mafia: The King and His Bodyguards.