I've Got A Mind To Ramble
Here I'm sitting listening to Robert Ward's recording Fear No Evil on Black Top, wondering why I waited so long to get his cassette. I guess it took a feature article in the November/December issue of Living Blues to get my attention. Robert does some great singing and guitar work, using an old Magnatone amp to get to that deep vibrato sound. This is the same sound that was such an early influence to Lonnie Mack. Ward's "Forgive Me Darling" takes you right back to the Falcon's 1962 hit, "I Found a Love," where he played his haunting guitar. Does anyone have an old "The Ohio Untouchables" recording? That's Robert in his formative years when he was living in Dayton, Ohio, and before the group evolved into the Motown-influenced Ohio Players.
Thanks to Hammond Scott of Black Top Records and Dave Hussong for tracking down Robert, who was living in Dry Branch, Ga., and getting him into the studio after a hiatus of twenty years. If you are a die-hard blues fan, you won't be disappointed that every cut is not blues, because Robert's distinctive sound and original material makes listening to his music a unique experience you won't forget. I won't wait so long for his next release, which is due to be out in March, called Rhythm of the People.
Saturday, January 9, offered a variety of musical experiences throughout Louisville with Bobby Brown and his show of shows at Freedom Hall, The Beatles Songbook extravaganza kicking off the Lonesome Pine Concerts at Kentucky Center for the Arts, the SuperPops concert at Louisville Gardens featuring the Gershwin stylist Michael Feinstein, and even the Barbershop Quartet Championships at Memorial Auditorium. I was ready for some traditional acoustic blues, so I headed to Homefront Performances, which has been recently using the sanctuary in the First Unitarian Church at Fourth and York streets. This renovated space of a light oak ceiling, plain white walls, patterned concrete floors and clear contemporary windows is a pleasant contrast to the turn-of-the-century character of the old Stuart Robinson church where Homefront had previously held their shows.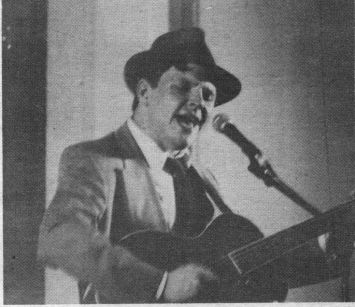 Catfish Keith. Photo by Keith Clements
Catfish Keith and the Jones Brothers with Pen Bogert and Brenda Jones (no relation) provided an enjoyable evening of Mississippi Delta, prewar blues mixed with some original material. This was Catfish's second appearance on Homefront. He brought along his same two trusty guitars, a 1930 National Style O Steel-bodied Resonator and a small 1920s Nick Lucas Special Gibson, plus his wife Penny.
Catfish is like a blues troubadour similar to John Hammond and Spencer Bohren who all perform solo, reacquainting their audiences to the classical traditional blues of Bukka White, Skip James, Son House, Robert Johnson and Big Bill Broonzy. He gets a full band sound from his instrument, playing a combination of lead, rhythm and pulsating bass lines on his guitar. He best recaptures the eerie whining sounds of the Delta with his National and glass bottleneck, which he says came from a cheap bottle of Chardonnay.
All of Catfish's recordings credit him with vocals, guitar and feet. As soon as he got on stage, he immediately started stomping his foot to keep the beat, along with his fat-thumb technique of playing. He can make his voice howl on "Howlin' Tom Cat," shout like a preacher on "Jitterbug Swing" and a cry with a falsetto on Skip James' "Cherry Ball."
After the taping of the second radio broadcast, Catfish did an encore of King Solomon Hill's "Tell Me Baby," which was the highlight of the evening. His falsetto voice and slide blended together with such a mournful sound that it sent chills through me.
When Peg Bogert was playing in the clubs at last year's King Biscuit Blues Festival in Helena, Ark., he met the Jones Brothers from Eureka Springs, Ark., busking on the streets. They struck up an acquaintance which consequently led to them performing together on Homefront.
Steve plays guitar and does most of the vocals while Jerry blows harp. Brenda added a variety of percussion instruments, while Pen did some excellent slide work on his National guitar. Their brand of traditional blues was a little more laid back, which included Big Bill Broonzy's "Mississippi River Blues," Lightnin' Hopkins' "Good Times Here" plus a real foot stomper, "Hole in the Wall." Pen said at the start of the Jimmie Rodgers song "My Good Gal's Gone Blues" that it was recorded by Jimmie in Louisville during an extensive 1931 Victor recording session at a warehouse on Main Street where the Kentucky Center for the Arts is now located.
John Gage always does an excellent job in introducing these shows. He did a nice version of Bob Dylan's "It's Broke" which was a social commentary on the obsolescence of just about everything.
Considering all the other happenings in Louisville that night, the turnout was good, and I hope it will encourage Homefront to present more blues acts. Immediately after the show the stage crew started to transform the flexible space from the secular to the sacred for the next day's worship service.
Lefty Dizz is one of Chicago's more flamboyant South Side guitarists. He has frequently performed with Lamont Gillispie and the Homewreckers. Unfortunately, he has been stricken with cancer of the esophagus. He will require chemotherapy and does not have any health insurance. There was a benefit for Lefty at Legend's in Chicago last December and now there has been an appeal made for donations. If you enjoyed Lefty's performances at the 1990 Garvin Gate Blues Festival and the local clubs, make out a check to Walter Williams (a.k.a. Lefty Dizz) and send it to: Lefty Dizz Cancer Benefit, c/o JoAnne Larson, 1450 N. Cleveland, Chicago, Illinois 60610-1194.
The blues world lost a major influential guitarist when Albert King died of a heart attack on December 21, 1992, in Memphis. Albert was 69 and had cut back on his performing schedule. He was always threatening to retire. We were fortunate to have Albert in Louisville at the 1991 Waterside Arts and Blues Festival where he put on a nice show July 7, performing a lot of his classic tunes such as "The Sky is Crying," "I'm in a Phone Booth Baby," "Cross Cut Saw" and "As the Years Go Passing By." His voice was a little hoarse but his Flying "V" Gibson really sang that night.
There was a European tour in the works with B.B. King, Bobby "Blue" Bland and Albert later this year. I remember seeing such a show about ten years ago at the Louisville Gardens. These special moments are now history.