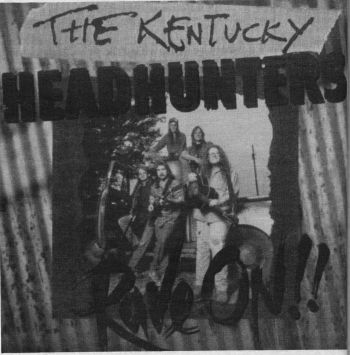 the South rises again
Rave On!! (Mercury)
The Kentucky HeadHunters
By Allen Howie
If Aerosmith had hailed from Kentucky and recorded Toys in the Attic in Nashville, the result might have sounded like Rave On!!, the new release from the Kentucky HeadHunters. The band's roster has changed somewhat since 1991's Electric Barnyard: founding members Fred and Richard Young and Greg Martin have been joined by old friends Anthony Kenney and Mark Orr, who replaced Doug and Ricky Lee Phelps. And although they have received most of their accolades and awards from the country side of the business, they remain one of the few groups still proudly carrying the Southern rock banner.
All the elements that made that genre so tantalizing are here: some nimble country picking, a sturdy groove, and that fire and brimstone guitar assault. All three can be had in spades in the abandon of "Dixiefried," the ode to inspired hard living that kicks off the new album. The boys sing the praises of Southern women in the easy swagger of "Just Ask Fo' Lucy," again in the leering hormonal howl of "Redneck Girl," then once more for good measure in the frisky country canter of "My Gal."
The unsettling "Dizzy Miss Daisy" is another matter entirely, cautioning the fellows to look before they leap, but the spooky lyrics ride a great vocal that recalls Mickey Thomas during his stint with Elvin Bishop, before he got all Starshipped and slick. The same smooth vocal approach shines through in the swinging, country-fried soul of "Honky Tonk Walkin'."
When the boys aren't singing about girls, they're nursing broken hearts and dealing with the damage those same ladies have inflicted. The blues grind of "Muddy Water" catches the singer frantically watching the river rise, as on the opposite bank his true love teeters on the brink of temptation. A feverish, down 'n' dirty "Blue Moon of Kentucky" implies that our hero arrived a little too late, while the wild-eyed paranoia of "Underground" finds him contemplating retreat from the world amidst an electric buzz that would sound right at home on alternative radio.
Don't think, though, that the HeadHunters have gone all gloomy on us. "Celina Tennessee" is a good-time boogie blast, and the Skynyrd-ish "Freedom Stomp" reconfigures Dylan's "Highway 61 Revisited" as a dancehall barnburner. The Stones crunch of "Ghost of Hank Williams" is alternately exhilarating and creepy, as the specter of the country music legend tags along for a cruise down some pretty dark streets, both literal and figurative.
If you like your rock with a twang and your country high-octane, Rave On!! should be in heavy rotation on your playlist.