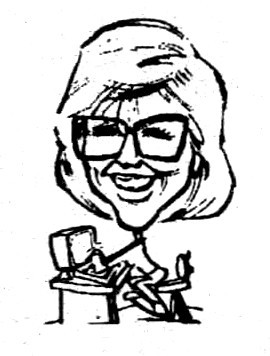 Newsical Notes
Now that her during-the-holidays surgery is over and she's doing well, Becky Bennett O'Toole is ready to get back into the demo business. We're doubly glad -- that the surgery went well and that Becky will once again be available to use her lovely voice to enhance members' songs. I can personally attest to her professional attitude in the studio and to the excellent quality of her work. Now if I just had a new song . . . .
Our sympathies are extended to member Alan Morris whose mother passed away in January. We will keep you in our thoughts, Alan.
Belated sympathies are also extended to member Rhonda Rainwater whose mother passed away in November.
It was good to see Rhonda at the meeting on Jan. 18. Since losing her job when her boss passed away, Rhonda has decided to start her own business. Good luck, Rhonda.
Speaking of the Jan. 18 meeting, that was the night of our annual Board of Trustees election. Congratulations to those who were elected to a two-year term: Tim Lynch, Jonathan Miller, Charlie Walls, Ray Yates and Wayne Young. Welcome aboard; we hope you enjoy your term. If you like to work, then you've come to the right place.
Isn't it just like an amateur songwriter to use a worn-out phrase like "Welcome aboard." Actually, I jokingly said it to Wayne at the end of the election evening. I used the nautical metaphor not because my husband is in the boat business but because of an article about primo songwriter John Prine that I had read in Rolling Stone some time ago.
As the story goes, Prine had signed on with a label and was attending a party thrown by the record company. According to Prine, one of the label execs came up to him at the party, patted him on the back and said, "Welcome aboard," whereupon Prine walked out the door and didn't look back. After an extended fallow period, Prine wrote a bunch of new songs and released a super album, The Missing Years, on his own label, Oh Boy Records.
I've seen Prine in concert several times (all enjoyable) and I'd venture he's not a "Welcome aboard" kind of guy. But, hey, John, you said it yourself: "It's a Big Old Goofy World."
Friday, Nov. 13, was a lucky day for Susie Wood and Bill Smith. That's the day their son was born. According to his father, Benjamin Nathaniel Wood-Smith didn't belabor the entrance. The four and one-half hour labor caused a near-close-call dash to the hospital, but they made it in time.
Some of us will recall that the unborn tyke accompanied his mother when she performed enceinte on our showcase last October 3.
We only learned of the new arrival on Jan. 18 when we ran into Bill at the Twice-Told Coffeehouse after our meeting on the 18th. Susie was scheduled to resume her concert schedule that same week.
Congrats to the new trio.
Diana Black, the LASC's former secretary, and contributing cartoonist for Louisville Music News, has had her cartoon "The Beet Goes On" reprinted in at least two publications, American Songwriter and the newsletter of the Boston Blues Society. Diana, who now lives in Florida, has continued her membership in the Co-op and participates as actively as she can, given the distance that separates her from us.
Good show, Diana, on all counts! (I can just see you turning this into a pun: counts, beats, beets . . . and the list goes on).
Party animal Karen Le Van has planned a birthday bash to celebrate her 50th. You can't help but admire someone who could easily pass for years younger yet admits to her true age. A post card from Karen arrived just as we were laying this column out for the LASC Letter. It says:
Now's your chance to play "World Famous Tootsie's," 422 Broadway, Nashville. Karen's 50th B'day Bash! Feb. 13. Hope you all can come down and join the jam! More info: Karen, 615-662-2339; Bev Sumner, days at Tootsie's, 615-726-3739. Never know who'll be there. Hope you can come.
Those present at the January 12 Board of Trustees meeting were treated to an interesting account of Charlie Walls' meeting with "Achy Breaky Heart" publisher Russ Zavitson in Nashville just a few hours earlier. Seems Russ pitched Charlie's "Who Wuz 'Zat" to Billy Ray Cyrus -- in person -- while Charlie calmly stood by. As we all know, Charlie conducts himself as a professional in situations such as these, but the Music Man did admit it was difficult to keep from clamping his teeth around the Kentucky heart throb's ankle and begging him to cut the song. (I'll be checking the supermarket tabloids for reports of puncture wounds suffered by Cyrus on January 12.)
John Wigginton (a member of the John Allen band), was nearby when all this happened and caught a glimpse of the famous ponytail that has its own bodyguard. (Charlie had summoned John moments after the pitch to vouch for his story.) Not wanting to be wrestled to the ground, Wigginton made no attempt on the ponytail's life, although he was reportedly very excited on the trip back home. In all fairness to John, part of his excitement stemmed from the fact that he auditioned for -- and got -- a spot on "Be a Star" to be taped and aired later in the year.
Hope good things come to both of these two musicians as a result of their trip to Music City.
Ray Yates, working with Brian Curella of Media Music Productions, has had four instrumental pieces published in the last three months. Plans are also in the making to publish a CD of instrumental works suitable for use in music libraries. Ray tells us that sometime this month they will be moving their offices to Falk Recording.
Have Your Cake and Eat It Too: A 1993 Recipe for Songwriters.
First, pitch your song(s) to a local performer or group that regularly plays out. If it suits their style and they like it, perhaps they'll learn it and include it in their repertoire.
Second, find out where they are performing, and show up.
Third, find a good spot from which to look and listen, and perhaps they'll see you and play your song. They might even acknowledge you as the writer.
That's a really fine cake.
Now, look at the dance floor filled with people having a great time dancing to your song.
That's the icing.
With a lotta help from friends, I've tried this recipe. How sweet it is.
Thanks, Prez Paul, Music Man and the boys of John Allen for letting me be one of the cooks.
(Please send us your "Newsical Notes" so that we can let our readers know what you're up to. A brief note would be more effective than just telling us about it. How about some news from our silent majority?)