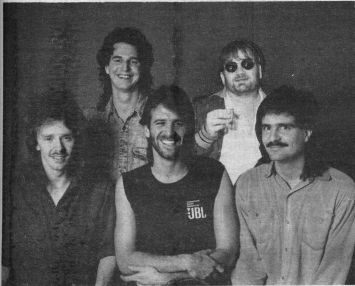 RUOK?
R.U.O.K?
By Paul Moffett
"Doin' alright, how about you?" responded Jerry Roubieu to a question about his band, R.U.O.K? It was a practiced response from a practiced musician.
R.U.O.K? is quite possibly the band with the largest number of honorary members in the state and possibly the country, said Roubieu. This is due to the band's standing invitation to any audience member to sit in.
"We must have had a thousand female tambourine players" over the last eight years joked Roubieu. "Everybody in the city of Louisville is an honorary member."
R.U.O.K? works very steadily, dispensing their brand of classic and obscure, rock plus originals by request, three to five nights a week. Including Roubieu, the quintet is composed of Tony Schnell, drums, Ron Brunton, guitar, Joe Shaw, guitar, and Hank Sinatra, bass and vocals. Steve Larkin handles sound tech chores.
Jerry, Tony and Ron have been friends and musical compadres since high school, when they were in the Durrett High band together. The original R.U.O.K? was that trio plus Kirk Stevens on vocals. Stevens, who subsequently moved to St. Louis, was replaced by Tommy Miller, now with the Bad Apples.
Tracing band members is usually a musical genealogical maze and with R.U.O.K?, things are not too different. Roubieu mentioned the expression "Never Underestimate The Human Oddities Usually Seen Every Day," anagramatically equaling Nuthoused, a band he was in with several musicians who have subsequently achieved greater things. Included in Nuthoused were saxophonist Don Braden, who later played with Wynton Marsalis and Freddy Hubbard; James Kottack, who was a guitarist with Kingdom Come and is now with Rick Steier in Sweet F. A.; former Hammerhead Jimmy Vallandingham; and Mike McDowell, now with Gibraltar, the current configuration of the favorite band of the Toy Tiger crowd, Fire Dept. Joe Shaw and Hank Sinatra came to R.U.O.K? via Mr. Ed.
There isn't a recording project in the works for R.U.O.K?, even though the group did work up several originals for the Louisville Area Songwriters' Cooperative's Hit Makers '92 Showcase in November. Roubieu's position is that the group will only go into a studio if they have enough cash that they would not have to gig to earn their living.
Like most bar-band musicians, nearly all of the members of R.U.O.K? have outside daytime activities. Sinatra teaches chemistry at DeSales High School, Shaw works at the Sound Factory and has his own studio, Schnell attends JCC, and Brunton works in a restaurant. Only Roubieu manages to avoid having a "real" job, though he does sell advertising part time and is learning to fly. He is also the person responsible for bookings and band management.
Roubieu, Brunton and Schnell also work a Monday night gig at the Brown Bag Pub, performing as Harshfield County, with vocalist Chris Harshfield fronting the group. All in all, the high school chums often play six nights a week, and then party until early in the morning.
"It's my job to find work," said Roubieu. "Somebody has to do it." The group appears to be set for a spring and summer season of proms, teen concerts and shows at Kentucky Kingdom, as well as their regular bar jobs.