Music Can Cure What Ails Ya
By Bob Bahr
Scrooges get more press than they deserve. Let's blame it on TV, shall we? During the Christmas holidays, you can't turn on the tube without seeing some two-bit Ebenezer defiling the peak retail season. But the truth is, most people save their heartfelt "Bah, humbugs" for January and February, the truly wretched portion of winter. It's grey outside, it's tax time, and chances are, at some point you're going to get a nasty head cold.
When the flu bug lays siege upon your sun-deprived body, curl up with some sympathetic John Coltrane recordings. If nothing else, it will make your feverish dreams all the more interesting. And as soon as you're not contagious, join us out in the cold night air. We'll hit some of Louisville's brightest nightspots for music, truly the best medicine.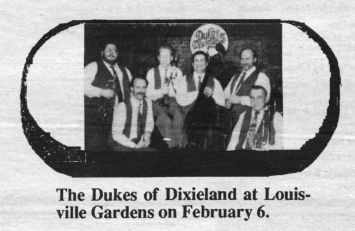 A dose of outlaw country might heal you like jalapenos liberate your sinuses — and Waylon Jennings is the original country outlaw. Don't you think this outlaw bit's done got out of hand? Naw, one can never hear "Luckenbach, Texas" in concert too many times. Catch Waylon at Jim Porter's Good Time Emporium on February 3.
Don't be afraid. Well, don't be too afraid. Thelonius Monster may bite, but it'll be a cleansing experience. T. Monster from Los Angeles mixes blues, punk, thrash, and funk ... aw heck, throw in folk and jazz to make a self-described "musical and spiritual mess." The five boys in Thelonius Monster are spunky enough to know and hang with the Red Hot Chili Peppers, which says a lot about what their February 4 show at Phoenix Hill Tavern will be like. Tickets are a sweet $7, and wait, here's the best part: Louisville's own celebrated Hula Hoop and Lexington's The Blueberries will open the show. I feel better already.
Christian artist/soap opera newcomer Michael W. Smith is coming to Louisville Gardens on February 5. When it comes to hot Christian acts, Smith is the man. A rap act called D.C. Talk will open.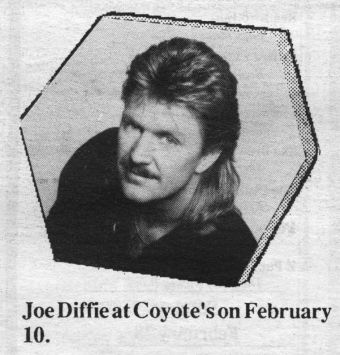 What you need to cure your ills may be a trip to New Orleans. The visit could cost you as little as $9 if you settle for New Orleans jazz from the Dukes of Dixieland. The ensemble has been playing their blend of Dixieland, R&B and jazz since 1949 and they are experienced in meshing their sound with orchestras.
That's exactly what the Dukes of Dixieland will be doing when they team up with the Louisville Orchestra for the February 6 SuperPops Concert at Louisville Gardens. Skitch Henderson will have the baton for the performance.
It's feast or famine in Louisville. That same night, jazz fans can choose between the above show or a dual piano show at the Kentucky Center for the Arts featuring jazz legends Billy Taylor and Ramsey Lewis. Taylor and Lewis reportedly complement each other perfectly, with Taylor's high jazz approach turned earthy by Lewis' compelling funk and pop background. The show is at 8 p.m., February 6, in Whitney Hall. Might be as healing as mom's chicken soup — I've heard convincing arguments for the inclusion of good jazz in any remedial health plan.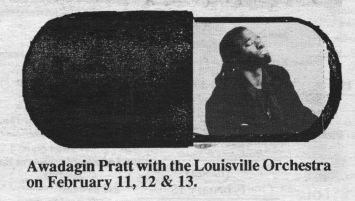 The Band That Defies Labels returns to Louisville on February 6 — Big Hat. Okay, I'll try: Big Hat is a dance/rock/pop/cabaret act fronted by a powerful, B-52-esque singer by the name of Yvonne Bruner. Folks with a jones for goose pimple-producing music should show up at Tewligans for this one.
Get your booster shot of jazz on February 8 when the Silo Brew Pub, in conjunction with the KCA and the Lila Wallace-Reader's Digest National Jazz Network, presents Tanareid, an exceptionally hot quintet featuring Rufus Reid on bass and Akira Tana on drums. The show is being brought in by the Louisville Jazz Society, and members pay $8 at the door, non-members, $10.
What's in a name? The current lineup of the Mamas and the Papas boldly arrive in Louisville bearing the burden of their past glory. Only Denny Doherty is an original member. How's "California Dreamin'" going to sound with three new, different voices? Find out at Coyote's on February 9.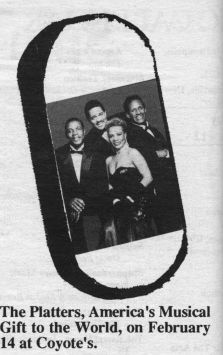 Coyote's has been bringing in quite a diverse bunch of players, and continues to do so this month (see second to last paragraph). But on February 10, good ole, hardcore, beer-drinking, tear-jerking country comes to Coyote's in Velma, Oklahoma's favorite Regular Joe, Joe Diffie. Diffie's a new guy who's made a huge splash in modern country with a traditional sound. A mere $15 will get you in.
The Louisville Orchestra's MasterWorks and Cumberland Coffee Concerts this month feature guest conductor Raymond Harvey and pianist Awadagin Pratt. Pratt will be the featured soloist for Beethoven's Piano Concerto No. 1 in C major, Op. 15. Also on the bill is Handel's Royal Fireworks Music and Shostakovich's Symphony No. 9. Times and locations vary and tickets range from $6 to $23, so call 584-7777 to sort out the "whats" and "whens."
The Homefront show on February 13 features Turley Richards with Tricia Walker and the Mudcats. It's a pairing of two veterans, which pretty much guarantees a quality show, right? Homefront's place of residence is now the 1st Unitarian Church, 4th & York. Be there at 7:30 p.m. for the live radio taping.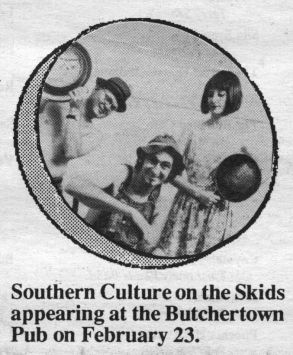 The folks down at Coyote's, which incidentally is part of the Hurricane O'Malleys/Rock-It Club complex at First and Liberty, continue to mix up their musical offerings with an appearance by the Platters on February 14. The Platters had their first hit in 1955, when "Only You (And You Alone)" hit Number Five on the charts on October 1. Check out their other hits: "The Great Pretender," "(You've Got) The Magic Touch," "I'm Sorry," "Twilight Time" and "Smoke Gets in Your Eyes." Not bad, huh? For $15, you can hear a set that will probably include all of those classics.
Something interesting on a Tuesday: No Name, a Seattle rock band with jazz leanings, is playing a show at Butchertown Pub on February 16. Native rockers Slopok are on the bill as well.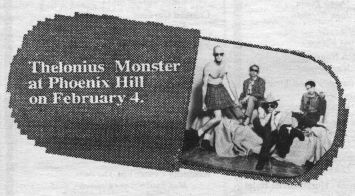 If you're tiring of all the country newcomers and are hungering for some classic crooning, mark your calendar on the 18th. That's when Mickey Gilley comes to Jim Porter's Good Time Emporium for 2 shows, one at 7:30 p.m. and one at 10 p.m. Gilley, a proven hitmaker and a renowned barkeep, sang songs such as "Room Full of Roses," "I Overlooked an Orchid," and "Don't the Girls Get Prettier at Closing Time." It'll cost you $19 per show.
Butchertown Pub continues its Original Rock Tuesdays with Southern Culture on the Skids, a North Carolina band that bakes its rock in lard. Pull on a napkin and dive right in. They've pleased lots of satisfied customers. The show is on February 23, and the bar is on Story Avenue.
AAAAAaaahh! Widespread Panic is coming to town February 24 for a night of improvised jams, fanciful lyrics and blues-jazz leanings. The six Athens boys are signed to the resurrected Capricorn label, and they certainly follow the legacy. Tempus Fugit, with their hypnotic R&B style, would be the ideal opening act...well I be danged! They are opening the show at Phoenix Hill.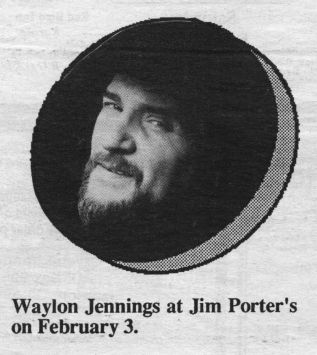 Word has it that Webb Wilder has tamed his attack in an attempt to broaden his appeal. Find out what the Last of the Full-grown Men is up to when he plays Jim Porter's on February 25.
The Lila Wallace-Reader's Digest National Jazz Network is bringing in another great show in February: the great Max Roach and the Uptown String Quartet. Roach was a member of the 1940s bebop group that reshaped jazz, the one with Charlie Parker on sax and Dizzy Gillespie on trumpet. His drumming style has been widely imitated, and his continuing innovation has pushed jazz further still. Roach appears as part of the Kentucky Center for the Arts' Jazz Series. Tickets to the February 27 show, which will be at the Macauley Theatre, are $8.50 and $10.
Coyote's has come up with an interesting combination for its February 28 show: banjo whiz Bela Fleck and the Flecktones and Al Dimeola. Fleck, formerly of New Grass Revival, is one of the most remarkable musicians playing today. His work with the Flecktones blends funk, folk, jazz and classical into an indescribable style that is heavy on the chops.
Dimeola is no stranger to chops. Considered by some to be the most technically proficient jazz guitarist alive today, Dimeola is an attraction by himself. If you ain't well by the end of this show, please consult your physician.