Blond Johnson
By Paul Moffett
Perhaps it's a turn on various blues artists named "Blind This" or "Blind That." Perhaps it's a comment on the ethnicity of the members of the band.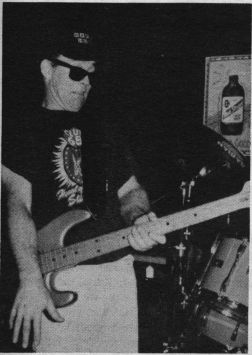 Jimmy Gardner tries to come to terms with his bass. Photo by Sanny Garrett
In any case, the name was coined by another local player and appropriated by Paul McGarry and Jimmy Gardner to use for their R&B trio. It works pretty well as a band name. They play da blues as well as R&B and they are white boys.
The band includes drummer Ray Dunaway, and it was because Dunaway joined the group that this story came to be written. Paul McGarry had called to pitch the band for a possible feature article and mentioned in the conversation that Dunaway had recently replaced Jeff McAllister, who had left to go on the road with Lonnie Mack. Dunaway's name had popped up in a number of other contexts, including positive remarks from Marvin Maxwell and LMN ad salesman Paul Turner.
Dunaway recently began giving drum chops classes at Mom's Musician's General Store, drawing players in from all over the city. He was formerly the head of percussion for the Armed Forces School of Music, was featured in the May '91 issue of Modern Drummer Magazine and is a Savian endorser.
Then, at a show at Phoenix Hill Tavern, McGarry wandered up and again began to talk about Dunaway and his effect on Blond Johnson.
McGarry raved about Dunaway. At length.
There was only one thing to do: go see the band. The next available opportunity was a gig at the Cherokee Blues Club in early December.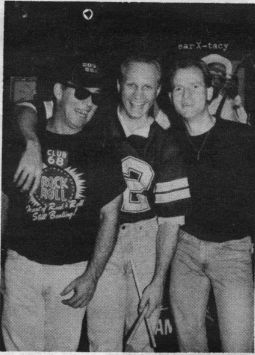 Blond Johnson in a dull moment. L to r, Jimmy Gardner, Ray Dunaway and Paul McGarry. Photo by Sanny Garrett
Sure enough, Dunaway was everything advertised, a Gibraltar of a drummer with outstanding chops and great speed. The crowd crept closer and closer to the stage, until it became impossible to see anything but the backs of the patrons. The band thundered away behind the wall of bodies.
Blond Johnson's set list included tunes from such recent blues/rock/R&B stalwarts as Stevie Ray Vaughan, ZZ Top and Johnny Winter. Because this genre of music is not nearly so well defined as it might seem, Blond Johnson also does material from Jimi Hendrix, Lonnie Mack and Slim Harpo, all of which work well in the trio format.
Louisville music fans are likely familiar with Gardner and McGarry from their days with Rhino Ivory and the Monkey Paws. Gardner also was with the Mighty Water Kings and, some years earlier, Midnight Special. McGarry often sat in on guitar with the Kings and he covered guitar with Rhino Ivory. In his twenty-four years of guitar picking, he has played with many bands and musicians, inlcuding Greg Martin of the Kentucky HeadHunters.
Gardner has a reputation for engaging in humorous stunts on stage. Since taking up the bass guitar in Blond Johnson, Gardner has done less joking on the stage, though he hasn't totally eliminated it, McGarry said.
McGarry, when pressed, allowed that the group delivers high-energy, intense rock and blues and that all three of them work hard on stage to create their sound. Despite their years in the business, or perhaps because of it, they are focusing on playing locally, on Fridays and Saturdays, and having fun with the music. At the moment, the three have day jobs and can't gig much more than they already are.
Of course, in the music biz, things change rapidly and one possible "change agent" is the inclusion of a Gardner tune on the new Kentucky HeadHunters album. Called "The Ghost of Hank Williams," the tune's writing credits are split between Gardner and new HeadHunters vocalist Mark Orr, who also was in Midnight Special.
As McGarry noted, Gardner will wait until he sees how the album sells before making further moves. Nevertheless, it should increase Gardner's standing in the music community.
Blond Johnson is making the rounds of the Louisville clubs that feature rock/blues/R&B. Their January schedule includes a New Year's Eve show at the Cherokee, the Butchertown on the eighth and ninth, and Gator's on January 15 and 16.
McGarry invites friends and fans out to see 'em, 'cause he's pleased with this new band.
He has reason to be.