Bluegrass Beat
I am sure that by now you have seen or heard quite a bit about Mr Acuff since his passing November 23 Then maybe you haven't. I thought I would put my two cents worth in, or at least pass along some thoughts of mine.
Roy Acuff and the Smoky Mountain Boys was the first country band that I really identified the music, the artists and the things that make a favorite artist your favorite. When I heard them on the Grand Ole Opry — and it really was back then — it was something to wait for and look forward to each Saturday night. Many favorites, but Roy Acuff and the Smoky Mountain Boys were those very special ones I was waiting to hear come on. The Prince Albert Show:
Howdy all you friends and neighbors
Join us in our Prince Albert show
Tune up the five-string banjo
Take down your fiddle and the bow
Roll back the rug on the floor
Light up your old cob pipe
Everyone will have some fun
At the Grand Ole Opry tonight
I wish I could say Roy Acuff was a friend of mine — that I knew him well — but unfortunately I can't. I wish I could say he was an acquaintance and I can't do that either. I can say I met and talked with him a number of times over the years. The very first time was in Norfolk Va, around 1943. This was my first real country music show and a big star, and to make it even better, it was my favorite. It was the "Precious Jewel" recording on Columbia that had really caught me. It was Roy and Oswald together that exemplified country. Nothing in the way of country music could be, or ever will be, any more honest, sincere and truly representative of real country music and what it should be and stands for, than Roy Acuff and the Smoky Mountain Boys. The impact and influence of Roy's music and style was such that it spread like a wildfire around the world during World War II. It has been reported repeatedly that the Japanese were heard screaming and yelling during an attack, "To hell with the U.S.A and to hell with Roy Acuff!" The music and the artists were referred to as hillbillies and hillbilly music then. Mr. Acuff had said on more than one occasion in recent years that he wished they would "call me hillbilly again."
Baseball announcer Dizzy Dean used to "sing" "Wabash Cannonball during his stint at the mike while announcing the ball games. He dubbed Roy the King of Country Music" and it stuck. He wore that crown well, but very humbly He never thought of himself that way. As popular as he was, as many extremely well-known and influential songs and recordings as he had, Roy Acuff and the Smoky Mountain Boys never had a "hit" record. He really never promoted new releases. Of course he sang them and they were played and promoted to some extent by the record companies.
I had him on my show when I was a country DJ, back in the '50s, at a time he had a new release. I suggested that he talk about the record and promote it and he told me he didn't do that. I did, but he didn't.
I never thought Roy Acuff got the recognition and thanks he should have and deserved for his overseas trips. He was one of the very first to go overseas to entertain the troops at Christmas during WW II. To do this, his first several trips were at his own expense. Roy paid the way and paid the band their regular pay. I think he later got USO sponsorship. I saw them in Korea in 1952/53 and it was great. In 1965 I was in Korea with AFKN. They weren't scheduled to be in our area but I knew when they were going to be at AFKN studios in Seoul.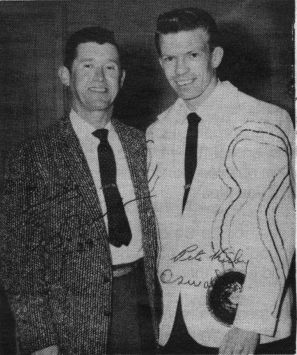 Roy Acuff, right, and Berk Bryant, backstage at the E.C. Glass High School auditorium in Lynchburg, Va., circa 1956
I called the station and he was not available to come to the phone at that time. About an hour later he called back and I was fortunate enough to talk with him then for a few minutes. This, for some reason, brings to mind an incident that happened during that very first performance I saw in Norfolk. I never knew exactly what had happened but atone point during the show, Roy went to the mike and made an apology. He said something to the effect that "I want to apologize to the sailor boy. I was a little short with him a moment ago." I mentioned this incident to Oz a couple of years ago and he said, "Roy's like that. He's a little quick on the trigger sometime."
Roy Acuff's reputation for integrity, fairness, openness and honesty with fans and business associates will live on for decades to come and should serve not only as a model, but an inspiration to all who would be wise enough to know and know about him and learn from his example. I told him several times that he should paraphrase from Guy Lombardo, whose association with New Year's Eve and "Auld Lang Syne" said, "When I go I'm taking New Year's Eve with me," to "When I go I'm taking country with me." Mr. Roy Claxton Acuff: the King of Country Music, one of our all-time greatest stars with a most humble ego.
The Opry will not be the same, real country music will never be the same, but there are those of us who will remember. The song that put him on the Opry and became one of the songs most associated with him was "The Great Speckled Bird." There is a line in it that goes, "I'll be joyfully carried to meet Him, on the wings of that great speckled bird." For the man whose dressing room door was always open to everyone, the door of Heaven must have been open to you and that Great Speckled Bird, Monday morning, November23, 1992. Mr. Roy, you are missed.
Coming to Shepherdsville Country Music Place in January:
15th Bluegrass Cardinals
22nd New Tradition
29th The Larry Stephenson Band.
New Year's Day, be sure to tune in WFPL, 89.3 FM, 1-2 p.m. for an all-Hank Williams Sr. show with the Country Gentleman.
(In the midst of a holiday season deadline, our intrepid columnist penned a poem inspired by said season. We print it here for your enjoyment. — Editor.)
'Twas the night before deadline
A column was due
My mind was a blank
But it had to be in, this much I knew
So with pen in hand I started to write
Looks like this will have me up all night
Page one was crumpled
Then tossed in the trash
After 20 more followed
My brain turned to hash
I must be trying too hard, I thought with a twitch
Is it the end of the year or the first, I 'm not sure which
A new resolution for the coming year
All copy done early
Am I late? Oh dear!
We'll face all the deadlines without any fear
Only twelve more to go
And it will be next year
So type up the copy and give a big cheer
Best wishes, dear readers, for each coming year.