DUCK SOUP. .. ER, BUTTER
By Jean Metcalfe
Mr. Duck waddled around the perimeter of the dance floor, the beam of a white spotlight reflecting off his dark shades. Plucking a long-neck from the table of an attractive woman, he slid it along the neck of his bright-red guitar with "Budweiser" boldly emblazoned across the length of the body. (Forget the SaladShooter, Marge, I want a guitar and a keg of Bud.)
The roving guitarist in the ballroom at Jim Porter's Good Time Emporium on December 17 was Kenny Lee Smith, who until recently was the proprietor of Picasso's in Bowling Green, the town where four of the five members of DBBB attended high school.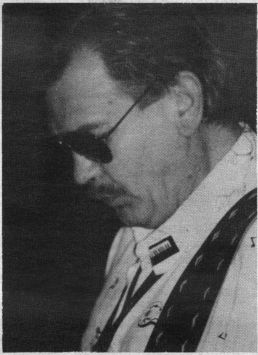 Kenny Lee Smith a.k.a. 'Mr. Duck.' Photo by Jean Metcalfe
The other three are "bluegrass electric guitarist" Sam Bush, drummer Jeff Jones and bassist Byron House. Bush's former New Grass Revival mate John Cowan, rounded out the quintet.
Vocalist Cowan pushed his enviable high range to the limit often during the evening, reaching the pinnacle with his rendition of Bobby "Blue" Bland's "Two Steps From the Blues." As Bush was winding down a fine solo spot during the number, Cowan shouted for him to "Keep goin'." Then, soaring ever higher, Cowan played with the song and the crowd, delaying the tag until he finally stopped and admitted, "I don 't know exactly what to do now." But he — and the band — did.
Fortunately, the Czar of Political Correctness had the night off, as the Ducks sang the praises of "my little sweet patootie (I just love that little old ugly thing)." Seems she had an enviable talent: "With those crossed eyes, she's standing on Wednesday and looking at the weekend in both directions." All in fun. (Bush had dedicated the song to his own sweet patootie, while promising that he didn't mean a word of it.)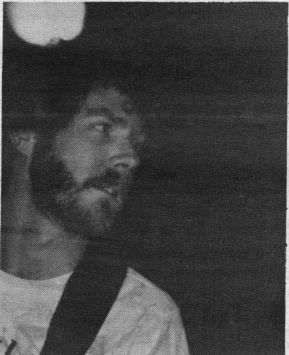 Sam Bush. Photo by Jean Metcalfe
"Can I get a 'Yeah'?" "Can I get an 'Oh, baby'?" Like an "Amen" at a tent revival, the faithful gave up the correct responses to Smith's exhortations as he introduced another teasing number:
"My Big Fat Girlfriend" was "large and in charge," a passive conservationist who provided shade in the summer and heat in the winter.
According to DBBB, some years ago "Girlfriend" was heard by a young sax player (who smoked but didn't inhale) in Little Rock, Arkansas, whereupon he "went out and got himself a woman who was large and in charge and changed his whole life."
Flanked by giant wooden soldiers and festooned with red and gold tinsel, the massive fireplace in Jim Porter's ballroom provided warmth both literally and figuratively. The dark ceiling was crisscrossed with tiny multi-colored lights and seasonal red and green crepe paper. With the bal1room's two trademark chandeliers providing a soft glow, one could completely forget about those unaddressed Christmas cards taking up space on the dining room table.