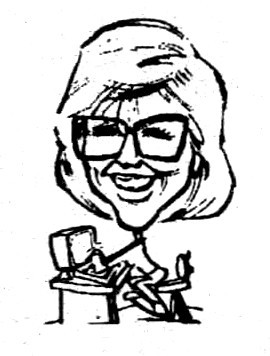 Newsical Notes
Our best wishes to Joyce Trammell who will be leaving the Board of Trustees at the end of her term, December 31. Joyce gave Tim Lynch, our usual Board host (bless him), a respite and had a nice Christmas party-meeting, complete with a lovely decorated tree that she had cut down with her own two hands (and an axe, of course). The refreshments were yummy, Joyce, but they played hob (when's the last time you heard that old expression) with my feeble attempts at eating sensibly.
Karen Le Van stopped by on her way from Nashville to Cincinnati for the holidays and we lunched at O'Char|ey's with her sister Lynne and did a little bit of catching up. Upon her return to Music City, Karen will begin a new full-time job as sales director for a Nashville Ramada Inn. Good luck, Karen!
Also, Karen will be celebrating –celebrating? – her Big 5-0 birthday in February and invites her Louisville friends to come to Nashville for the party she's throwing. Check with her for more specific details later.
As we go to press (December 28) with this issue, I'm looking forward to the Day After for a reason other than that the January issue will be finished. Susan Tomes, one of Joyce Trammell's and my favorite friends, will be coming home from Berea for a visit and we plan to get together for lunch. It promises to be a very interesting and fun meeting.
Susan, a very talented musician/singer, is a member of the Renfro Valley family of performers and has been such for about a dozen years. She has a lovely voice and the demo of one of my songs she did several years ago was excellent. It's one of the few of my originals I'm not embarrassed to have people listen to. (Actually, Larry Easton, Blll Ede, Debi Knight, Karen Kraft and Charlie Walls have also made me sound pretty decent) We miss you, Susan and look forward to your visit.
Former LASC member and friend ol many LASCers, Dot Elpers, has moved to Michigan to work in a friend's business.
Good luck, Dot and we will miss seeing you at the various songwriting-related events that you attend.
Congratulations to Mark Gibbs on the release of his new album Songs of Life. Mark, who wrote all ten of the songs on the album, will be happy to sell you a copy next time you see him.