No Little Diddle
By Paul Turner
It was on a mildly warm Saturday morning just after eleven o'clock when I passed through the well-traveled entrance to Mom's Music to hear the inviting sounds of drums ad electric guitars being played irregularly as if someone was trying out the equipment, which they were.
Approaching the back wall, past the drum and guitar and keyboard departments sat a row of practice pads on stands and music stands in front of them. Above the music stands was a large mirror hanging horizontally running the length of the back wall. Sittting and standing at the practice padpls aying rudiments were the drummers I came to see — and one in particular.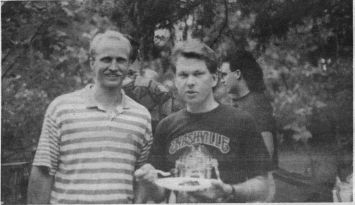 Talking chop0s: Paul Turner, right, mixes business with pleasure at Marvin Marxwell's gathering of drummers, 'Sticks in the Woods.' Ray Dunaway is at right. Photo by Leslie Turner
I first met Ray Dunaway Jr. at our initial summers get-together at the Musicians Union hall recently (see cover story, October 2 issue), although I had heard of his lengthy musical credentials prior to that evening. One of the current projects Ray was involved with was his Saturday-morning chops class.
Many accomplished druummers in the area I we spoken with had nothing but positive remarks concerning this class. Considering the caliber of players I was hearing these from and the nature of the class, I was surprised. I didn't know of anything that could get a drummer — any musician for that matter — out of bed on a Saturday morning. Now I know of one.
Ray Dunaway is far from looking or sounding like your typical musician stereotype. That's because he is not. (In case you're wondering, Ray, that's a compliment.) Personally, he is warm, very congenial and sincere and listens well both in conversation and in his playing which are no doubt keys to his teaching success.
Musically, Ray's accomplishments inclide performing with well-known acts such Randy Brecker, Ben E. King, the Sammy Kaye Orchestra, The Crystals, Little Anthony, among others, as well as movie music and studio credits. Very experienced in a wide variety of musical styles from rock and big-band to Latin and circus, Ray has also been featured in Modern Drummer (May 91) and has been a Sabian endorser.
The foremost credit that enables Ray to pull off this chops class — and the one that inspired him to do it — was his position as head of Percussion for Armed Services School of Music. There he was responsible for the training and development of the drummers and percussionists for virtually all the armed services' many music programs whether it was big band, jazz, rock, drum corps, orchestral, or any in between!
His other large credit where the chops class is concerned is that Ray is a born and raised Louisvillian and he has come back home. While he's here he makes himself available via private lessons, playing dates, and through the chops class, which is building in number even weekly from beginners to the most accomplished pro in town.
"I grew up in this town very frustrated and was a personal achievement to me to be a musical success. I had to learn all this just like anyone with two hands and ten fingers. Now I sincerely want to help others have those types if opportunities I had.
Dave Beck, who was on hand during my Saturday morning visit to the class was another who had only praise for Ray and the class. A well-respected player in the area and a past drum department manager at Mom's himself — who has hosted many seminars there over the years — Dave is a big fan of the chops class.
Even though he was part of Mom's seminars with people like Rod Morganstein and Carmine Appice, "I've never seen it explained like this before," Dave admits.
Dave and Ray were working out on a written exercise of quarter notes with varied accents at about 90 beats per minute, nailing down a downbeat versus upbeat technique! Sounds basic and it is. But that's where most drummers' "bad habits" start — in the basics.
In analyzing the heavyweights like Buddy Rich, Vinny Colaiuta, Joe Morello and many others regardless of their musical or personal style all had the same basic technique. By slowing down their videos Ray realized that the proper basic elements of playing are the same in all the great players and make all the difference in a player's speed, stamina, sound and overall performance.
"I've realized that it all goes back to the basics," Ray explains. A player needs to work on the mechanics of drumming until it becomes unmechanical. Then you can apply the principles to whatever type of drumming you play. For the most part all types of drumming have the same basic technique. There is some variation from orchestral mallet work to rock, for instance, but for the most part they are the same.
Ray has had enough exposure and experience in working with drummers from all walks of music to know the natural weaknesses and tendencies each player has developed and their bad habits or weaknesses based on that particular style of drumming.
An orchestral player will tend to play good closed rolls, for instance, but they need to develop their double stroke passages because they don't develop that particular technique in orchestral playing. It's not always true, because obviously those drummers usually play other types of music as well. The same is true of jazz players, rock players and all drummers. Certain types of drumming develops certain drumming techniques naturally. And Ray is very willing to help develop both the weaknesses and strengths of any individual drummer that wants the help.
"Sometimes the jazz player on one side ot me will put the rock player to shame, but on the next exercise the rocker outshines the jazz player," Ray continued.
But again Ray reiterates, "This is never a competitive thing. We all check our egos at the door. That's the only way it works.
"Recently I've taught a well-known Louisville player what a stem is and the value of a quarter note," he adds. "We're all here to learn and grow."
Dave Beck certainly was. As they continue their rudiments and continue to increase the metronome's tempo, Ray says for my benefit, "We usually keep bumping up the tempo until something falls off!" At the end of the exercise Dave turns to Ray, who has been watching Dave in the mirror and confesses, "There's something I've been trying to get for a long time. It's the angle of your arm."
Reaching down to click off the steady water dropping-like noise of the metronome, Ray demonstrates as he begins to tackle the posed concern. Then they are off again on a double stroke exercise.
In addition to everything else Ray has going on, he has recently completeda book entitled "A Practical Approach to Technique: For All Drummers," which is available at Mom's Music, as well as at his own clinics in and out of town. (We will be covering the book in an upcoming issue of LMN.) Ray at one point stopped to demonstrate a page or two of his pre-published manuscript. At a rapid pace he flew through the exercises, at which point Dave interjected, "Now you see why we call him God."
I couldn't help but notice that quite often Ray was looking in the mirror at Dave's hands and sticks rather than his own music — even during more difficult music passages at quick tempos. Then I remembered he wrote the book.
"A mirror is an important part of this learning," Ray explains. "What your chops look like affect what your chops sound like. It goes back to how your brain learns things. The more senses involved in picking something up, the better we learn. If your mind's eye pictures a wrong perspective of yourself playing, you will make the wrong adjustments.
"It also helps reduce the fear of playing in front of people because you know what they're seeing and you're more confident that it looks good."
After what I saw — and heard — Ray certainly has the expertise and patience to better any drummer I know. The only other ingredients left are you and your sticks. And simmer.
(For more info on Ray's chops class, which he has since changed to Saturday afternoons and Tuesday evenings, call Mom's Music at 502-897-3304. He says there's a pad waiting for you.)
(Paul Turner is drummer for Ray Boltz.)